This Saturday, Hook Fish Co. is opening its doors at 4542 Irving St (and 47th Avenue), formerly the site of the Cajun Pacific. Located two blocks from Ocean Beach, the new spot is both a restaurant and a fish market that sells fresh, sustainable seafood by the pound. 
Inspired by Southern California seafood shacks, the casual restaurant serves up simple, straightforward eats, including poke, crab cakes, tacos, burritos, and a daily ceviche. Diners will also be able to order a daily agua fresca, local bottled beers, and a small selection of wines.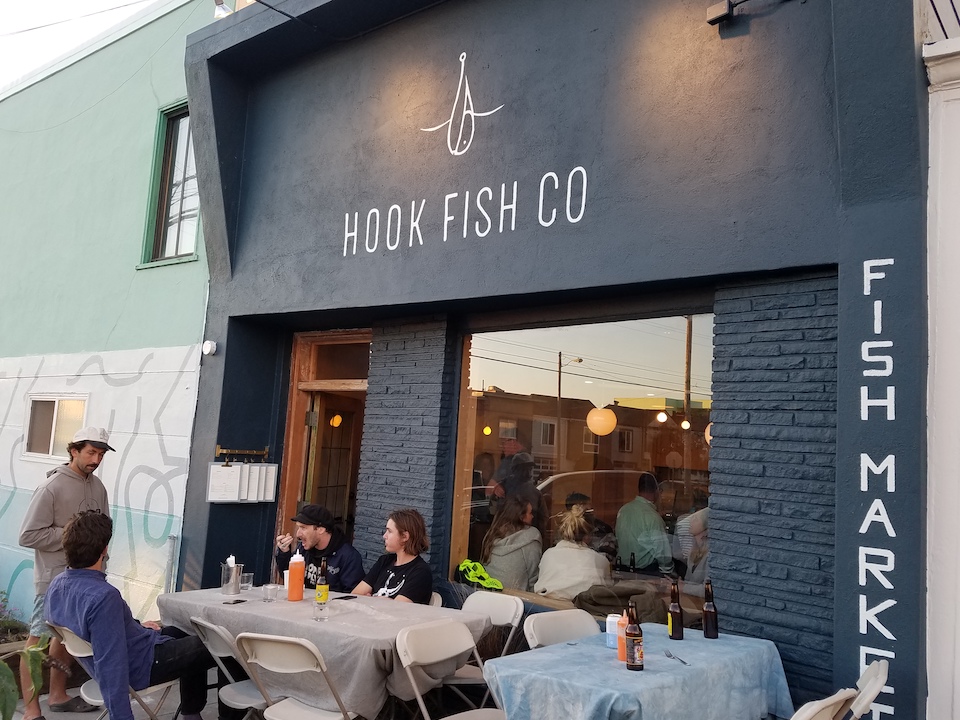 The revamped space features a seafood counter facing the open kitchen, where customers can view both the freshly caught offerings and watch their food being prepared. Customers can eat at the counter or at a community table with other guests. Sidewalk seating is also in the works once the permits are approved.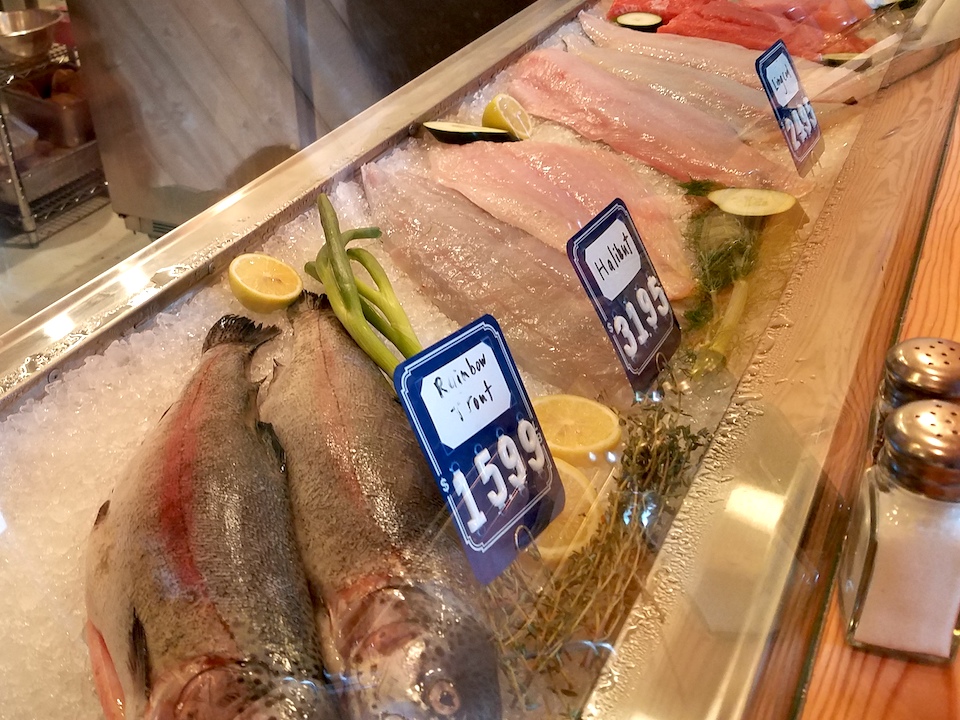 The idea for the restaurant first came to the two owners, Beau Caillouette and Christian Morabito, wanted a bite after surfing at Ocean Beach. The two first met as childhood friends at surf camp growing up in Newport Beach, and found a similar culture by the sea in the Outer Sunset. 

"This has been the neighborhood and the community that has felt most like home for us," Morabito told us.
Most of the restaurant's employees live in the Outer Sunset, and between 60 and 70 people from the community chipped in to help build out the space, which features warm wooden panels, stools, and tables all made out of reclaimed Douglas fir.
"We really wanted [Hook Fish Co.] to be reflective of our community and be a place that features community artwork and captures the coastal California feel," said Morabito of the restaurant's design.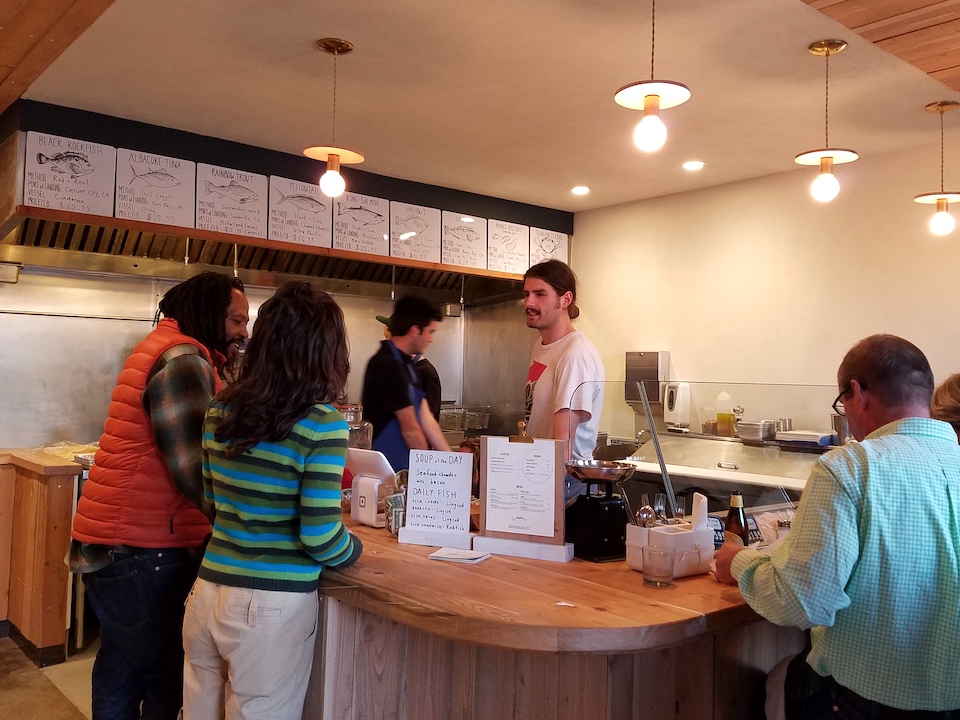 Sustainability is a key part of Hook Fish's mission. According to the owners, the average fish passes through seven different people before reaching the consumer. For Hook Fish, the two wanted to minimize the number of middlemen involved by working with local fishmongers and fishermen. 

They also aim to make the journey from ocean to table more transparent to their customers. Over the open kitchen, whiteboards declare which fish are available, how they were caught, their port of landing, and which vessel caught the fish.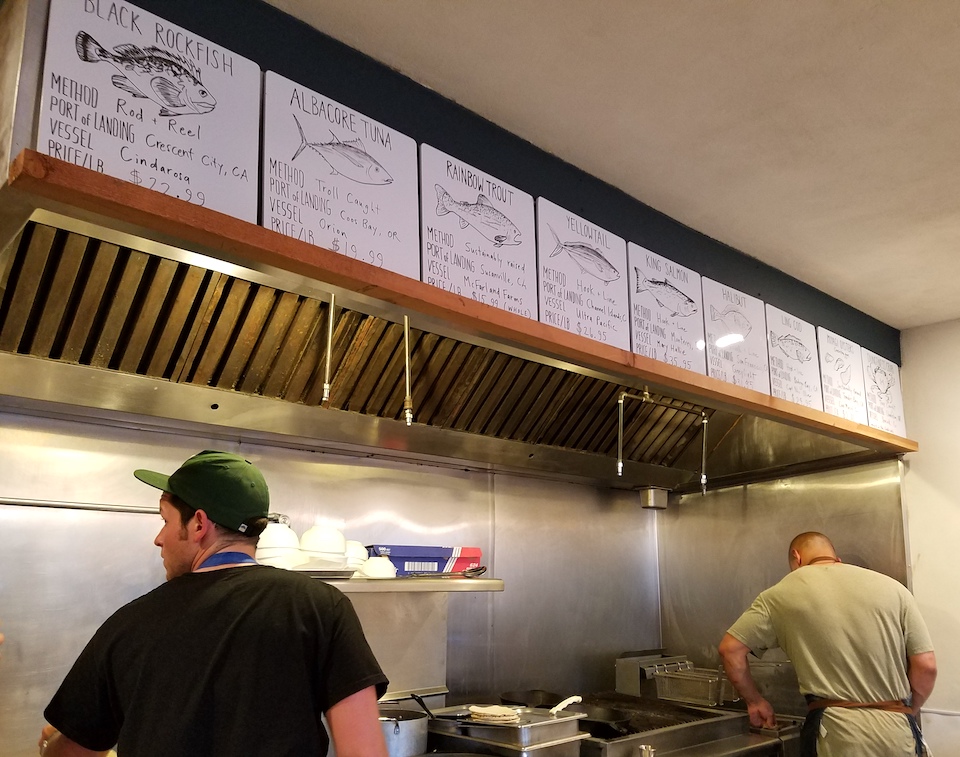 Although the team has held several soft opening nights during the past week, the restaurant and fish market will formally open this Saturday, 11:30am-9pm. The team also hopes to host events with other small businesses in the area—which include 3 Fish Studios across the street and The Last Straw jewelry shop next door— and perhaps even hold a block party.
Hook Fish Co. is located at 4542 Irving St. and 47th Ave. Starting on Saturday, it will be opened daily, 11:30am-9pm.