Published on July 17, 2017
To test Muni's new light-rail vehicles (LRVs), subway service between Montgomery and West Portal stations will close at 9:30pm on weekdays and remain closed completely on weekends for a month.
The test phase begins on Saturday, July 22nd and lasts through Sunday, August 20th. Riders should keep in mind that even if stations close at 9:30pm, last trains may depart up to half an hour before that.
Bus shuttles will substitute for underground train service between Embarcadero Station and St. Francis Circle. They will stop at all Muni Shuttle Flag stops, which are marked with yellow half-moon flags.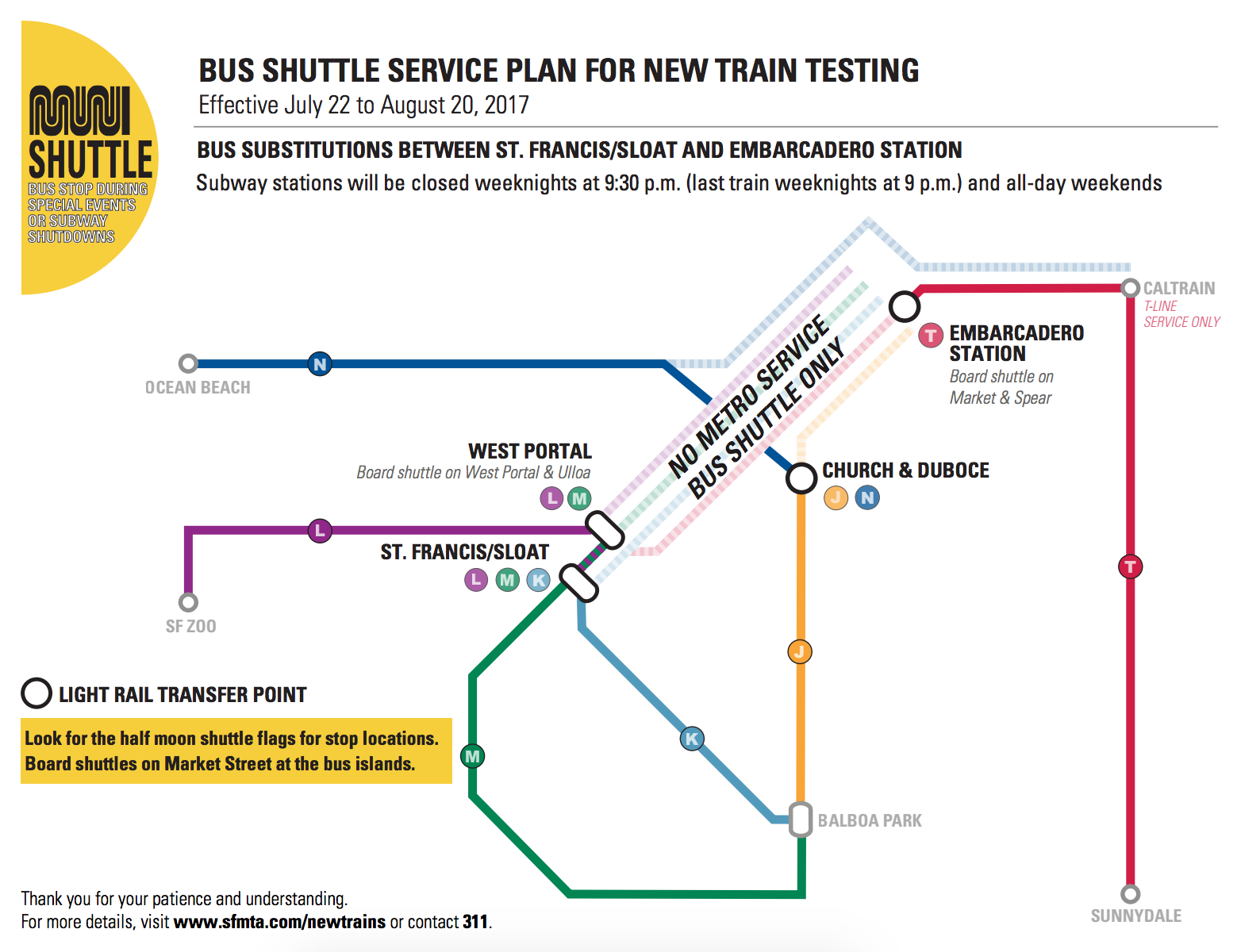 "[W]e are confident that the new LRVs will provide a more comfortable and reliable ride," said SFMTA deputy spokesperson Erica Kato.
Five new cars were delivered this year and are being prepped to go into service by the end of 2017, Kato told Hoodline. Before they enter regular service, the new trains need to go through rigorous testing, requiring trains to run for 1,000 hours to ensure they are ready for service.
The new vehicles were built by Siemens in Sacramento under a $1.2 billion contract and are the first major upgrades to Muni trains since the 1990s.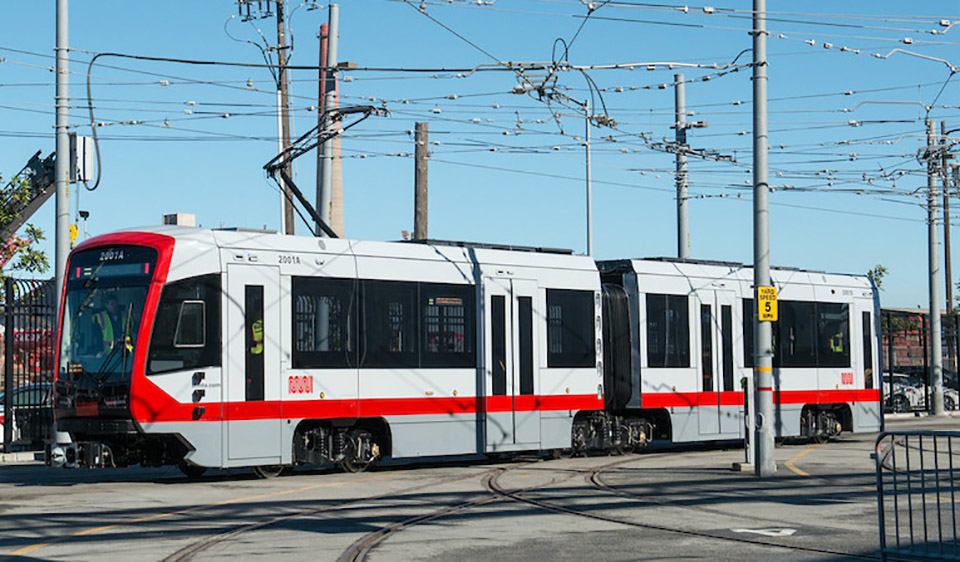 Commuters can expect Muni light rail service on surface streets to run, with a few changes to the usual schedule:
J-Church: From Balboa Park Station to Church Street and Duboce Avenue (trains will continue as N-Judah trains towards Ocean Beach).
K-Ingleside: Between Saint Francis and Sloat boulevards and Balboa Park.
L-Taraval: From SF Zoo to West Portal Avenue and Ulloa Street (trains will continue as M-Ocean View trains towards San Jose and Geneva avenues).
M-Ocean View: From San Jose and Geneva avenues to West Portal Avenue and Ulloa Street (trains will continue as L-Taraval trains towards SF Zoo).
N-Judah: From Ocean Beach to Church Street and Duboce Avenue (trains will continue as J-Church trains towards Balboa Park Station).
T-Third: Between Embarcadero Station and Sunnydale.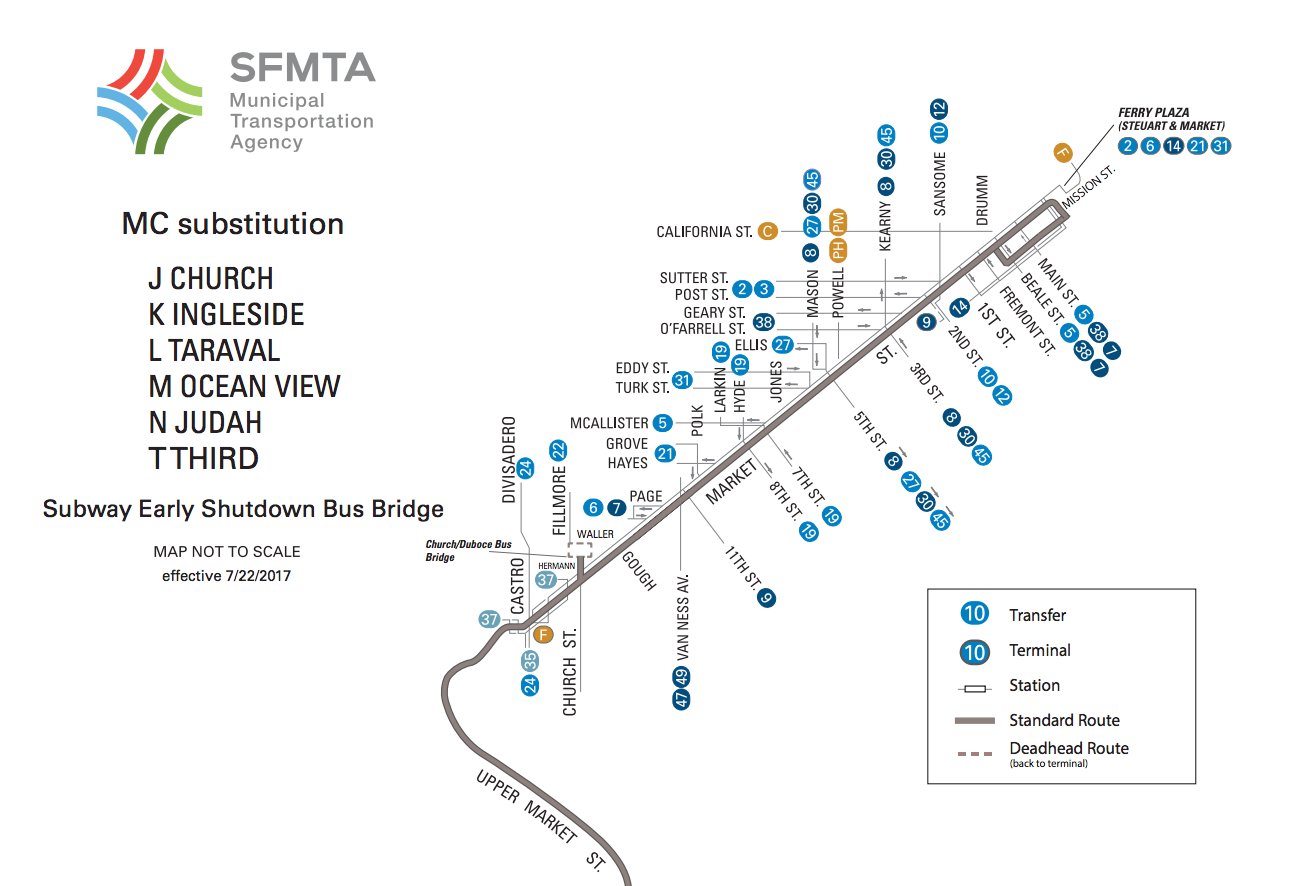 Despite the shutdown, riders will see subway service for certain events.   
For several Giants games scheduled during the testing period, subway stations will open for outbound service. Muni Metro will operate outbound trains weekdays from the ballpark for approximately 90 minutes after the games, but riders will only be able to exit—not enter—the subway stations. 
Muni will also operate on a normal schedule during the weekend of the Outside Lands Music and Arts Festival, between August 11th and 13th.
On July 22nd, Market Street will see a protest that will reroute the bus shuttles to Mission Street. And on July 23rd, the San Francisco Marathon may cause delays for the shuttle as the race crosses Market Street.
In addition, SFMTA intends to conduct maintenance work in the subway tunnel during the closure, including upgrades to their emergency "blue light" phone consoles.
To stay updated on the deployment of the new Muni trains, head over to SFMTA's website.