By
Hoodline
- Published on October 25, 2017.
As recent disasters have demonstrated, hurricanes, wildfires and other calamities can strike at any time. And in light of recent events, it's definitely time to review your disaster preparedness plans and supplies.
When it comes to emergencies, there are many different scenarios that could cause you to use your emergency kit, from a minor injury to a full-blown catastrophe that could leave you without electricity, clean water or food.
In addition to extra cash (should ATMs be non-functional), cell phones and chargers, personal documents (like passports, IDs, birth certificates and insurance policies), and extra batteries, the Red Cross states that you should stock up on a handful of basic supplies "at a minimum."
Read on to learn what items you may want to add to your emergency preparedness pack, along with recommendations based key product attributes and first-rate Amazon user ratings.
Disclosure: While this post is not sponsored, Hoodline may receive compensation from affiliate links used herein.
Flashlight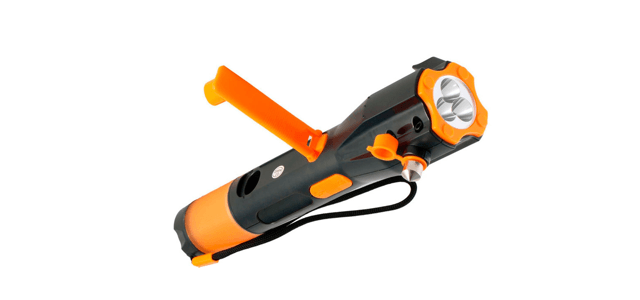 In addition to the battery-powered flashlight or headlamp you likely keep around the house, an emergency flashlight can serve a variety of uses. The multi-purpose, waterproof Cynergy Lifelight flashlight is hand-cranked, meaning it'll function when both electricity and batteries fail, and it also features a window breaker, compass, seat belt cutter, flashing red alert light, and USB port for charging your phone in a pinch. It's selling at around $29.97, a price comparable to other similar options.
Cynergy Lightlight
4.3 stars | 326 reviews
Get it here >
---
Multi-purpose tool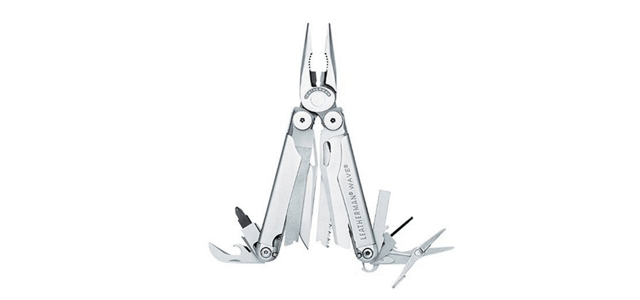 A multi-purpose tool (or "multitool") should come equipped with at least a dozen tools, including a can opener—which could be crucial for accessing canned foods in an emergency. The most popular product from one of the most well-known multitool brands, Leatherman, is the Leatherman Wave: it comes with needlenose and regular pliers, hard and regular wire cutters, wire stripper, plain and serrated knives, saw, spring-action scissors, ruler, can and bottle openers, wood/metal file, diamond-coated file, small and large bit drivers, and medium screwdriver—all in a compact, pocket-sized product.
Leatherman Wave >>
4.7 stars | 368 reviews
Get it here >
---
First aid kit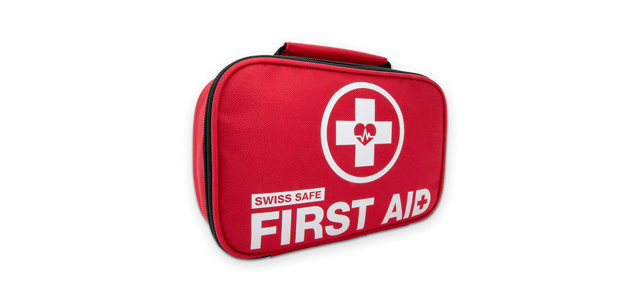 If you've already got a first aid kit, congratulations—but it's time to check your inventory and make sure you haven't poached too many supplies for cuts, scrapes and headaches. If you haven't yet taken the plunge, this is definitely the time, and there are many kit options on the market to choose from. If you're looking for a solid option for your home, consider Swiss Safe's 2-in-1 First Aid Kit—it comes with 120-items packed in a sturdy carrying case, including trauma shears and an instant ice pack, plus another 32-piece mini kit to carry with you on camping trips or to store in your car. 
Swiss Safe 2-in-1 First Aid Kit
4.9 stars | 1,394 reviews
Get it here >
---
Hand-crank radio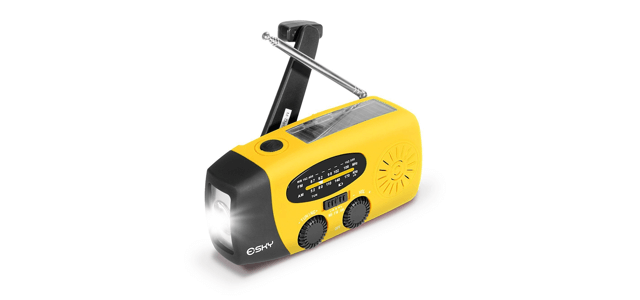 Like the flashlight, a hand-crank radio will work without electricity or batteries, and the Esky model, which can also be charged using solar energy or a USB port, also SOS flashing and lamp functions. But this radio also works as an AM/FM/NOAA weather radio, connecting you with potentially life-saving information over the airwaves in case of emergency. One minute of cranking will give you at least 20 minutes of radio, and it can also serve as a charger for batteries and cell phones.
Esky Solar Weather Radio
4.4 stars | 601 reviews
Get it here >
---
Emergency blanket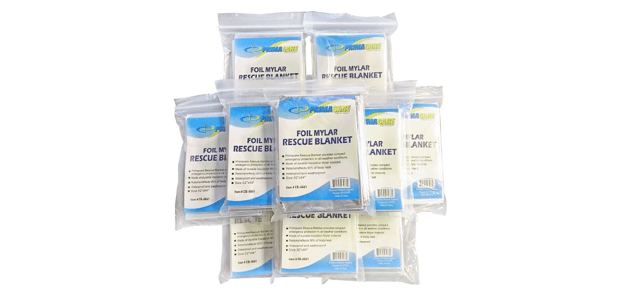 Those crinkly silver blankets you may have seen on television are emergency blankets: lightweight, waterproof Mylar sheets designed to both retain and deflect heat, depending on the circumstances. Most emergency blankets follow similar design, but Amazon recommends the Primacare pack of 10 blankets, available online for around $9.
Primacare 10-pack Thermal Blanket 
4.7 stars | 172 reviews
Get it here >
---
Water supply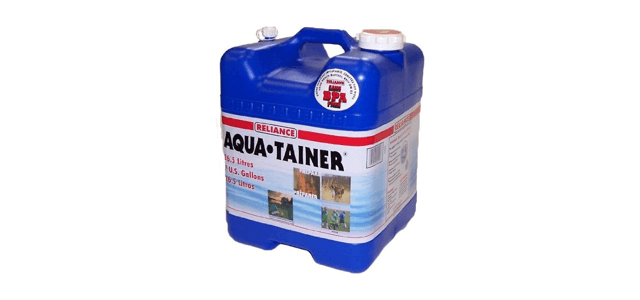 Arguably the most important emergency supply is enough clean drinking water for you and those around you, which translates to one gallon per person, per day (the Red Cross estimates you should have a three-day supply for evacuation situations, and a two-week supply for home.) To store it all, you'll need a large water jug like the Reliance Aqua-Tainer, a seven-gallon rigid jug that's BPA-free and features a reversible hideaway spigot and screw-on vent. (There's also a more petite four-gallon option.) Estimates vary, but the CDC recommends replacing non-store-bought water supplies every six months (that's likely a conservative estimate, and depends on the probability of contamination). 
Aqua-Tainer 7 Gallon
4.4 stars | 741 reviews
Get it here >
---
Other essential items include a selection of non-perishable, easy-to-prepare food items; it's recommended that you retain a three-day supply for an evacuation scenario, plus a two-week stash at home. Hygiene items, such as liquid soap, toilet paper, and feminine hygiene supplies, should also be accounted for, as well as any items specific to your situation, such as medical supplies, baby supplies, and pet-related items like pet food and carriers.
It's also a good idea to maintain an emergency contact list and create an emergency plan with your family, including designating an emergency rendezvous spot if you're separated.