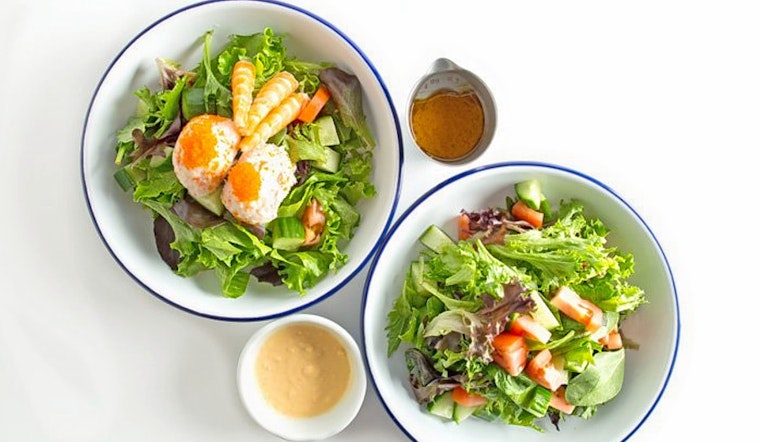 Published on December 11, 2017
A new Japanese spot, offering poke and more, has debuted in the neighborhood. The fresh addition to Fremont, called Fremont Bowl, is located at 4258 Fremont Ave N. (between 43rd St. & Motor Pl).
This new fast-casual Japanese eatery specializes in donburi—meat, seafood, or veggies served in a bowl over rice—along with salads, soups and fast-food style sides. 
On the menu, expect to see dishes like a chirashi rice bowl with tuna, fatty tuna, yellowtail, shrimp, unagi (fresh water eel), masago (smelt roe), and yuzu pepper; a sukiyaki beef don with veggies stewed in a sweet and savory bone broth; and tofu poke, with seaweed salad, cucumber, and fried bean curd. 
For salads, look for crab and shrimp with cucumber, tomato, and greens served with a citrus and mayo dressing; and tofu salad with mixed greens, sesame, and kombu (kelp) dressing. 
Rounding things out are sides like kaarage (fried chicken), asari miso soup with Manila clams, and inari (fried bean curd) sushi. (You can check out the full menu here.)
With a five-star rating out of 13 reviews on Yelp so far, Fremont Bowl has been warmly received by patrons.
Julie R., who was among the first Yelpers to review the new spot on November 20th, said: "I am a sushi lover and I am so excited to have this place opened in Seattle! My husband was nearby the place and got me chirashi and donkatsu to go."
Yelper Vijay S. added: "So far, this is my best Japanese food experience in the Fremont/Ballard/Wallingford area. Really clean restaurant and friendly staff."
And Sean R. said: "OMG! One amazing Japanese restaurant in Fremont! Never had a tasty unagi bowl like this place. Even better than some of the famous places in Tokyo. They give you a huge portion."
Head on over to check it out: Fremont Bowl is open Tuesday–Friday from 11am–2pm, Tuesday–Sunday from 4:30pm–9pm, and weekends from 11:30am–2:30pm.