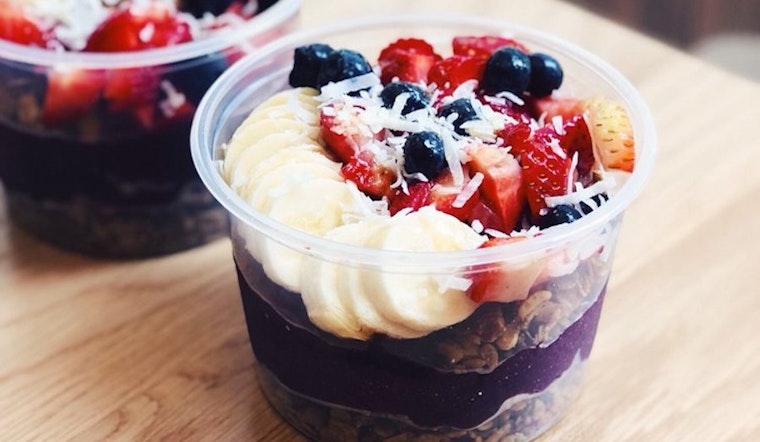 Published on April 16, 2018
If superfoods are what you're after, look no further than SoBol Philly, a new spot offering made-to-order acai bowls. The New York-based chain's latest addition—and first in Pennsylvania—is located at 46 S. 17th St. in Rittenhouse.
Franchisees Dan Nestor and Mike Quinn, who also own a specialty cleaning company, said they eventually plan to expand in the region, the Philadelphia Inquirer reports.
SoBol Philly, which opened in the space formerly occupied by Meltkraft, was recently named one of the "most exciting new healthy restaurants in Philly" by Fitt Philadelphia.
The original acai bowl contains a puree of acai berries (native to Central and South America), homemade granola and your choice of banana, strawberry, blueberry, coconut and honey. Bowls can be customized with specialty toppings like mango, Nutella and chia seeds. Smoothies and bowls containing pitaya, or dragon fruit, are also available. (See the menu here.)
SoBol Philly has proven popular thus far, with a five-star rating out of 11 reviews on Yelp.
Yelper Mary O., who was among the first Yelpers to review the new spot on April 9, said, "These bowls are so good! Staff is friendly, food is fresh and tasty. Perfect for breakfast and lunch!"
And David M. said, "These bowls are so delicious and filling. Glad Philly finally got a place like this. Will make for a great health-food spot with options for the whole day. Also props on the snacks they carry!"
Intrigued? Stop in to try it for yourself. SoBol Philly is open daily from 7 a.m.–
8 p.m.