By
Hoodline
- Published on May 21, 2018.
When the burger craving hits, it can't be denied. If you're looking for a new go-to burger joint in Seattle, we're here to help. 
Hoodline crunched the numbers to find the top burger outlets in Seattle, using both Yelp data and our own secret sauce to produce a ranked list of the best spots for a satisfying burger.
1. 8oz Burger & Co.
Topping the list is 8oz Burger & Co. Located at 1401 Broadway (between Union and Pike streets) in First Hill. The bar, which offers burgers, salads and more, is the most popular burger spot in Seattle, boasting four stars out of 1,335 reviews on Yelp.
Chef Kevin Chung opened this spot near Seattle University in 2011 and is committed to using the best available ingredients.
"8oz Burger & Co. is committed to sourcing the best local and sustainable organic ingredients. Keeping in mind the foundation of a delicious burger, the focus is on the quality of the meat and bun while incorporating creative and delicious accompaniments to complement each burger. With over 16 burgers to choose from, there are plenty of options to suite every flavor profile," the business explains on its website.
Try the classic burger, complete with tomato, onion, pickle, craft white american cheese and special sauce or try the unique fondue burger, which includes redwine braised shallots, gruyere fondue, garlic aioli and onion broth. 50 different bottles of whiskey are available, as are craft beers and hand-crafted cocktails.
2. Red Mill Burgers
Next up is Phinney Ridge's Red Mill Burgers, situated at 312 N. 67th St.  With four stars out of 1,165 reviews on Yelp, the spot to score burgers has proven to be a local favorite.
Owners John and Babe Shepherd opened Red Mill in its current form in 1994 after their two late sisters Kathleen and Monica Shepherd, both of whom worked at the original Red Mill opened in 1937, the business explains on its website.
Red Mill Burgers has won numerous awards for its grub, including consecutive best burger wins from Seattle Weekly. Visitors can mix it up with a chicken burger like the chicken club complete with black pepper bacon, swiss cheese, lettuce, tomato and basil mayo on a kaiser bun or opt for one of the three veggie burgers on the menu.
3. Uneeda Burger
Fremont's Uneeda Burger, located at 4302 Fremont Ave N. (between 43rd and 44th streets), is another top choice, with Yelpers giving the spot four stars out of 1,060 reviews.
Chef Scott Staples is behind the burgers found at Uneeda Burger, which was established in 2010.
Uneeda Burger has fine wine and craft brews available to pair with locally-sourced and fresh beef, chicken and vegetarian burgers, the business explains on its website. Choose between any of Uneeda Burger's 10 Signature Burgers, like the Philly Smash featuring harred peppers, onions, gruyere and special sauce or six classic sandwiches, like the chipotle chicken sandwich complete with jack cheese, bacon, romaine lettuce, tomato, red onion and chipotle mayo. Check out the full menu.
4. Meekong Bar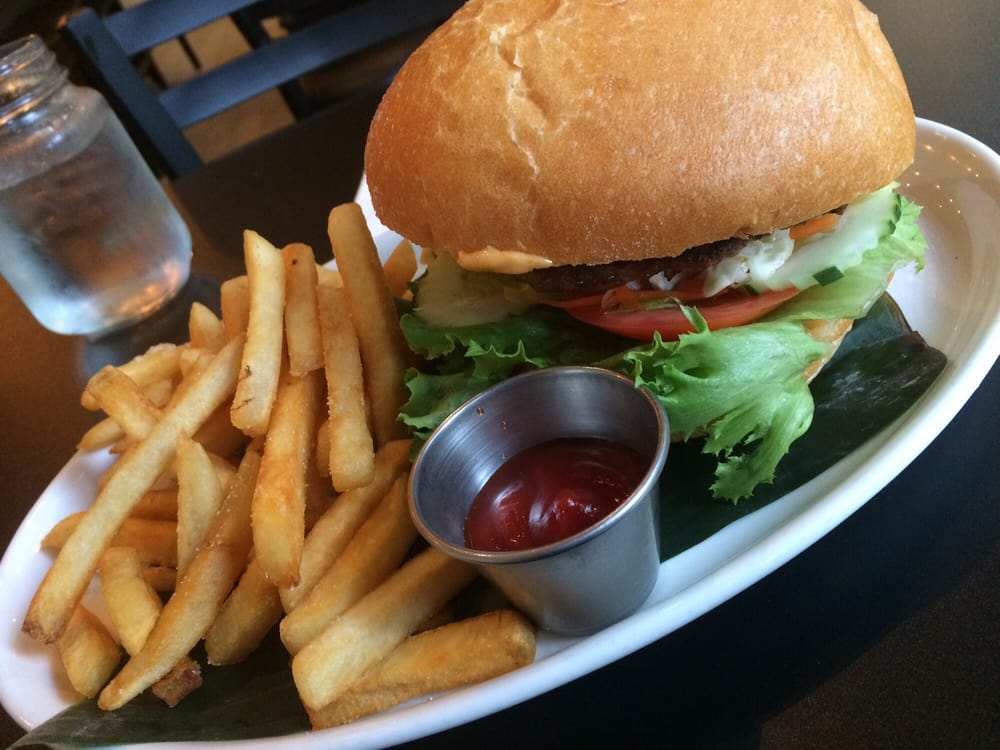 Meekong Bar, a Vietnamese and Asian fusion spot that offers burgers and more in Belltown, is another much-loved go-to, with four and a half stars out of 281 Yelp reviews. Head over to 2525 4th Ave. (between Wall and Vine streets) to see for yourself.
Opened in 2016, this burger joint has multiple unique tastes. Infused with Vietnamese comfort food, this American-style burger spot combines two flavors from opposite sides of the world. Opt for a burger with house-baked buns for a hearty meal or get a traditional bowl of pho. Exotic salads, spring rolls and American french fries also dot the menu.
5. Li'l Woody's
Check out Li'l Woody's locations in Capitol Hill, Ballard, White Center or South Lake Union. This spot has earned four stars out of 777 reviews on Yelp. Check out the Capitol Hill location at 1211 Pine St. (between Melrose and Minor avenues).
This burger joint's options include grass-fed burgers, ice cream shakes and fries cut from Washington-born potatoes. Choose from one of 13 burgers on Li'l Woody's menu like the Big Woody which features bacon, cheddar, chopped onions, diced pickles, tomato slices, lettuce, ketchup and mayo or the Pig and the Fig including pickled figs, bacon and blue cheese crumbles.
Choose between a Georgetown Brewing Company beer, Full Tilt milkshake, or classic root beer float to wash it down. This small burger chain also has chicken and vegetarian burger options, onion rings and more.