By
Hoodline
- Published on May 22, 2018.
Interested in getting intel on the newest restaurant and retail additions to downtown Los Angeles? From a snout-to-tail restaurant to a caffeine-free coffeeshop, read on for a list of the newest spots to debut in this area of Los Angeles.
Hock + Hoof
517 S. Spring St.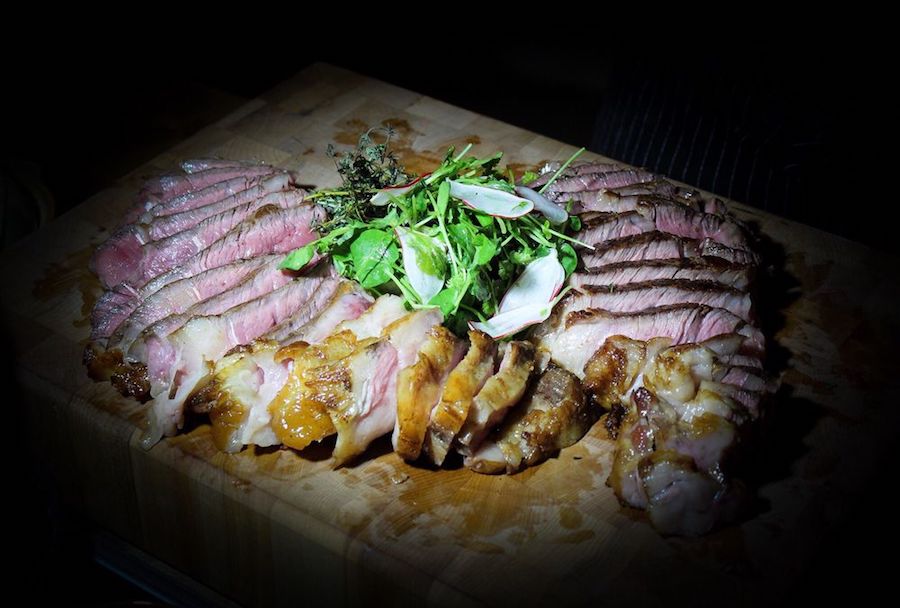 Located in the former Tabachines Cocina space, Hock + Hoof is a modern American restaurant that specializes in meat. And as its name indicates, the eatery has offerings from snout to tail.
The menu is inspired by Los Angeles' lively food scene, with chef and owners Kat Hu and Justin Yi bringing French cooking techniques and Asian ingredients together to produce "flavor-forward global cuisine," per its website.
Look for offerings like the tripe, tendon and gochujang dish, chicken liver mousse with kumquat jam and the pig's head with agedashi tofu. (You can view the full menu here.)
Hock + Hoof currently holds five stars out of 29 reviews on Yelp, indicating good reviews.
Yelper Dan N., who reviewed Hock + Hoof on May 5, wrote, "One of my favorite new places in DTLA. The food is a great fusion of French technique with Asian flavors (cod tempura Shanghai style) and flavors from all over."
And Jenny P. wrote, "The chefs are really creative with their dishes. They do put a lot of work and thought into it. If you're a true foodie and want to expand your palate, this is the place for you!"
Hock + Hoof is open from 10:30 a.m.–2:30 p.m. and 5:30–10 p.m., Monday-Thursday, 10:30 a.m.–3:30 p.m. and 5:30–11 p.m. on Friday and Saturday, and 10:30 a.m.–3:30 p.m. and 5:30–10 p.m. on Sunday.
Jinya Ramen Bar
700 Wilshire Blvd., Suite B.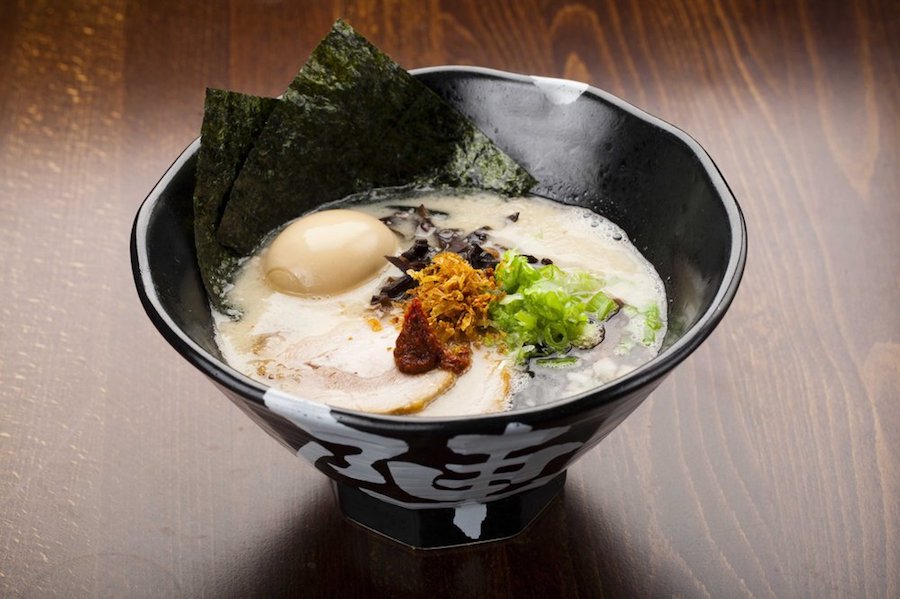 L.A.-based chain Jinya Ramen Bar recently debuted its latest location in the neighborhood. 
Diners can expect to find ramen offerings with chicken, pork and fish broths. Look for the Jinya Black Tonkotsu, thin noodles in a rich pork bone broth with pork chashu, wood ear mushrooms and a seasoned egg.
For non-ramen options, look for mini "tacos" of salmon poke served in a deep-fried wonton skin shell, sliced sukiyaki beef over rice with a soft-boiled egg, and a Japanese-style curry rice. (You can check out the full menu here.)
With a 3.5-star rating out of 14 reviews on Yelp, Jinya Ramen Bar is still finding its way, but it's early days.
Wing C. said, "Both our ramens came in wavy egg noodles — soaked up the flavor nicely, but I personally prefer the usual thinner noodle for tonkotsu broth. The shrimp base was very apparent: smokey, charred crustacean punch. The broth was very concentrated, to a point it was actually a tad too salty for my taste."
And Ginjah Maddy B. wrote, "Went in to Jinya on a Saturday afternoon and let me tell you ... my faith in ramen restaurants has been restored! Lately it has been difficult for me to find something to eat that I really enjoy at ramen joints because most places don't offer any vegan options, but Jinya does."
JINYA Ramen Bar is open from 11 a.m.–10 p.m. on Monday, Tuesday, Wednesday, Thursday and Sunday and 11 a.m.–11 p.m. on Friday and Saturday.
Shoe Palace
326 E. Second St.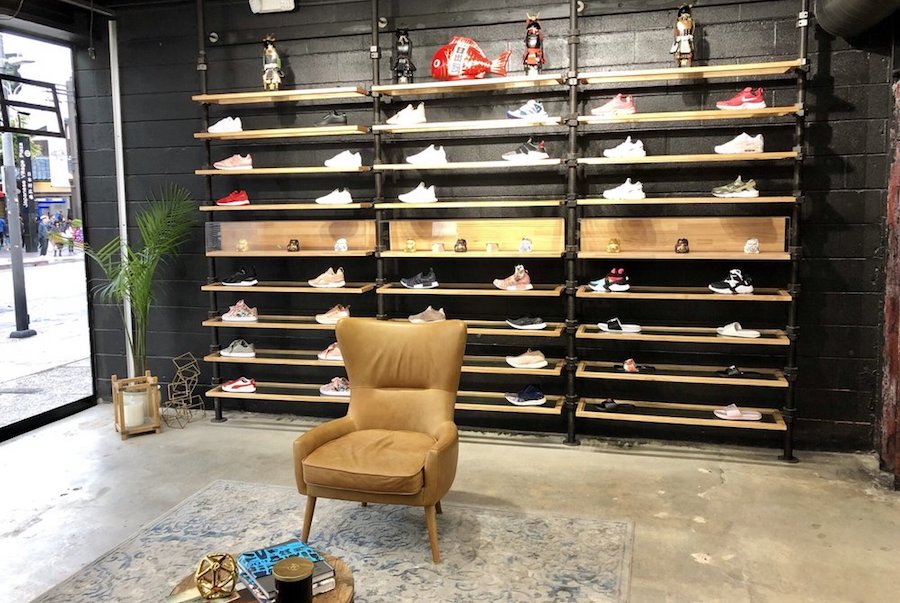 Shoe Palace is a California-based chain with nearly 200 stores across the United States, according to its Yelp page. Specializing in trendy streetwear and brands that include adidas, Nike and Supra, the brand recently debuted a new outpost in the neighborhood. 
Yelp users are still warming up to Shoe Palace, which currently holds three stars out of two reviews on the site.
Yelper Michael L., who reviewed Shoe Palace on May 5, wrote, "Drove by this morning [and] saw a few people lining up. Damn sheep mentality, got me a pair of bred toes."
Shoe Palace is open from 10 a.m.–9 p.m. on weekdays, 10 a.m.–8 p.m. on Saturday, and 11 a.m.–7 p.m. on Sunday.
Medidate Coffee
548 S. Spring St., Suite 110.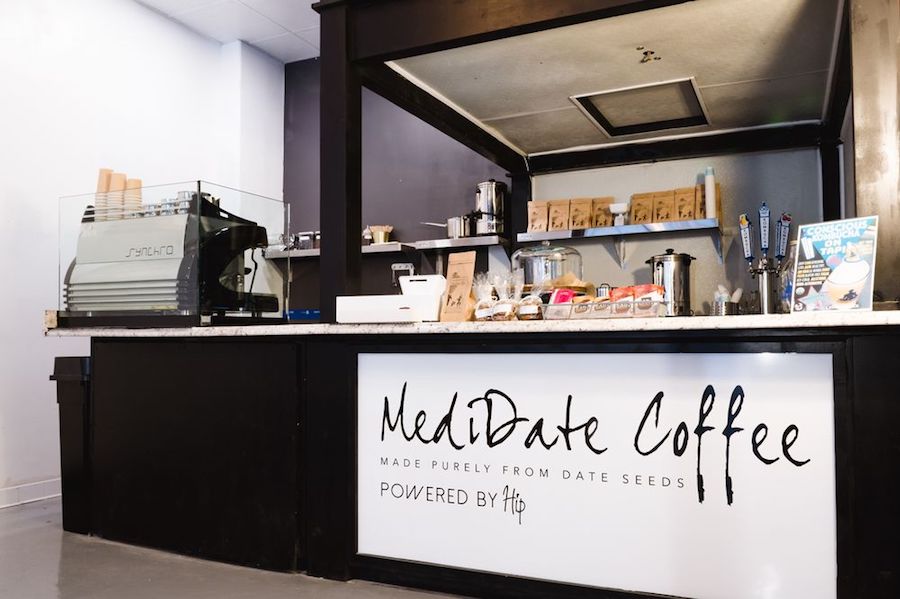 With locations in Burbank and Santa Monica, Medidate Coffee debuted a new downtown outpost. The coffeeshop specializes in caffeine-free "coffee" drinks made from date seeds and vegan snacks. 
"We picked DTLA as our first location due to the fact that [the neighborhood] is undergoing one of the largest expansions in North America," Laith Alkhawaja, CEO of Medidate Coffee, explained in a press release. 
Customers can try boiled coffee and dairy-free latte options, as well as stuffed dates with chocolate or almond butter spreads. 
Medidate Coffee's current Yelp rating of five stars out of four reviews indicates positive attention from users.
Kedar D. noted, "This is a small shop serving date-seed 'coffee,' a delectable drink that is something like a cross between tea and coffee in terms of taste and consistency. It also serves grab-and-go vegan snacks (such as cookies and cheesecake from Yvonne's Bakery) and will soon serve freshly-made Mediterranean wraps."
Yelper Tasha H. wrote, "Medidate Coffee is amazing! The taste is better (less acidic) than coffee but it's 100 percent caffeine free. I love having it before I take yoga because it gives me natural energy and I feel so healthy drinking it."
Medidate Coffee is open from 7 a.m.–7 p.m. on Monday-Saturday and 11 a.m.–7 p.m. on Sunday.
Gizmo's Cereal Bar
215 W. Sixth St., Unit 109.
Finally, one new spot hopes to "bring out the inner child" in breakfast fans. Named for the owner's dog, Gizmo's is the area's first cereal bar. 
There's an extensive range of cereals and signature bowls for folks who could eat breakfast all day. Opt for offerings like Girl Scouts Thin Mints, Golden Grahams or Frosted Strawberry Mini Wheats. There are also bowls with a mix of cereals and toppings. 
Gizmo's Cereal Bar currently holds five stars out of nine reviews on Yelp, indicating good reviews.
Yelper Alice W., who reviewed Gizmo's Cereal Bar on May 5, wrote, "It's definitely a hidden gem in DTLA! Wake up in the morning and you just want to walk to Gizmo's Cereal bar and grab some cereals! It's a really cool modern decor cereal place."
And Yesenia E. noted, "[O]nce we entered the location, it was beautifully decorated and there was a wide selection on cereals. I ordered the Cookie Monster, which was delicious. But they have an infinite list of combinations you can make. I'm definitely coming here again."
Gizmo's Cereal Bar is open from 9 a.m.–9 p.m. on weekdays, 11 a.m.–9 p.m. on Saturday, and 11 a.m.–7 p.m. on Sunday.