Just as Wakanda has the MCU's only supply of vibranium, a local comics shop will be the source of a new Black Panther comic book that has an exclusive Oakland-themed variant cover.
Downtown's Cape and Cowl Comics commissioned the exclusive cover, which features the iconic white cranes of the Port of Oakland and a "Welcome to Oakland" sign. The cover is drawn by Toronto-based artist Jamal Campbell.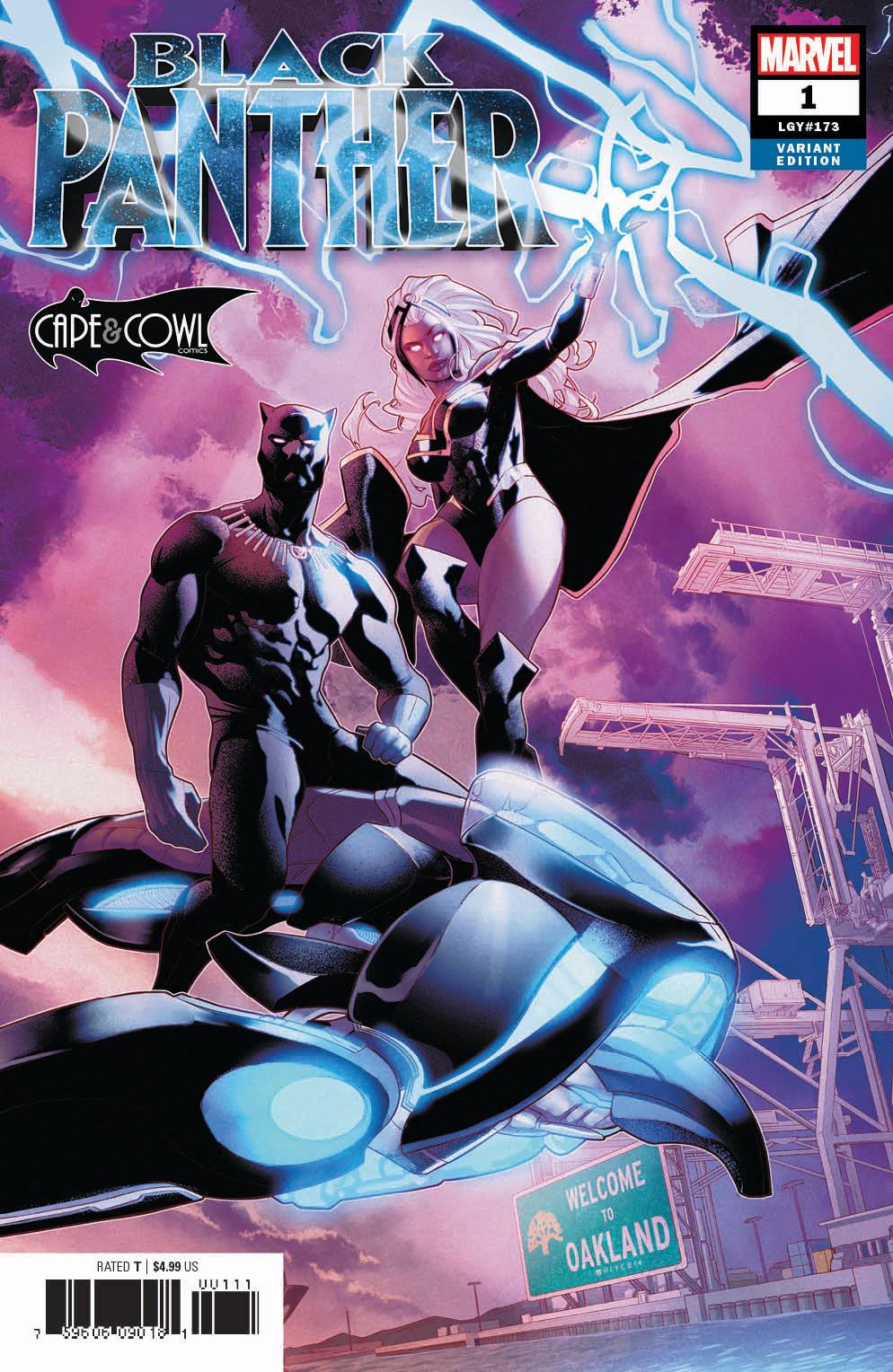 The Black Panther character became inextricably linked to Oakland with the release of the blockbuster movie earlier this year.
While most of the film is set in the fictional African nation of Wakanda, it opens with a scene set in 1990s Oakland that influences the story of the film's villain, Erik Killmonger, played by Michael B. Jordan.
The film was written and directed by Oakland-born filmmaker Ryan Coogler, who first earned accolades for directing Fruitvale Station, the story of Oscar Grant III, who was shot and killed by BART police in Oakland in 2009. Jordan also played Grant.
Oakland audiences cheered the city's inclusion in the Black Panther film and the Oakland A's held a Black Panther bobblehead giveaway earlier this month.
Given the interest in the character in Oakland, Cape and Cowl owner Eitan Manhoff wanted to offer fans something special with the release of Black Panther #1.
Marvel frequently offers shops the opportunity to commission custom covers for particular issues, providing a list of upcoming comics that are available.
"When Black Panther showed up on the list, I knew I wanted to do one," Manhoff said.
Manhoff requested the cover be drawn by Campbell. At first, he had hoped to feature the movie version of Killmonger because of his Oakland connection, but Marvel said movie versions of characters were off-limits.
Instead, the cover depicts Black Panther and Storm, the X-Men character who in the comics was once Black Panther's wife and periodically makes guest appearances.
Manhoff said he wasn't sure he could sell the volume required to produce a custom run of comics for Cape and Cowl, but fans have been enthusiastic.
"The pre-orders are incredible, they're way beyond expectations this early on," he said. "I kind of thought with how many I had to order I might have these for the rest of time, but I sincerely don't think that will be the case."
In fact, he said there may even be a second printing, potentially a version without text on the cover to better show off the artwork.
The issue will feature a story written by author Ta-Nehisi Coates, a nonfiction writer who's also a lifelong comics fan that started writing Black Panther in 2016. Coates will also take over writing Captain America in July.
Black Panther #1 will be available in comic shops on Wednesday, May 23, but Cape and Cowl is taking pre-orders for its exclusive cover on its website.