Travelers heading out of San Francisco International Airport can take a last look at West Oakland starting this month with a photo exhibition that celebrates the neighborhood's history and abundance of urban farms.
"The Farms of West Oakland" is an exhibition by Pulitzer Prize-winning photographer Preston Gannaway. Gannaway told Hoodline that she started the project after moving to the area five years ago and noticing there were numerous small farms within walking distance. 
Gannaway said she was further intrigued by the history of the neighborhood and efforts to combat food insecurity, like the Black Panther Party's free breakfast program.
"I just really was impressed by what I saw folks doing and the history that I was finding as I was digging and doing a little more research," she said.
The project documents several farms in the neighborhood, including West Oakland Woods (WOW), which operates two farms: a produce farm at Seventh Street and Mandela Parkway, and a flower farm on Wood Street between 15th and 16th streets.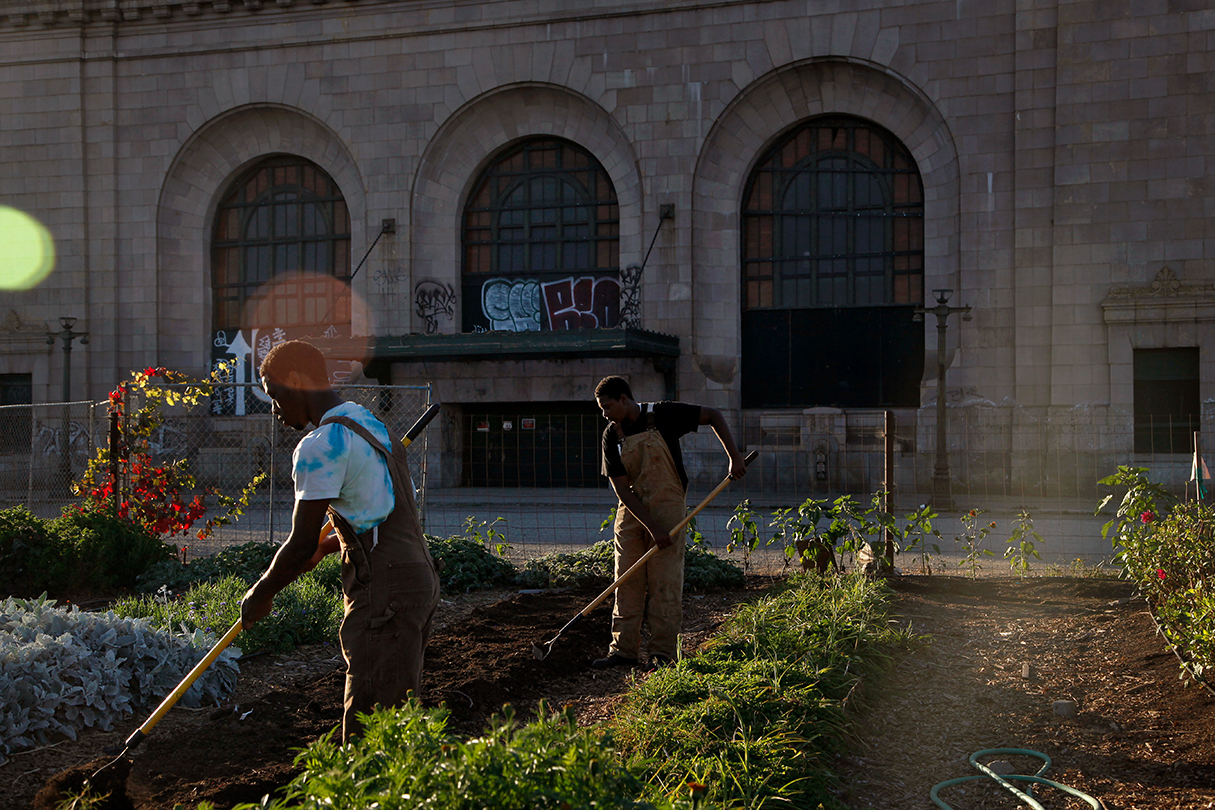 Gannaway said she spent the most time at the WOW Farm, which is operated by the nonprofit Game Theory Academy. The organization provides job training for youth, including paid internships for high school students at WOW. 
"That was just really fun hanging out with the high school students and watching them learn," Gannaway said.
She also visited City Slicker Farm Park at 2847 Peralta St., which had its grand opening in June 2016. The park provides plots and assistance for local families to grow their own vegetables. 
"One of the things that I find the most inspiring in the neighborhood and the city is people's involvement in taking things into their own hands and really working to make things better when the system has failed them," Gannaway said.
Not all the farms Gannaway photographed still exist, however.
Fleet Farming, a project that established small farms in local yards tended by youth to sell the produce to local restaurants, was founded in Florida and came to West Oakland in 2015. It's since been discontinued in Oakland but continues operating in the Orlando area. 
The photo project was initially published by the Atlantic in 2016. Gannaway met SFO photography curator Kai Caemmerer last year, who has been working on expanding the photography offerings at the airport. The exhibit opened earlier in April and will run until July.
Gannaway won a Pulitzer Prize in 2008 for her work on a project for the New Hampshire newspaper the Concord Monitor. The story, "Remember Me," a years-long project documenting a family dealing with a parent's terminal illness and the aftermath of their death.
Later this spring, she will attend the artist-in-residence program at Light Work in Syracuse, New York.