By
Hoodline
- Published on May 21, 2018.
Craving Ethiopian food, or wanting to taste a new flavor on the streets of Chicago?
Hoodline crunched the numbers to find the top Ethiopian restaurants around Chicago, using both Yelp data and our own secret sauce to produce a ranked list of the best spots to venture next time you're on the hunt for Ethiopian (and Eritrean!) eats.
1. Tesfa Ethiopian Cuisine
Topping the list is Tesfa Ethiopian Cuisine. Located at 1023 W. Wilson Ave. in Uptown, it's the highest-rated Ethiopian restaurant in Chicago, boasting five stars out of 109 reviews on Yelp.
"Tesfa's family originates from a small village in the southernmost part of Ethiopia near the border of Kenya," the business' website explains. "Drought, tribal conflict, and war forced the family to move from place to place and business to business to find somewhere better to call home. Through it all, the family always carried hope in their hearts."
Now, they serve the food of their homeland to hungry Chicagoans, from vegetarian favorites like yesimir wot (lentils with berbere, ginger, garlic, onion, and tomatoes) and meaty dishes such as yebeg alicha (mild beef stew slow-cooked with onion, garlic, jalapeño, ginger, and Ethiopian spices) and doro wat (a spicy chicken stew that's gently simmered for hours). And of course, there's plenty of pillowy, spongy injera flatbread to mop up all the sauces. 
2. Demera Ethiopian Restaurant
Next up is Uptown's Demera Ethiopian Restaurant, situated at 4801 N. Broadway. With four stars out of 918 reviews on Yelp, this Ethiopian spot has proven to be a local favorite. Established in 2007 by chef Tigist Reda and her husband Germai Lemma, this spot prides itself on making all its food from scratch, including roasting its own Ethiopian coffee beans.
Popular dishes at Demera include gomen (chopped collard greens sautéed with onions, garlic and ginger and then lightly mixed with sliced and seeded jalapeño) and sambussas (fried dumplings served with a sweet and spicy honey sauce). The restaurant also offers a number of vegan options, including quosta, slow-cooked spinach with garlic, tomatoes and ginger. 
3. Ethiopian Diamond
Edgewater's Ethiopian Diamond, located at 6120 N. Broadway (between Glenlake and Hood avenues), is another top choice, with four stars out of 672 Yelp reviews. (A second location in Rogers Park also gets high marks from Yelpers.)
Chef-owner Almaz Yigizaw named her restaurant for herself; "almaz" is Amharic for "diamond." 
Ethiopian Diamond's specialties include kitfo, lean beef minced and lightly seasoned with a touch of seasoned butter and a mix of ground chili pepper, and yebeg watt, bone-in lamb stewed in Yigizaw's homemade spicy "Diamond Berbere" sauce. 
4. Ras Dashen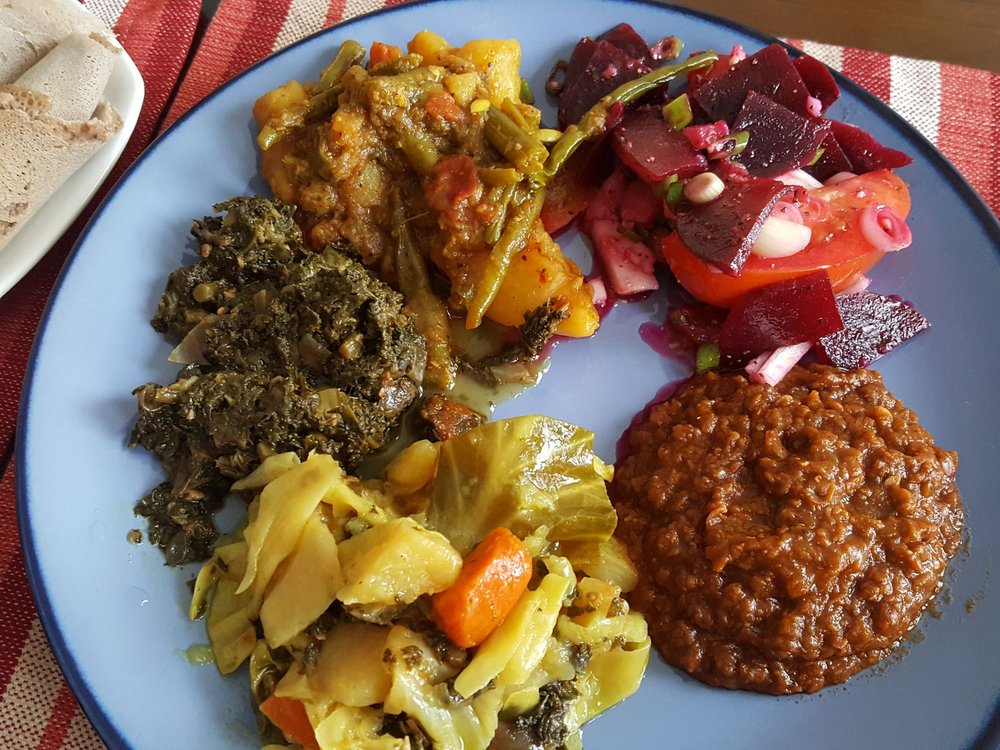 Ras Dashen, an Ethiopian spot in Edgewater, is another Chicago go-to, with four stars out of 632 Yelp reviews. Head over to 5846 N. Broadway St. (between Thorndale and Ardmore avenues) to see for yourself.
Ras Dashen, which was established in 2001, is named for Ethiopia's highest mountain peak. The restaurant was recently recognized with the 2018 Jean Banchet Best Ethnic Restaurant Award.
Ras Dashen is especially well-known for its beef options, including gored gored, beef brisket slightly cooked with shallots, spiced butter, garlic, awaze spices and a hint of cognac and served medium rare.
5. Den Den Restaurant
Over in Rogers Park, check out Den Den Restaurant, which has earned 4.5 stars out of 93 reviews on Yelp. You can find this Eritrean spot at 6635 N. Clark St. (between North Shore and Wallen avenues).
The only Eritrean restaurant in Chicago, Den Den offers flavors that are similar to those of Ethiopian cuisine, but with a twist. For example, Eritrea was once a colony of Italy, and spaghetti remains part of the region's cuisine—eaten with one's hands. 
Favorite dishes include alich'a derho, chicken with onions, potatoes, and carrots in a spicy curry served with injera, bread or rice, or the vegetarian shiro, chickpea flour cooked with oil, onions, tomatoes, garlic and jalapeños in a choice of mild or spicy sauce.