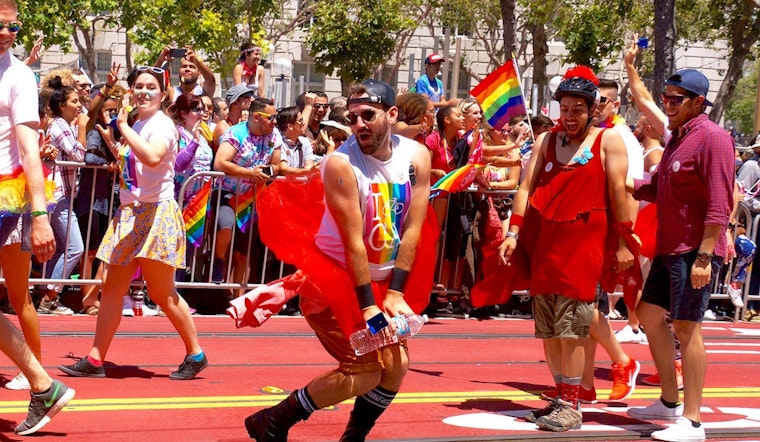 Published on June 22, 2018
Gear up and get ready for one of San Francisco's most popular annual parties, the Gay Pride Parade. The following guide will help you navigate around the actual event and nearby activities.
The Parade
The parade begins this Sunday, June 24th at 10:30 a.m. The route runs along Market Street, beginning at the Embarcadero BART and MUNI station and ending at the Civic Center.
To watch the parade, grab a spot pretty much anywhere alongside Market Street. According to Eric Miller, an SF resident, "Make sure to stay on the south side of Market Street or you'll never get back."
It's expected to be a big event with event organizers believing more than 100,000 spectators will be there, along with more than 280 contingents. So be prepared to meet and mingle with new people and to see a lot of colorful outfits. If you want to watch from afar, local television broadcasters are planning to cover live. 
The parade is free, but gatekeepers will ask for a donation of $1-$5.  For a special view of the festivities, nab yourself a grandstand seat between Seventh and Eighth streets for $40.
At the endpoint at Civic Center, you'll find several stages with free on-going performances and various merchandise and food vendors. 
If you're going to be in the neighborhood, it's recommended that you leave larger bags and backpacks at home; Attendees have been turned away in the past due to security concerns.
Relevant reading from Pride Parade organizers:
Pro tips
Be hyper-aware of your physical health and well-being: hydrate often and make a mental note of any nearby restroom facilities. Bring sunscreen.
Charge your cell phone and find a backup battery for it. Reception will most likely be spotty because of everyone at the event.
If you plan to meet up with friends — especially anywhere near Civic Center — make that plan far in advance and have exact coordinates for it. You will most likely not be able to coordinate anything on the fly because of cell reception issues. Look for nearby networks at places like Starbucks, #SFWiFi, and XFINITI WiFi and other hotspots if you have access.
Also, if you're with a group in Civic Center, consider holding hands. If you lose a person for three minutes, you could spend hours finding them. It's best to have regular meeting points and times between 10:30 a.m. and 4 p.m.
Minimize your valuables you bring to this event: phone, phone charger, ID and a form of payment is all you need. Leave everything else at home.
What to wear
Sunscreen.
A sparkly fanny pack or something else small for the essentials.
Bright-colored and comfortable summer clothes. It's going to be warm!
If you can, bring a light jacket or sweater and tie it around your waist in the day. You'll need it at night.
Many regional and national chains — Levi's, H&M, Dolls Kill, to name just a few— are carrying special Pride merchandise this year. To support local businesses, head over to Piedmont Boutique, Knobs, Body,  Mr. S., and many others.
Tips from past attendees
"Identify bars or coffee shops that are a little off the beaten path. It can be nice to have a breather from all the merriment," said Joel Street, a San Francsico resident.
"Drink more water than you think you should, especially if you're drinking or drugging. Carry a refillable water bottle, there's hydration stations!" said Kitty Stryker, a Berkeley resident. "There have been some recent assaults on queer people, so travel in groups and have each others' backs."
"Plan to go with a group, but not too many people. It makes it hard to decide on things to do. [And] have an itinerary but be open to explore what's around," said Adan Washabaugh, a resident from San Jose.
"Agree on a specific meet up location at a set time for instances where groups get separated so you can regroup," said Timothy Charles Asunción of Alameda. "For iPhone users, you can set each others phones to share one another's location on the 'find friends' app and you will always know where each other is or when someone's phone is off."
"Stretch and try to really be yourself. It will open your heart," said Curtis Murray, a San Francisco resident.