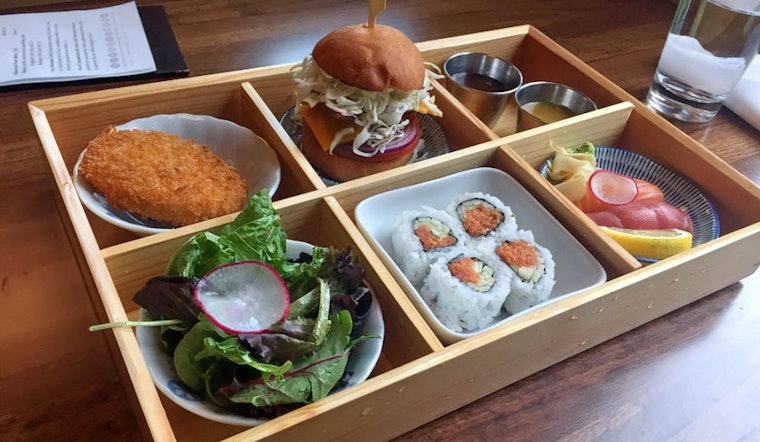 Published on June 28, 2018
Interested in sampling some of the newest restaurants and bars to debut in Ballard? From a Katsu Burger to a distillery, read on for the newest destinations to open for business in this part of Seattle.
Katsu Burger & Sushi
2034 N.W. 56th St.
Katsu Burger & Sushi is a sushi bar and Japanese spot, offering burgers and more.
Katsu Burger, which also has locations in Georgetown, Lynnwood, Bellevue and Capitol Hill, specializes in deep-fried beef, pork or tofu katsu burgers with a variety of toppings both Japanese (tonkotsu sauce, Japanese mayo) and American (pepperjack cheese, jalapenos).
The rest of the menu has a similarly Japanese-meets-American flair, with items like nori fries and matcha milkshakes.
This new location adds sushi to the mix, offering everything from salmon sashimi to spicy tuna rolls. Happy hour (Monday-Thursday 4-6 p.m., Friday-Saturday 9-10 p.m.) features discounts on everything from Wagyu beef sliders to sashimi platters, as well as beer and sake.
Katsu Burger & Sushi currently holds four stars out of nine reviews on Yelp, indicating good reviews.
"Menu is pretty simple and straightforward," wrote Yelper Cindy F. "There are so many things to try. Bento boxes are very filling."
Yelper Ashley N. wrote, "So excited they opened a branch in Ballard. This Katsu serves the regular sandwiches and burgers, but added a sushi menu. Nice move."
Crown Hill Broiler
8037 15th Ave. NW
Crown Hill Broiler is a bar, offering burgers, sandwiches and more.
Previously the Original Pancake House, the owners closed the restaurant earlier this year and reopened with a new name, look and concept, My Ballard reports.
The Crown Hill Broiler features nine Angus burgers along with pork, chicken and vegetarian versions and has 10 beers on tap. Try the bacon burger with garlic aioli and pair it with a Manny's Pale Ale; or opt for The Porky Burger (8 ounces of pulled pork with homemade coleslaw and barbecue sauce on a ciabatta bun) and wash it down with a pint of Pacifico.
Fries, onion rings, quesadillas, sliders, wings and taquitos are also offered. Looking for a deal? Drop by from 3-6 p.m. for happy hour.
With a four-star rating out of 20 reviews on Yelp, Crown Hill Broiler has been getting positive attention.
Madisen L. noted, "This place had some hearty burgers. I came here with my companions road-weary and ravenous. The mushroom burger I had was a generous portion."
Yelper Tim H. wrote, "Crown Hill Broiler is a brand new restaurant in what used to be the Original Pancake House on 15th Avenue NW just south of 85th. It's kind of a hybrid type of restaurant: you order and pay as you step in."
Crown Hill Broiler is open from 11 a.m.–9 p.m. daily.
Chili Baby
2242 N.W. Market St.
Chili Baby is an Asian fusion spot.
Start off with menu options like edamame, barbecue chicken wings or tofu bites. Entrees selections include Sichuan peppercorn chicken, Japanese potato stew and stir-fried pork with cabbage. Really hungry? Grab the roasted garlic lamb chops cooked medium well and served with potato salad. Noodle dishes and vegetarian entrees are also available. Chili Baby also delivers.
Chili Baby currently holds 4.5 stars out of 13 reviews on Yelp, indicating good reviews.
Yelper Jen G., who reviewed Chili Baby on May 5, wrote, "Staff was really friendly, and the food was fantastic. I had the crispy chicken bento, my husband had the Sichyuan chicken, and we were both really happy with our orders."
Diana H. noted, "The peppercorn chicken was a real standout dish — it wasn't fried, it was more of a stew that was genuinely spicy. It had a wonderful savory broth infused in the juicy bone-in chicken."
Chili Baby is open from 5 p.m.–9:30 p.m. on Monday, Wednesday, Thursday, and Sunday and 12:30 p.m.–10 p.m. on Friday and Saturday. (It's closed on Tuesday.)
Frankie And Jo's - Ballard
1411 N.W. 70th St.
Frankie and Jo's - Ballard is a spot to score ice cream and frozen yogurt.
Owned by Autumn Martin and Kari Brunson, the shop offers vegan and gluten-free ice cream that is primarily made with a combination of sprouted cashew nut milk and coconut milk, the shop explains on its website.
Expect everyday flavors like salted caramel ash, chocolate mint brownie and brown sugar vanilla, seasonal flavors such as the Hello Sunshine with a pineapple twist and sorbet flavors like beet strawberry rose. The cones are also free of gluten and contain oat flour, maple syrup and a hint of brown sugar.
With a four-star rating out of 32 reviews on Yelp, Frankie and Jo's - Ballard has been getting positive attention.
Yelper Kara C., who reviewed Frankie and Jo's - Ballard on June 6, wrote, "Really the best of the best when it comes to artisan ice cream. A boutique creamery, Frankie and Joe's offers year-round premium flavors such as chocolate tahini and salted caramel ash."
Monica S. noted, "Love this Frankie and Jo's location! It is close to where I live and close to other fun restaurants in the area. There is often a line flowing outside, but that's obviously for a good reason."
Yelper Sasha B. wrote, "Oh my goodness. Their ice cream is delightful. For those who are lactose intolerant, you'll be able to satisfy your ice cream craving without having to face the bathroom consequences later."
Frankie and Jo's - Ballard is open from noon–11 p.m. daily.
Heritage Distilling Co.

1836 N.W. Market St.
Heritage Distilling is a new distillery in Ballard. The fresh addition to Ballard is located at 1836 NW Market St.
Based in Gig Harbor, WA, Heritage Distilling Co. "is the most awarded craft distillery in North America by the American Distilling Institute five years in a row" (2014, 2015, 2016, 2017 and 2018), according to the company's website.
The new outpost in Ballard is its fifth location, offering tastings of the popular BSB (Brown Sugar Bourbon), flavored vodkas (in varieties like blood orange, coffee and cherry lime), Elk Rider gin and more. Bottles are available for purchase, and drinkers can also seek membership in the Cask Club or Spirits Club, which entitle them to certain bottles and discounts for an annual fee.
Yelp users are excited about Heritage Distilling, which currently holds five stars out of three reviews on the site.
Yelper D M., who reviewed Heritage Distilling on June 6, wrote, "Amazing place with a great staff. I went in thinking I was all about bourbon, which was a huge mistake. We had a fantastic hostess who was super friendly, witty and on top of it all really knew her stuff."
Jessica S. noted, "The staff is great and the vibe is so cool. Perfect fit for Ballard. I joined the Cask Club and snagged a cask to fill with a single malt, so I'll be sampling that in the near future."
Yelper Double T. wrote, "A fun place to try a flight of interesting and tasty spirits. Its not super expensive and the variety of flavors is excellent."
Heritage Distilling is open from noon–8 p.m. on Monday-Wednesday, noon–9 p.m. on Thursday and Friday, 11 a.m.–9 p.m. on Saturday, and 11 a.m.–7 p.m. on Sunday