Some like it stinky, some like mild and melted, others prefer it for dessert with fruit and a glass of wine — there's no wrong way to enjoy cheese.
And with Americans increasingly flocking to artisanal and handcrafted purveyors for their creamy fix, Hoodline crunched the numbers to find the top 45 cheesemongers around the country, using Yelp data and our own special sauce* to produce a data-driven breakdown of where cheese reigns supreme across the U.S.
Topping the list is Iowa's The Cheese Shop, located at 833 42nd St., Suite B, in Des Moines. With a five-star rating out of 103 reviews, this cheese shop has proved to be a hit at its unassuming outpost in a little strip mall. 
Expect to see a rotating selection of imported and domestic cheeses, such as an Irish Coolea with a smooth Gouda-like texture and sweet notes of caramel, an Austrian hubaner made with raw whole cow's milk, and a creamy American Bloomsdale goat cheese. There's an in-house cafe to sample the cheesy goods paired with a glass of wine, house-made pork pate, fig jam, olives and other accouterments.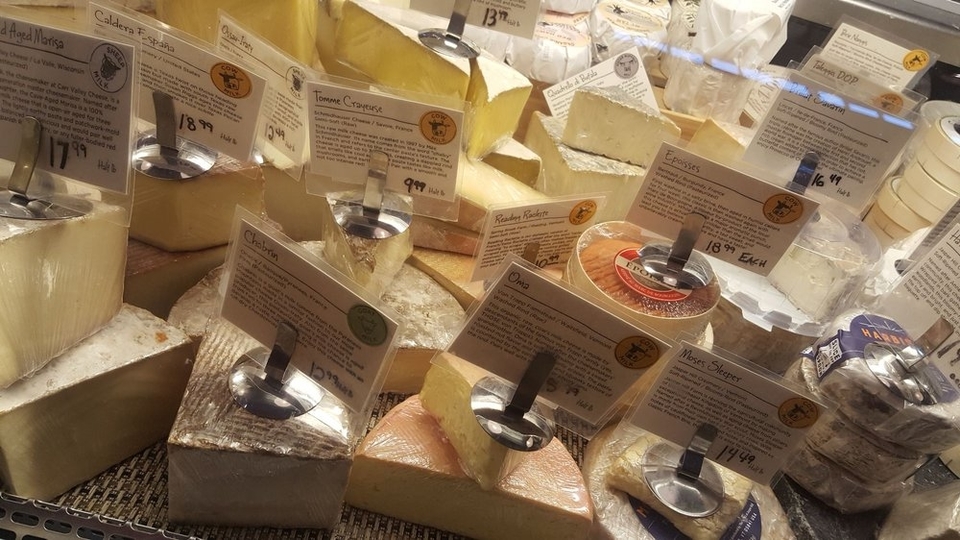 In second place is Austin's Antonelli's Cheese Shop with an impressive five stars out of 293 reviews. Located at 4220 Duval St. in the Hyde Park neighborhood, this spot specializes in an array of domestic and imported cheeses, like Chiriboga blue, dry Jack, soft imported brie and Swiss challerhocker, a smooth and dense cheese that's washed in brine and aged for at least 12 months. 
Antonelli's also has a cheese of the month club featuring three to five hard-to-find, seasonal and small-batch specialties, and an assortment of charcuterie and veggie-paired cheese trays. 
The third-place spot goes to Door County Creamery in Sister Bay, Wisconsin, which boasts five stars out of 114 reviews. Located at 10653 N. Bay Shore Dr., this farm and creamery specializes in aged goat cheeses crafted from its own Nubian and LaMancha dairy goat herd. 
When it comes to cheese's popularity across the country, Yelp data show that businesses tagged as "cheese shops" are largely clustered around urban metro areas on the East and West coasts, with Wisconsin and dairy country also seeing notable numbers of cheese-forward retailers.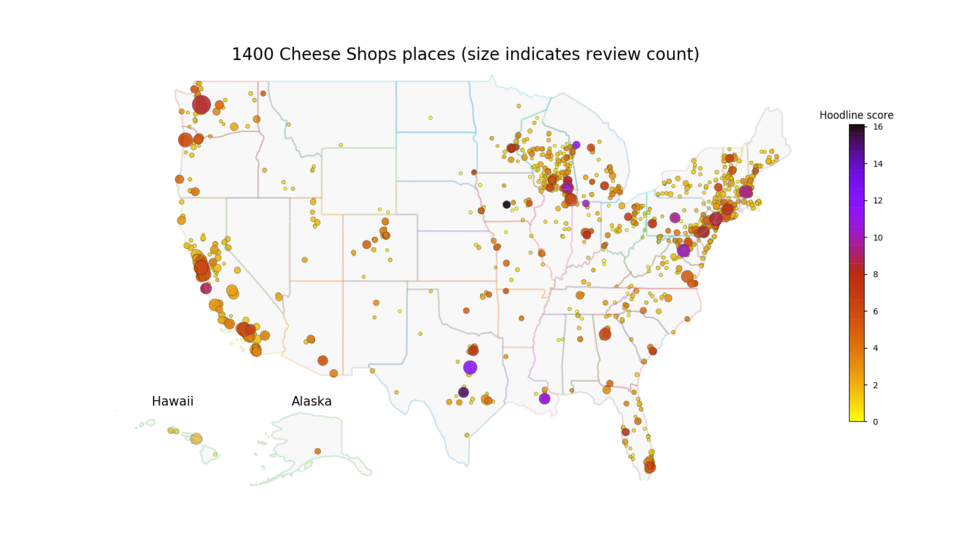 As for relative popularity across the nation, measured by average ratings for a given category, Yelp data indicate that Oregon, Minnesota, Florida and Alabama may not be home to the biggest cheese lovers, comparatively speaking.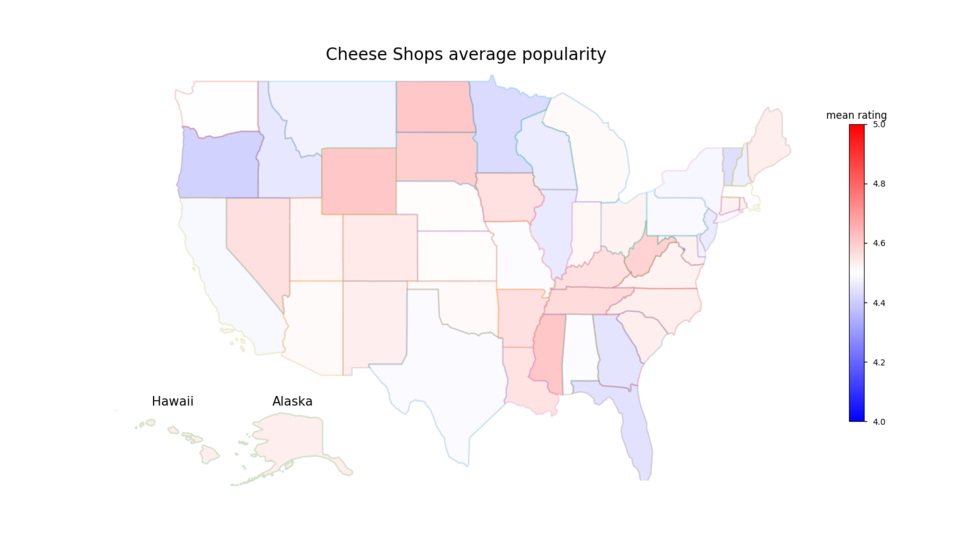 When it comes to how prevalent cheese shops are, state by state, Vermont shows the strongest ratio of cheese outlets compared to all other categories, with Wisconsin, Maine, Massachusetts and New Hampshire the runners-up. So, Vermont should be your top stop if you want a diversity of cheesy options to choose from.
Want to know where to score the best selection of cheeses the country has to offer? Here's the rundown of the 45 American cheese shops to knock off your bucket list:
---
* To determine "best" businesses, Hoodline took into account the business's Yelp rating and the significance of that rating proportional to the number of reviews, as well as regional variations, to ensure that states with a stronger pattern of reviews don't have an unfair advantage over states that tend to review businesses less frequently.