Craft cider producers have popped up all over the country, with thousands of profiles to choose from. And it's not just about apples anymore — makers are using an assortment of fermented fruits from pear to strawberry to grapefruit. Though the United Kingdom has the largest cider-producing companies and the largest per capita consumption in the world, we Americans have made a name for ourselves, too, with more than 800 cideries nationwide. 
To ferment it down to the best in the nation, Hoodline crunched the numbers to find the top 50 cideries around the country, using Yelp data and our own special sauce* to produce a data-driven breakdown of where cider reigns supreme across the U.S.
Topping the list is Indiana's New Day Craft, located at 1102 Prospect St. in Indianapolis' Fountain Square neighborhood. With a solid 4.5 stars out of 271 reviews on Yelp, this cidery has made an impression with its cider and mead produced with whole fruit, real fruit juice, spices and herbs. 
Look for year-round ciders, like Gold Rush, a dry hard cider made with heirloom apples with notes of champagne; the honey-infused South Cider with a hint of floral sweetness; and the Johnny Chapman, a sorghum-infused hard cider with notes of caramel and malt. 
The cidery's tasting room is located on site at HQ, but if you're not able to make it to Indianapolis, some of its products are available for purchase throughout Indiana, Kentucky and Ohio as well. As the company is in expansion mode, expect to see New Day Craft available outside of the locale in the near future.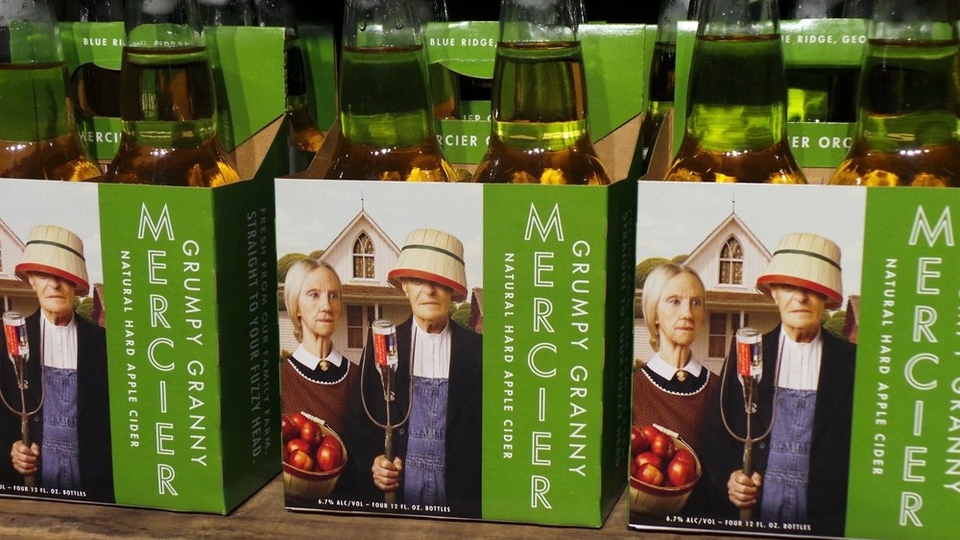 In second place is Blue Ridge, Georgia's Mercier Orchards with 4.5 stars out of 324 reviews. Located at 8660 Blue Ridge Dr., this family-owned and operated apple orchard features an assortment of hard ciders, such as Grumpy Granny made with Granny Smith apples, Rock Steady Red with a blend of ripened strawberries and apples, and the Black Bee produced with Arkansas black apples and clover honey. Planning to bring the family? The orchard boasts a cafe serving breakfast and lunch fare, too. 
The third-place spot goes to Ash & Elm Cider, also in Indianapolis, with 4.5 out of 139 reviews. Located at 2104 E. Washington St., this cidery uses 100 percent pure apple juice in its boozy beverages, supplied by regional family orchards in Indiana and Michigan. Look for variations like the Sunset Tart Cherry and the dry-hopped Headlong cider. 
When it comes to cider's popularity across the country, Yelp data show that businesses tagged as "cideries" are largely clustered around the Pacific Northwest and the Northeast, with California and Michigan also seeing notable numbers of cider-focused outlets.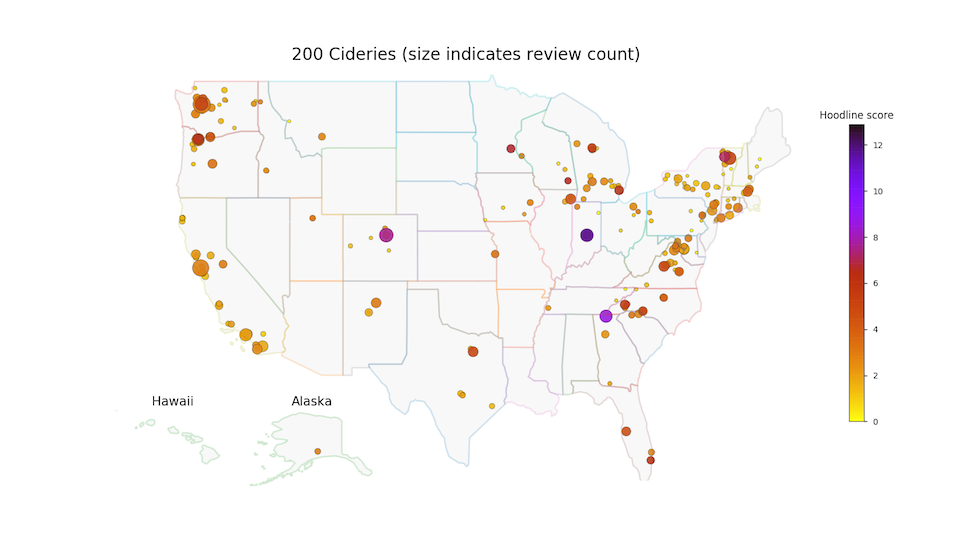 As for relative popularity across the nation, measured by average ratings for a given category, Yelp data indicate that Nevada, Arizona, New Mexico, Wyoming, the Dakotas and much of the South may not be home to the biggest cider fans, comparatively speaking.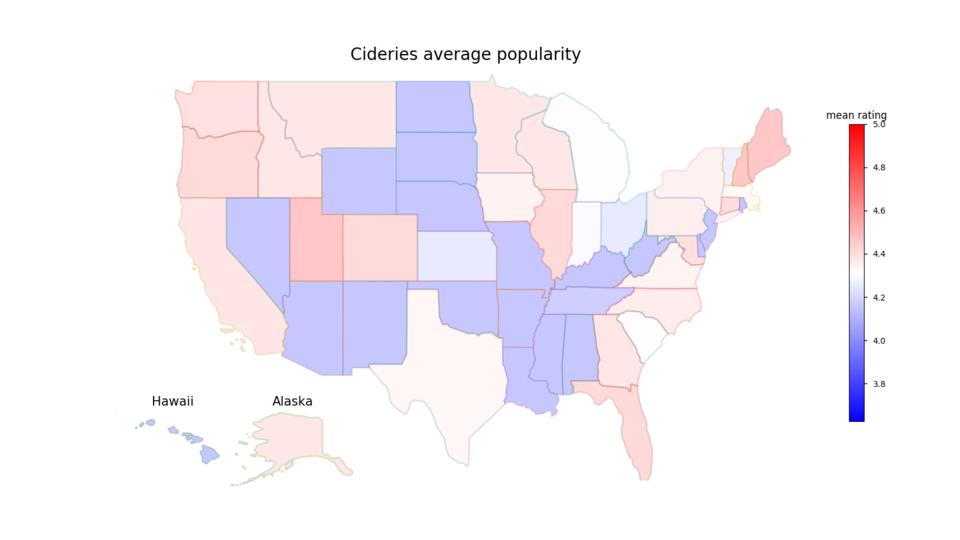 When it comes to how prevalent cideries are, state by state, Vermont shows the strongest ratio of cider outlets compared to all other categories, with Oregon, Washington, D.C., Washington State and New Mexico the runners-up. So, Vermont should be your top stop if you want a diversity of cider options to choose from.
Want to know where to score the most satisfying glass of cider the country has to offer? Here's the rundown of the 50 American cideries to knock off your bucket list:
---
* To determine "best" businesses, Hoodline took into account the business's Yelp rating and the significance of that rating proportional to the number of reviews, as well as regional variations, to ensure that states with a stronger pattern of reviews don't have an unfair advantage over states that tend to review businesses less frequently.