The debate over who makes the best bagel is as old as time. And while some may bemoan the difficulties of finding a great New York-style bagel outside of the city, the doughy, salty vehicles primed for a plethora of toppings can be found all across the U.S. 
Whether you take yours with lox or prefer it topped with jam, Hoodline crunched the numbers to find the top 40 bagel shops around the country, using Yelp data and our own special sauce* to produce a data-driven breakdown of where the bagel reigns supreme across the U.S.
Topping the list is New York City's Best Bagel & Coffee, with an impressive 4.5 stars out of a whopping 2,477 reviews. Located in the city's Midtown West neighborhood at 225 W. 35th St., this spot features an array of house-made bagels and nearly two dozen spreads to choose from. Expect to see traditional bagel offerings like everything, onion, multigrain and poppyseed among others. Then top it off with one of Best Bagel's spreads, such as bacon and cheddar, chipotle, vegetable tofu and more. And if you're looking for something a little more substantial, there's a full bagel-forward breakfast and lunch menu, too.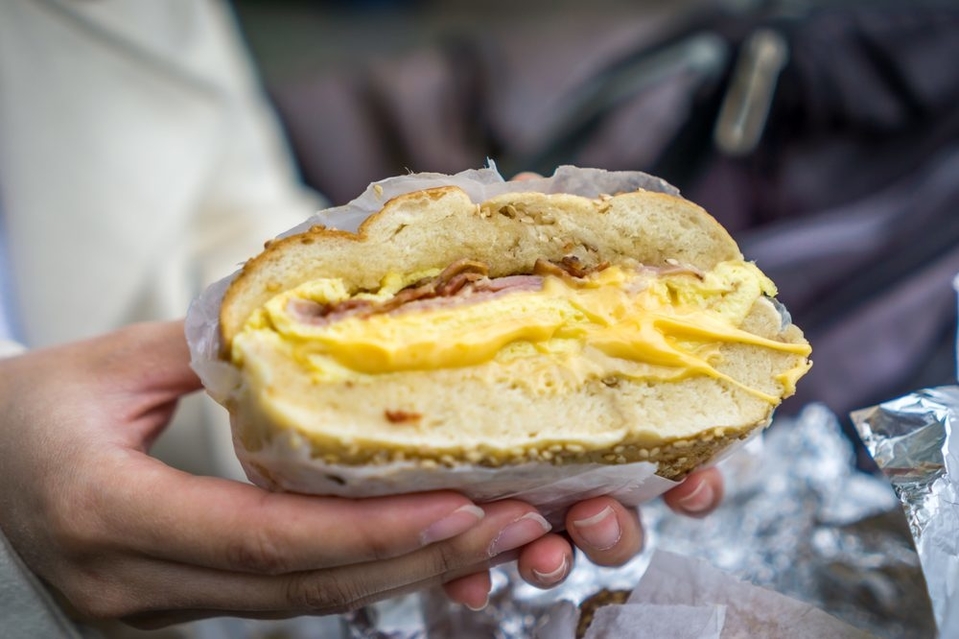 In second place is New York's Russ & Daughters with 4.5 stars out of 1,847 reviews. Located on the Lower East Side at 179 E. Houston St., this family-run institution has been serving up bagels, smoked and cured fish, caviar and more since 1914. While Russ & Daughters has been in operation at the same spot for more than a century, the bagelry has since opened a cafe at 127 Orchard St., also on the East Side, and an outpost at the Jewish Museum. Can't make it to NYC? Russ & Daughters offers nationwide shipping. 
The third-place spot goes to Absolute Bagels, also located in New York City at 2788 Broadway in Manhattan Valley. With 4.5 stars out of an impressive 1,192 reviews, this no-frills bagel shop features all the classics with an assortment of sweet and savory spreads. There's also an extensive selection of vegan Tofutti spreads on offer, too. Plan to get here early, though — long lines are part of the experience. 
When it comes to the popularity of bagels across the country, Yelp data show that businesses tagged with the "bagel" category are largely clustered around urban metro areas on the East and West coasts, with the South also seeing a notable number of bagel joints.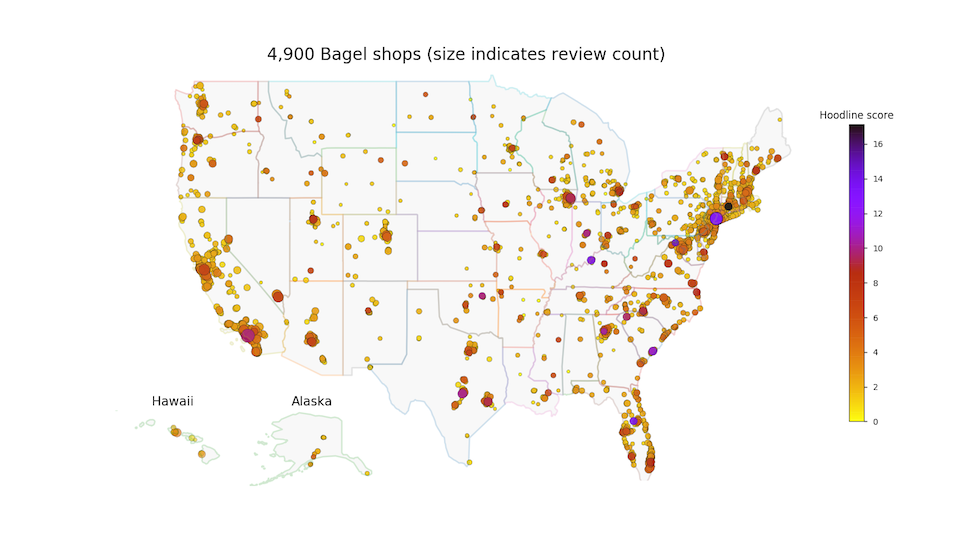 As for relative popularity across the nation, measured by average ratings for a given category, Yelp data indicate that Colorado, Texas, Minnesota, Nevada, Arizona and Utah may not be home to the biggest bagel fans, comparatively speaking.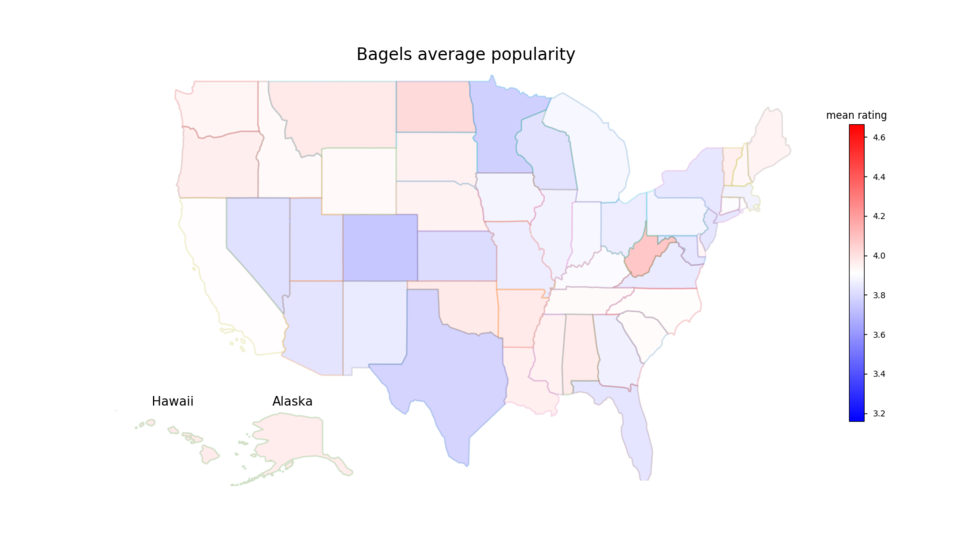 When it comes to how prevalent bagel businesses are, state by state, New Jersey shows the strongest ratio of bagel outlets compared to all other categories, with New York, Vermont, Maine and the District of Columbia the runners-up. So, New Jersey might be your best bet for a diverse selection of bagel joints.
Want to know where to score the most satisfying bagel the country has to offer? Here's the rundown of the 40 American bagelries to knock off your bucket list:
---
* To determine "best" businesses, Hoodline took into account the business's Yelp rating and the significance of that rating proportional to the number of reviews, as well as regional variations, to ensure that states with a stronger pattern of reviews don't have an unfair advantage over states that tend to review businesses less frequently.