Traditional Japanese-style ramen noodles are increasingly popular in the United States—and not the freeze-dried variety that have become dorm room staples. We're talking fresh-made wheat noodles served in long-simmering broths, topped with an assortment of goodies like chashu pork, bamboo shoots, and even jalapeño peppers. When cold weather hits, what better way to warm up than with a piping hot bowl of slurpy noodle goodness? 
To boil it down to the best in the nation, Hoodline crunched the numbers to find the top 50 ramen shops around the country, using Yelp data and our own special sauce* to produce a data-driven breakdown of where ramen reigns supreme across the U.S.
Topping the list is New York's Ippudo East Village, located at 65 4th Ave. in New York City. With a four-star rating out of a whopping 8,934 reviews on Yelp, the Japan-based chain has made a serious impression with its tonkotsu (creamy pork), shoyu (soy sauce) and chintan (chicken and pork) noodle soups. A variety of extra toppings, like soft-boiled eggs, pickled mustard leaves, and seasoned bamboo shoots, make each bowl customizable. Not in NYC? The chain has expanded its operations to Berkeley, California, as well as 13 countries throughout Asia, Europe and Australia.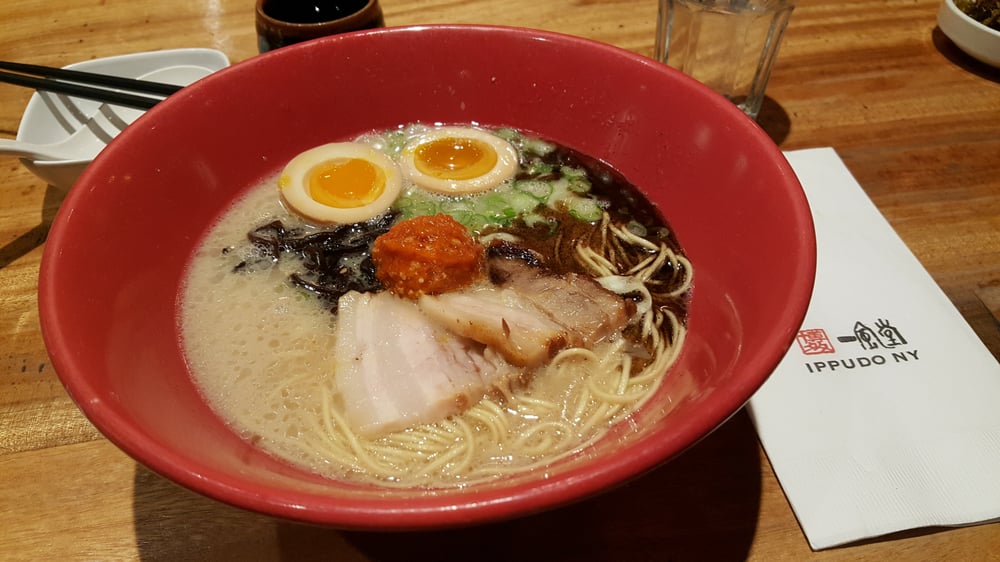 In second place is Houston's JINYA Ramen Bar with an impressive 4.5 stars out of 1,761 reviews. Located in the Fourth Ward neighborhood at 3201 Louisiana St. Suite 105, this ramen joint features more than a dozen different varieties; with options like umami miso ramen, "Lobster me Happy," and spicy creamy vegan ramen, there's something for everyone. JINYA Ramen Bar is currently expanding and has multiple locations throughout the U.S. and Canada. Its Sandy Springs, Georgia and Fairfax, Virginia outposts grace our top 50 list as well. 
Third runner-up is Tamashii Ramen in Oklahoma City, Oklahoma, which boasts 4.5 stars out of 328 reviews. Located at 321 NW 8th St. Ste. B, this casual spot specializes in Hokkaido-style ramen and tsukemen "dipping noodles."
When it comes to ramen's popularity across the country, Yelp data show that businesses tagged with the "ramen" category are largely clustered around urban metros on the East and West coasts, with Texas, Illinois, Florida and Hawaii also seeing notable numbers of noodle-focused restaurants.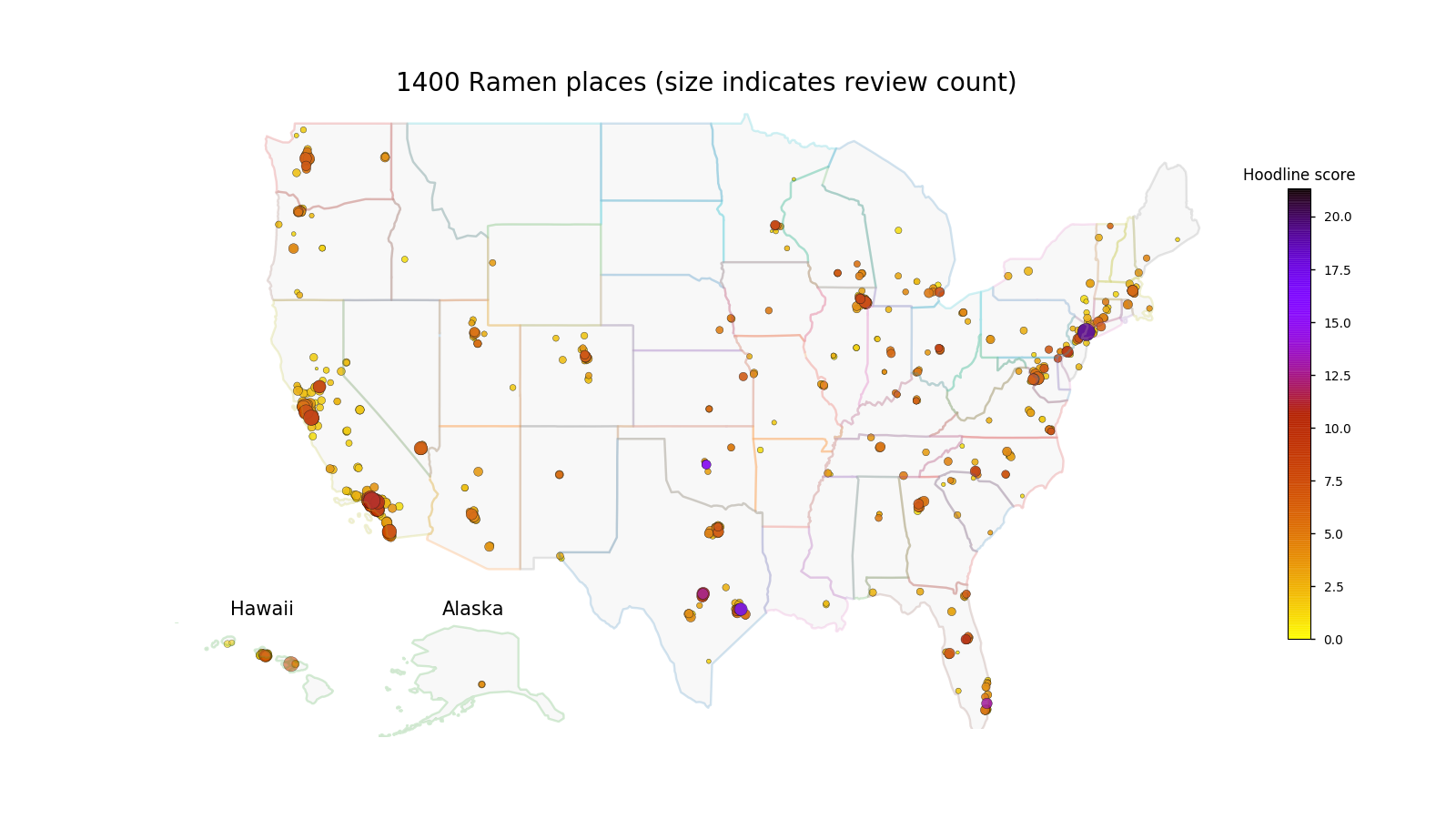 As for relative popularity across the nation, measured by average ratings for a given category, Yelp data indicate that Idaho, Montana, the Dakotas, Arkansas, Mississippi, West Virginia and New Hampshire may not be home to the biggest ramen fans, comparatively speaking.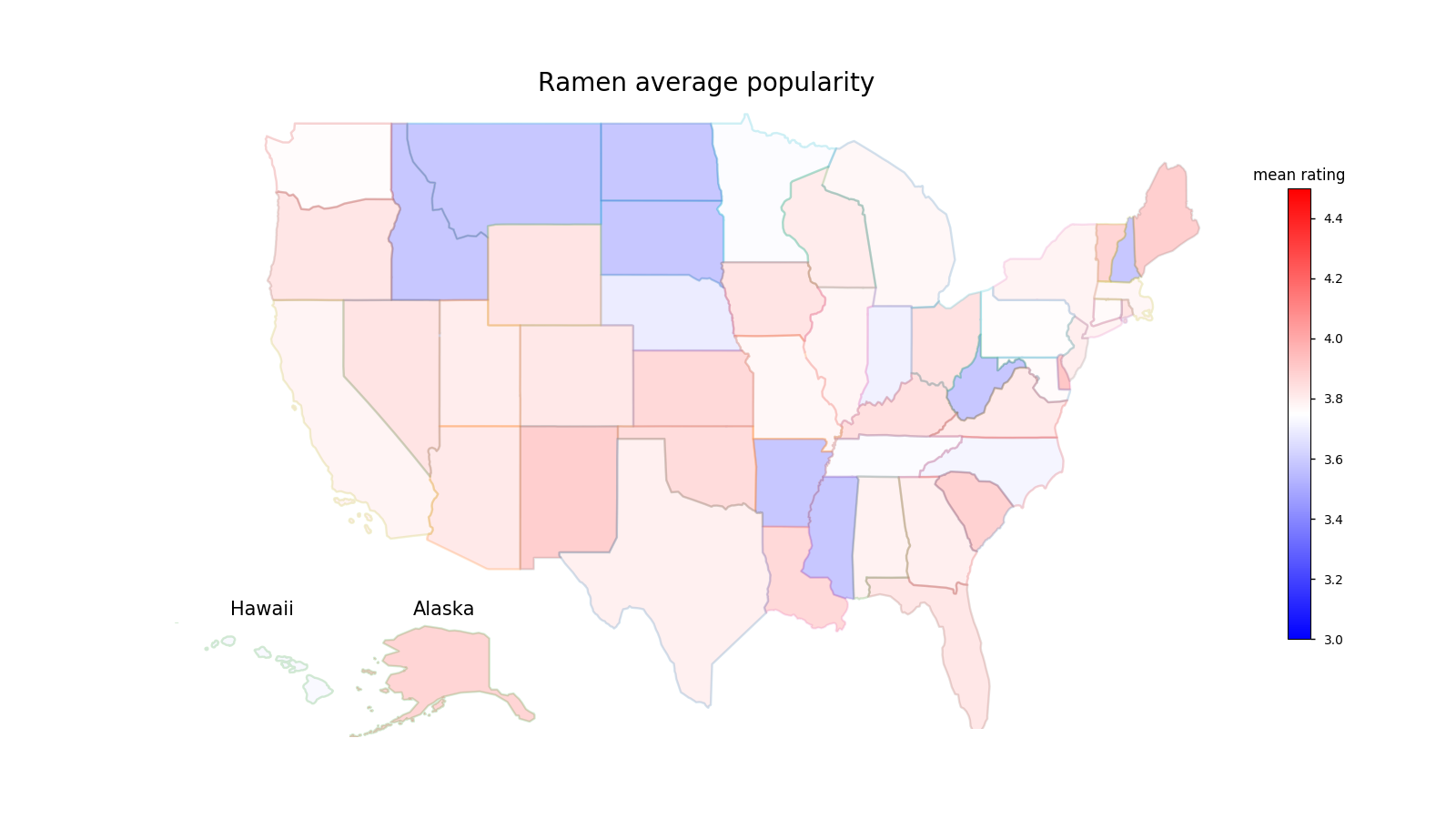 When it comes to how prevalent ramen businesses are, state-by-state, Hawaii shows the strongest ratio of ramen outlets compared to all other categories, with Washington D.C., California, New York and Oregon the runners-up. So, Hawaii should be your top stop if you want a diversity of ramen options to choose from.
Want to know where to score the most satisfying bowl of ramen the country has to offer? Here's the rundown of the 50 American ramen shops to knock off your bucket list:
---
* To determine "best" businesses, Hoodline took into account the business's Yelp rating and the significance of that rating proportional to the number of reviews, as well as regional variations, to ensure that states with a stronger pattern of reviews don't have an unfair advantage over states that tend to review businesses less frequently.