By
Hoodline
- Published on November 02, 2018.
Interested in the intel on the newest restaurant additions to the Upper Haight? From a jianbing and bubble tea café to a fast-food Thai chicken joint, read on for a rundown of the newest businesses to make their debut in this area of San Francisco.
Bing & Boba
1476 Haight St.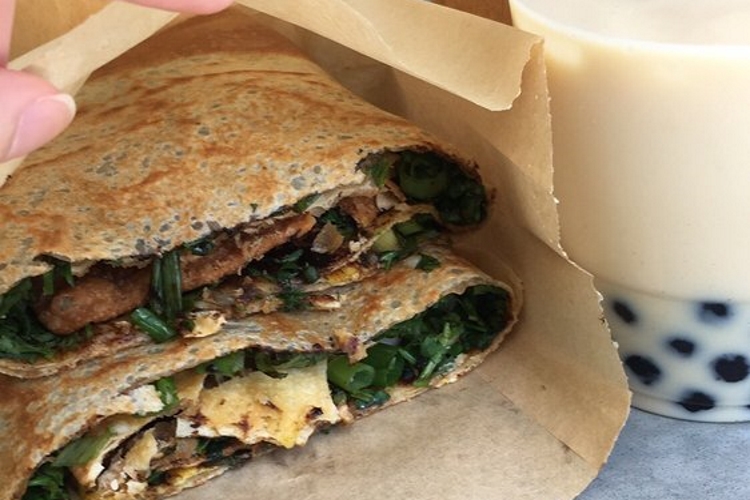 Bing & Boba is a bubble tea café specializing in the popular Chinese street food jianbing — thin flour and egg pancakes much like crêpes, with either a savory or a sweet filling. Located at 1476 Haight St., it's the project of Emil and Maren Mouhanna, as we reported when it opened.
For savory bites, diners will find California-style takes on traditional jianbing,  with avocado in addition to the classic filling of egg, green onions, cilantro, sesame seeds, black bean paste and chili. Sweet offerings include a matcha cheesecake version, with matcha, cream cheese and white chocolate.
The bubble tea menu offers choices with and without milk, as well as versions with almond milk instead of dairy, and mix-ins of tapioca, grass jelly and almond pudding. The house signature Strawberry Fields is blended with fresh house-made strawberry puree. (You can check out the full menu here.)
Bing & Boba currently holds 3.5 stars out of 33 reviews on Yelp, indicating fair reviews in its first few months.
Yelper Jessica L., who reviewed the café on October 10, wrote, "I've had both the sweet and savory jianbing, and both are huge, filling, and delicious. You get them piping hot right off the crepe pan. Crispy wonton makes them texturally fun, and there are a lot of different flavors going on."
But others complained of the small space, high prices and lack of seating. Mikaela H. noted, "The atmosphere is dull, very crowded and extremely hot and stuffy."
Bing & Boba is open from 11 a.m.–7 p.m. Monday-Thursday, 11 a.m.–8 p.m. on Friday, 10 a.m.–8 p.m. on Saturday, and 10 a.m.–7 p.m. on Sunday.
Michael Collins
1568 Haight St.
Michael Collins is an Irish pub located at 1568 Haight St. The space has undergone several rebrandings over the past few years: it was formerly known as both Martin Macks and HQ Bar and Restaurant. It also hosts private parties and a Tuesday trivia night, as well as brunch on Sundays.
At the bar, which has 16 beers on draft, expect plenty of local choices like Prohibition Amber Ale and Firestone 805 Blonde Ale, as well as the inevitable Guinness and a house cocktail called the Irish Mule (Jameson whiskey and ginger beer).
For bites, you'll find truffle fries with shaved parmesan, truffle oil and black pepper, as well as fish and chips served with tartar sauce and malt vinegar. (You can check out the full menu here.)
With a three-star rating out of 33 reviews on Yelp, the taphouse is still finding its way, with Yelpers citing staffing changes made by new ownership after the most recent rebranding.
But even some more recent reviewers like Jessica F., on October 17, are not impressed: "I like this bar because of the size of it, but I pretty much don't like anything else about it ... I've been here several times because it's the closest bar to my house, but I'm never impressed with the overall experience."
However, Yelper Mar K. noted that it has "excellent 14 year old Oban — that's hardcore smooth Scotch for any neophytes."
Michael Collins is open from 11 a.m.–2 a.m. Monday-Saturday and 7 a.m.–2 a.m. on Sunday.
What The Cluck
1782 Haight St.
What The Cluck is a quick-service chicken shop located at 1782 Haight St. As we reported previously, it specializes in khao mun gai, a chicken and rice dish that's popular as a street food in owner Koonz Vannasetta's native Thailand.
The simple menu presents several takes on the dish, from classic (skin-on thigh and breast meat over rice with sauce on the side) to a healthy San Franciscan version with skinless breast over baby spinach. There's also a soup option, with both chicken and rice in broth. (You can check out the full menu here.)
What The Cluck currently holds 4.5 stars out of 70 reviews on Yelp, indicating the fledgling business has soared since our initial coverage.
Yelper Michael L., who reviewed the chicken shop on September 9, wrote, "The chicken was really soft and tender and the rice was flavorful and really fluffy. The broth was clean and simple, and the dipping sauce paired well with the chicken."
"The chicken is well-poached, the sauce is good, [and] the broth is quite good at steadying one's stomach after a night of drinking," Misha T. opined. "Also you can get the broth for $2 on its own, and it would make a good grab-and-go snack if you didn't want a full meal."
What The Cluck is open from 11 a.m.–8 p.m. daily.