By
Hoodline
- Published on December 18, 2018.
Want the inside word on Boston's most talked-about local spots?
We took a data-driven look at the question, using Yelp to deduce which local businesses have been on the tips of diners' tongues this month.
To find out who made the list, we looked at Boston businesses on Yelp by category and counted how many reviews each received. Rather than compare them based on number of reviews alone, we calculated a percentage increase in reviews over the past month, and tracked businesses that consistently increase their volume of reviews to identify statistically significant outliers compared to past performance.
Read on to see which spots are on a hot streak, right now.
---
Nahita Cocktails and Cuisine
Open since 2018, this cocktail bar and Asian fusion spot is trending compared to other businesses categorized as "Cocktail Bars" on Yelp.
Citywide, cocktail bars saw review counts increase by a median of 1.6 percent over the past month, but Nahita Cocktails and Cuisine saw a 32.4 percent increase, maintaining a solid four-star rating throughout.
It's not the only trending outlier in the cocktail bar category: FiRE + iCE Grill + Bar has seen a 2.9 percent increase in reviews.
Located at 100 Arlington St. (between Columbus Avenue and Piedmont Street) in Bay Village, Nahita Cocktails and Cuisine combines Asian, Latin and Turkish-inspired cuisine. On the main menu, expect to find tacos, Peruvian-style sashimi, greens and large plates of duck, lamb and rib-eye steak.
Veggie lovers can look for shareable plates of baby artichokes or quinoa served alongside seasonal vegetables. Gluten-free options are also available. Top it off with one of its specialty cocktails, wine, beer or saké. (Take a look at the full menu here.)
Assaggio
Whether or not you've been hearing buzz about North End's Assaggio, the Italian spot is a hot topic according to Yelp review data.
While businesses categorized as "Italian" on Yelp increased their review count by a median of 2.1 percent over the past month, Assaggio bagged a 17.5 percent increase in reviews within that timeframe, maintaining a strong 4.5-star rating. It significantly outperformed the previous month by gaining 1.7 times more reviews than expected based on its past performance.
Open at 29 Prince St. (between Salem Street) since 2017, Assaggio offers an authentic Italian menu. To start, look for bruschetta topped with sautéed mushrooms, salt cod or zucchini. If you're craving pasta, look for homemade angel hair topped with cherry tomatoes and meatballs or a medley of clams, mussels, calamari and Maine lobster in broth. Top it off with one of its specialty cocktails, champagne or wine offerings. (Take a glimpse at the full menu here.)
Cheeky Monkey Brewing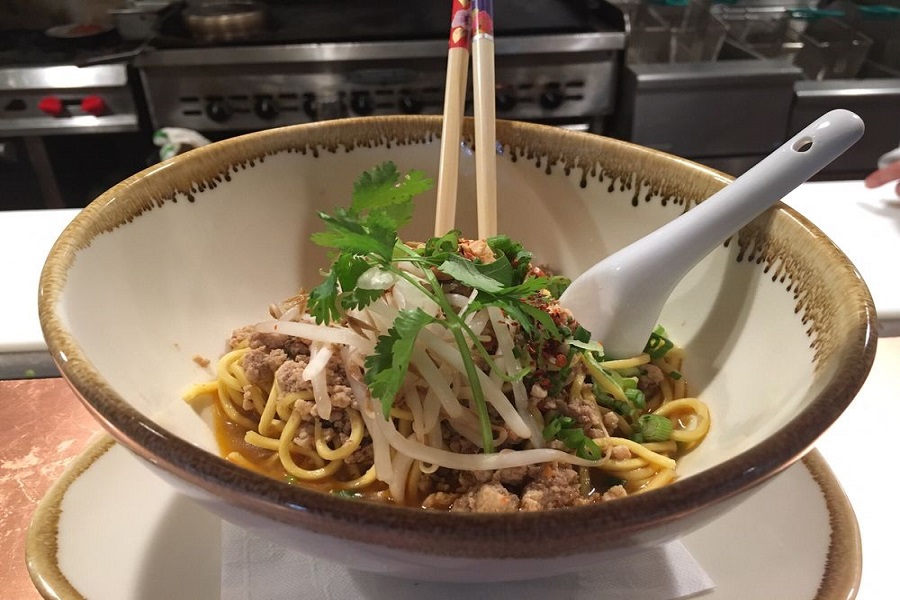 Kenmore's Cheeky Monkey Brewing is also making waves. Open since Aug. 2017 at 3 Lansdowne St. (between Ipswich Street and Brookline Avenue), the brew pub and traditional American and Asian fusion spot has seen a 14.6 percent bump in reviews over the last month, compared to a median review increase of 2.3 percent for all businesses tagged "American (Traditional)" on Yelp.
There's more than one hotspot trending in Boston's traditional American category: Kings Dining & Entertainment - Boston Seaport has seen a 11 percent increase in reviews.
Cheeky Monkey Brewing offers a diverse menu inspired by international street food, according to its website. To start, look for fare like wings, Cajun poutine and deviled eggs. For a heartier meal, expect to find sandwiches, tacos, noodles, flatbreads and burgers. Look for the Korean barbecue beef tacos with spicy pickled cabbage, radishes, avocado and cilantro or opt for the Singapore shrimp street noodles. Wash it down with one of its specialty beers brewed onsite. (Check out the full menu here.)
Over the past month, it's maintained a mixed 3.5-star rating among Yelpers.