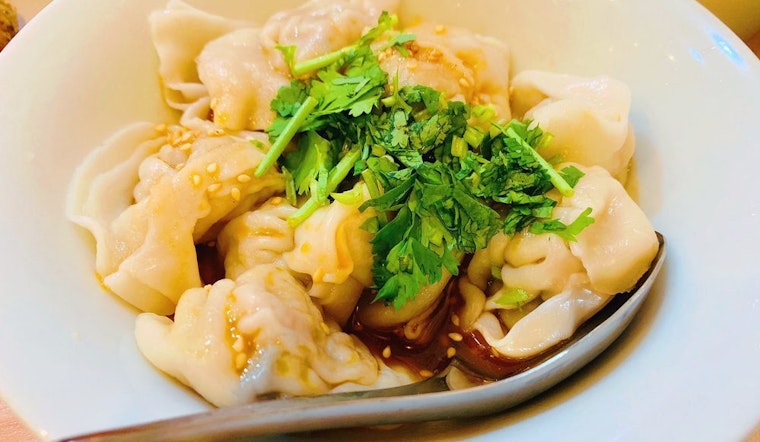 Published on July 19, 2019
There's a new dumpling game in town for the middle Richmond. Open this week, Dumpling Alley (2512 Clement Street) is a new venture bringing traditional Chinese dumplings to the neighborhood.
After a brief vacancy and a light remodel of the space (formerly 100% Sweet Cafe), Dumpling Alley is open daily and serving up made-to-order Chinese noodles and dumplings.
The owner, Stewart Chen, has a background in Marina district sushi restaurants, though this is the first one he's owned. He said he's spent a lot of time in the Richmond and finds the neighborhood friendly. The decision to open up shop there came about, in part, after sampling local wares and finding a lack of offerings for traditional Chinese dumplings.
The chefs behind the counter at Dumpling Alley — who make everything by hand, to order — learned their craft in Shanghai and Beijing, and their specialty is the house xiao long bao ($8 for 4 pieces).
Dumpling Alley's offerings range from appetizers like pickled cucumber with black fungus ($6) and Chinese shrimp donuts ($7) to noodle dishes ($9-13) like pork in fried bean paste sauce. The dumpling menu has six offerings ($7-9 per four- to 10-piece serving), ranging from mainstays, like shrimp and chive or pork and sweet corn, to a black truffle xiao long bao.
The menu's rounded out with a small array of buns and pot stickers ($7-8).
For their grand opening, Dumpling Alley is offering free housemade soy milk for every order.
They're open daily for dine-in or takeout service. Base hours for now are 5-9:30 p.m., seven days a week, with an 11-2 o'clock lunch service Thursdays through Sundays. The restaurant offers extended evening hours until 10 p.m. Thursday through Saturday.