After more than 10 years of planning, a series of city agency hearings begins today to approve Better Market Street, a project aimed at improving pedestrian and bicyclist safety on the city's main thoroughfare, with new "quick-build" elements that could materialize as early as next year.
This afternoon, the San Francisco Planning Commission will consider the final Environmental Impact Report for the project, which would drastically modify more than two miles of Market Street by making many blocks completely car-free, while adding new public transit options and dedicated bike routes.
Should the project receive full approval, the recently-added "quick-build" portion of the effort would launch as soon as January 2020, Public Works spokesperson Jennifer Blot told us.
The quick-build portion would expedite the most significant aspect of the plan: making Market Street car-free eastbound from 10th to Main Street, and from the Embarcadero to 11th Street westbound.
After a spike in pedestrian and bicyclist deaths in 2019, Mayor London Breed in May directed SFMTA to adopt a "quick-build" policy for projects that would help meet the city's Vision Zero goals.
Vision Zero, adopted in 2014, sets a target of zero vehicle-related deaths in San Francisco by 2024. The quick-build policy, as Breed announced on Bike to Work Day this year, aims to add 20 miles of new, protected bike lanes across the city over the next two years.
"Last year, there were 123 injury collisions on Market Street between Octavia and Steuart streets," Blot said. "Each year, about 75 percent of collisions on Market involve people walking or biking."
Muni buses and taxis would still be allowed, but the plan would add a new Muni-only lane eastbound between 3rd to Main Street, where no taxis would be allowed. 
Rideshare companies like Uber and Lyft would not be included in the vehicle types allowed to access Market Street, Blot said. Drivers would have to pick up and drop off customers at new passenger loading zones along side streets. As we previously reported, the new loading zones will take over about 227 on-street parking spots, on cross-streets and side streets adjacent to Market.
There would also be restrictions on commercial vehicles making deliveries in loading zones along Market during peak commute periods. 
As part of the new quick-build plan, bicyclists would get a new bike-only connection with painted safety zones and a westbound protected bike track at the intersection of Page, Franklin, and Market Streets, along with new queueing spaces for westbound right-turning bikers, according to Blot.
A protected intersection designed to provide safe crossing to southbound riders is planned for the northeast corner of 8th and Market streets, Blot said. The eastbound protected bikeway would be extended from Octavia to Valencia as well.
Under the full Better Market Street plan, which is estimated to cost more than $600 million, the city would install sidewalk-level bike lanes running alongside commercial loading zones only open during off-peak commute hours, and much of Muni's above ground infrastructure would be replaced. The trees along Market Street would all be removed and replaced over the full course of the project as well.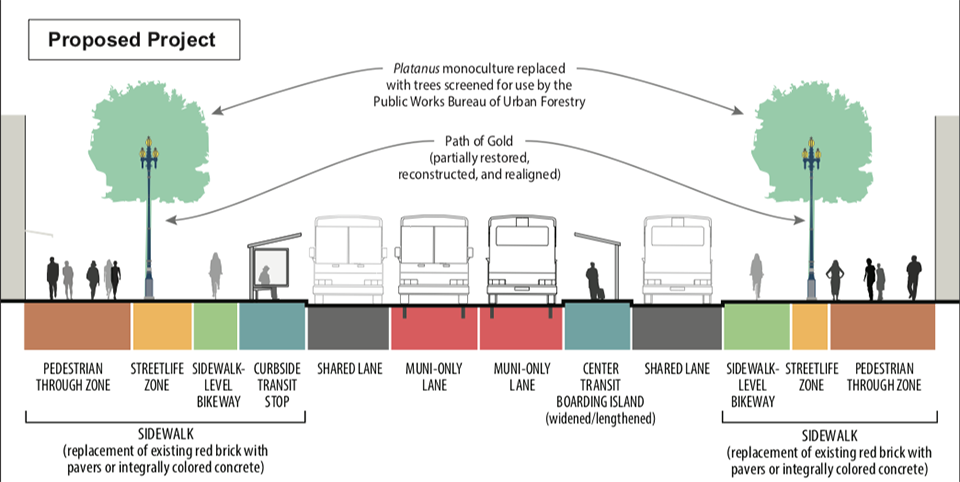 Before the addition of the quick-build aspect, construction on just the stretch between 6th and 8th Street was expected to launch in early 2020. In the modified plan, the quick-build portion would launch first, aiming for completion early next year. The new Phase 1 of the program, including full construction between 5th and 8th streets and the addition of a new F-Muni line loop in areas of peak ridership, would begin in late 2020 or early 2021.
If SF Planning approves the EIR, Public Works will consider the Better Market Street project at a  hearing on Friday, October 11, followed by a review of the proposed parking and traffic changes by the SFMTA Board on Tuesday, October 15.
If SF Planning does not certify the final EIR today, the other hearings on the Better Market Street project will be cancelled until the environmental report is finalized, Blot said.