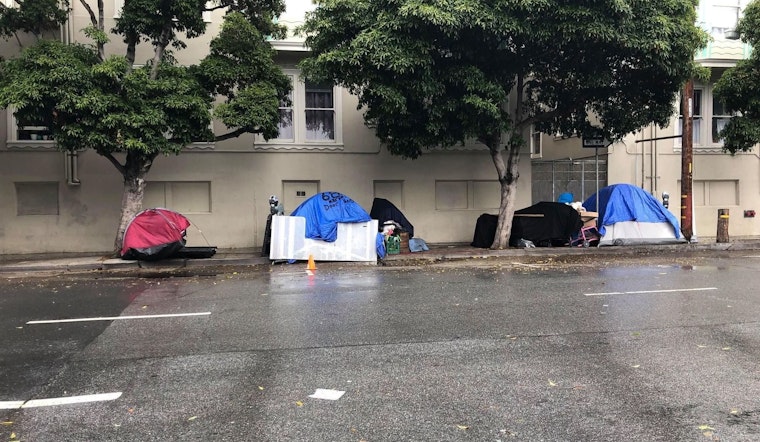 Published on April 07, 2020
Stymied by a lack of support from the mayor's office and the city's Human Services Agency, a group of San Francisco supervisors have struck out on their own to usher unhoused people into city-leased hotel rooms, in order to help prevent the spread of COVID-19. 
For the past two weeks, supervisors Matt Haney (District 6), Aaron Peskin (D3), Dean Preston (D5), Hillary Ronen (District 9) and Shamann Walton (D10) have called for as many homeless people as possible to be housed in San Francisco's largely empty hotel rooms, in order to prevent the spread of the virus.
On March 31, the full Board of Supervisors unanimously passed non-binding legislation to that effect.
Today, the same group of supervisors introduced an emergency resolution to house the homeless, expressing frustration with inaction from Mayor London Breed's office.
They say Breed and the Human Services Agency have only been willing to provide hotel rooms to homeless people who are officially diagnosed with COVID-19, or in quarantine after exposure to known patients.
That group is currently comprised of just a few hundred of the city's more than 8,000 homeless people — even though one recent study says that homeless people are twice as likely to be hospitalized and two to three times more likely to die of COVID-19 than the housed. 
In the past week, three residents at San Francisco homeless shelters were diagnosed with COVID-19, and dozens of others may have been exposed both in shelters and on the streets.
Yesterday, Breed dropped plans for new congregate shelters at Moscone Center West and the Palace of Fine Arts after an outcry over the potential for COVID-19 exposure, led by Street Sheet editor Quiver Watts.
The proposed emergency ordinance is currently set for a vote before the full Board of Supervisors next Tuesday, and requires a two-thirds majority to pass.
If it passes, it will officially mandate that 7,000 rooms be provided for preventative sheltering of homeless individuals by April 26, in addition to the rooms already provisioned by Breed's office for patients and medical first responders.
The supervisors say they're hoping Breed won't make them wait that long. But in the meantime, two of the supervisors sponsoring the legislation have already moved ahead to secure private funding for sheltering handfuls of homeless people in hotels.
Through a Gofundme campaign, Sup. Preston's office has raised over $70,000 to preventatively move 39 Providence Foundation clients into a District 5 hotel.
And late last week, Sup. Haney announced that the United Methodist Church had donated $100,000 to shelter clients of the Tenderloin's Hospitality House in hotel rooms. According to Mission Local, 17 Hospitality House residents are now living in a vacant Polk Street hotel; the remaining six are able to socially distance at Hospitality House.
"This is a ticking time bomb," Hospitality House executive director Joe Wilson told Mission Local. "We cannot wait until it explodes." 
Shelter residents exposed to COVID-19 patients have also been moved. Paul Monge, Sup. Ronen's legislative aide, said that 33 people from Division Circle Navigation Center, the site of the city's first recorded shelter case, had been moved into hotel rooms last Friday to self-quarantine.