Tomorrow, the vacant former McDonald's lot at Haight and Stanyan streets will open as a "Safe Sleeping Site," allowing 40 to 60 unhoused District 5 residents to sleep in socially distanced tents with access to food, water, sanitation and basic health services.
The new site aims to help prevent the spread of COVID-19 among the neighborhood's unhoused. People living on the streets have seen above-average fatality rates during the pandemic, due to closed shelters, shuttered or reduced health and social services, and the virus itself. 
Contracted to Larkin Street Youth Services and facilitated by the Homeless Youth Alliance, the safe sleeping site at 730 Stanyan St. will be equipped with showers, 24/7 staffing, and a strict set of safety and precautionary measures dictated by the city's Department of Public Health.
Earlier this week, Concerned Citizens of the Haight — a newly formed group led by the owners of neighboring Amoeba Music and Escape From New York Pizza — sued the city over the site, citing safety concerns and harm to area businesses.
Though District 5 Supervisor Dean Preston has said that the safe sleeping site will only last for three to six months, "we haven't had much luck with the city keeping promises around here," Joe Goldmark, a managing partner of both businesses, told Hoodline earlier this week.
Concerned Citizens is represented by Harmeet Dhillon, a San Francisco lawyer who formerly represented James Damore in his lawsuit against Google, claiming discriminatory practices against white people and men. Dhillon, a prominent fundraiser for President Donald Trump, also sued the state of California over its COVID-19 stay-at-home order earlier this month.
The safe sleeping site is "just contrary to science, common sense, zoning, due process and the rights of the people who live there," Dhillon told the Chronicle yesterday.
The Cole Valley Improvement Association (CVIA), Buena Vista Park Neighborhood Association, Haight Ashbury Improvement Association, and a newly minted anonymous group of neighbors called Safe Healthy Haight have also signed formal letters of opposition to the city's use of the site as a shelter.
But the site also has support from several neighborhood groups — including the Haight Ashbury Neighborhood Council, the Coalition for Complete Community, and a newly hatched group called Cole Valley and Haight Allies to Unhoused Neighbors (CVHA), formed by area residents frustrated over other groups' polarization on the issue. 
CVHA's founder, Sadie Valeri, said she isn't out for a war with her neighbors. But she was "dismayed" when the Cole Valley Improvement Association claimed to represent the views of the entire neighborhood — and "mostly [was] concerned with appearances, not necessarily interested in coming up with solutions."
"The unhoused population is really being demonized," said Valeri, a Cole Valley resident and former small business owner. "The most loud, most visible and most problematic people become a stereotype for everyone who's unhoused."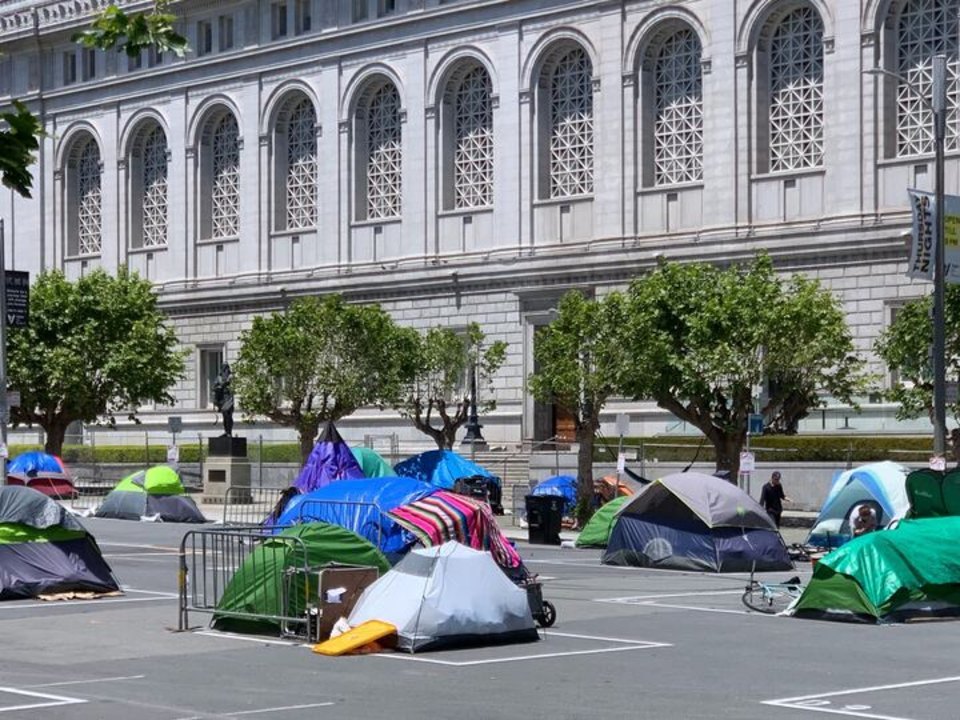 Valeri notes that the site is a second-best solution, given Mayor London Breed's continued refusal to honor an emergency ordinance passed unanimously by the Board of Supervisors to make 7,000 hotel rooms available to the city's unhoused residents. (To date, the city has acquired 2,823 "active" hotel rooms for unhoused people and frontline workers; only about half of them are currently occupied.)
"I understand the concerns with 730 Stanyan — I understand both merchants and residents feeling like this has been dropped on them by the city," Valeri said. "I don't think outdoor sleeping is ideal. But now we are turning our attention to helping ensure it's as successful as possible."
Valeri said she would visit the site tomorrow for its opening, to lend an encouraging word and make the most of the effort.
"It's a dilemma, it's a problem that we're all trying to solve," Valeri said. "The current situation is completely unacceptable. I'm not for 730 Stanyan — I'm for the success of 730 Stanyan."