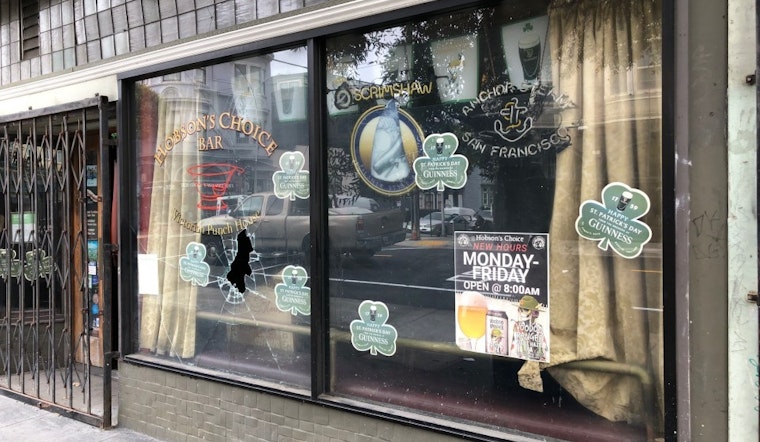 Published on September 22, 2020
District 5 Supervisor Dean Preston announced yesterday the debut of a pilot program to help small businesses beset by the costs of vandalism endured during the COVID-19 shelter-in-place.
The District Attorney's office will administer the program, funded with $100,000 of District 5 add-backs from this year's city budget process.
Currently reserved for D5 businesses that gross less than $25 million annually, the program will allocate $1,000 per incident to qualifying shops for up to two incidents a year to help shoulder the costs of replacing broken storefront windows.
In the course of a pandemic that shuttered many businesses indefinitely and resulted in boarded up shopfronts, the funds are meant to help small business owners carry on after many have seen a rise in broken window incidents.
Haight Street bar Hobson's Choice, pictured above, was hit earlier this morning when someone threw a brick through the window, and nearby Berner's On Haight, the cannabis dispensary, was hit so often before installing a roll-down garage door this month that it spent most of the summer with plywood sheathing nailed up behind shattered glass.
The stipend is incremented in $1,000 allotments, which Sup. Preston's office said was indexed to the typical insurance deductible for broken windows. The real cost of broken storefront window replacement can easily run into the several thousands of dollars, making it a crippling blow to businesses already closed and still paying rent.
Though currently limited to D5, legislative aide Avery Yu said the program may be replicated elsewhere if the pilot goes well.
Masood Samereie, president of Castro Merchants, said he contacted the office of District 8 Supervisor Rafael Mandelman as soon as he heard about the program, to see if a similar pilot could be rolled out in the Castro.
Samereie said his merchants have also been hard-hit by vandalism during the pandemic — Cafe de Casa, Giddy Candy, Cafe Flore, Harvest Market, Levi's, El Capitan and MX3 have all had windows or doors broken in the last six months.
"Anything that helps our small businesses to stay afloat and survive this pandemic," Samereie said, "we are one hundred percent for it, absolutely."
D5 businesses can apply to the program via an application with the District Attorney's office.