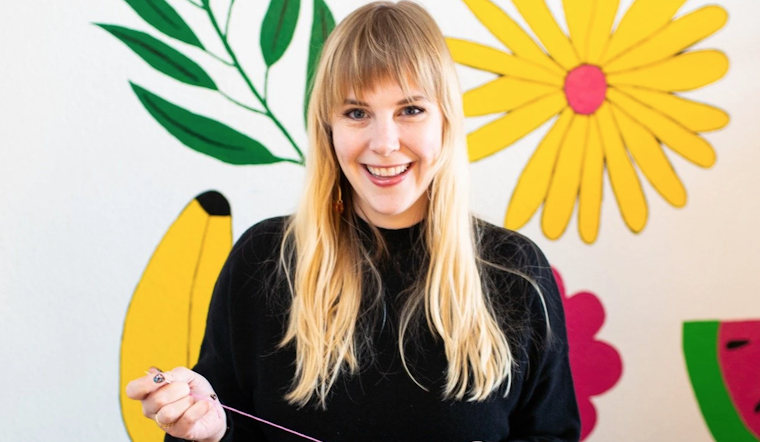 Published on September 01, 2020
From foreign languages to yoga, a surprising number of San Francisco's adult education classes have moved online with remarkable ease. 
But the story isn't so simple for local DIY and craft studios, who rely on tactile, in-person instruction to convey the finer points of sewing, painting, macramé and other decorative arts. The pandemic presents a cruel irony for these businesses, as cooped-up city-dwellers are more eager than ever to pick up new hobbies that can be enjoyed at home.
Still, all is not lost. With a little creativity and a lot of elbow grease, SF's maker community has been able to create virtual courses with a tangible component.
"Folks have been so excited," said David Knight, co-owner of NoPa DIY studio Workshop (1798 McAllister St.) "It just requires a little more prep work and coordination."
Initially, Workshop was resistant to the online learning trend. After shelter-in-place shut down their studio in March, Knight and co-owner Kelly Malone decided that Zoom classes were "pretty much the polar opposite of our ethos," and didn't offer any for months.
But by early June, the prospect of reopening Workshop's doors in the near-term had started to seem "like a fairytale," Knight said. 
While he doesn't blame city officials for the uncertainty, "we had to stop basing our moves on the best-case scenario, because it kept feeling like the best-case scenario just wasn't happening," he said. "We also realized this is a unique and challenging time, and not [offering classes] was a disservice."
While it took Workshop a few months to find its footing, Jennie Lennick sprang into action as soon as the pandemic hit. Her Mission District shop, Jenny Lemons (3043 24th St.), has long offered classes in embroidery and sewing, and with masks in high demand, she saw an opportunity to help.
Using her stock of then-hard-to-find items like fabric and elastic, Lennick sent out over 500 ready-to-sew mask kits to those in need. She also bundled scrap from her own clothing line, passing it on to other makers who were mass-producing masks. 
Lennick said it was a logical next move to create similar kits for customers, using her retail connections to bundle the necessary supplies for everything from calligraphy to candle-making. Business is booming, with nine digital classes scheduled for September alone. 
"Never before have I felt so thankful for my fine arts degrees," said Lennick, who offers distanced in-store pickup or nationwide shipping for the kits. "I know so much about supplies and materials — I know exactly what we need!"
For Knight and Malone, developing the workshop kits is a service to their longtime instructors, who depend on teaching to pay the bills.
The goods are built into the price of the class, and Knight makes sure each kit includes a little something extra, like enough twine to make a second macramé project after the one taught in class. There's also a packet that recommends local arts and crafts shops for restocking supplies.
Another perk of virtual classes: Workshop can record each session, allowing students to review tricky techniques or even teach them to others in the household. 
"If you have a child that's old enough, maybe you learn the skill first, and then your Saturday afternoon is teaching them," Knight said.
But he stresses that his expertise is designing courses for adults 21 and older, not for kids. "I am not an expert in childhood education!"
Of course, not everything can be sent through the mail. Workshop isn't resuming its classes in woodworking or screen-printing, which require expensive, specialized and sometimes bulky equipment. 
The business is still counting on the eventual return of in-person classes. Knight said he and Malone plan to hold on to their physical maker space, even if they can't welcome students back until 2021.
In the meantime, they're embracing the bright side of the digital sphere. Students from outside the Bay Area have signed up for classes, along with a few locals who use them to spend time with relatives in other time zones. Companies have inquired about hosting team-building workshops for groups of employees.
Ultimately, Knight said, he's happy Workshop can provide a bright spot in the monotony of quarantine. 
"There's an excitement and surprise factor to getting something in the mail."