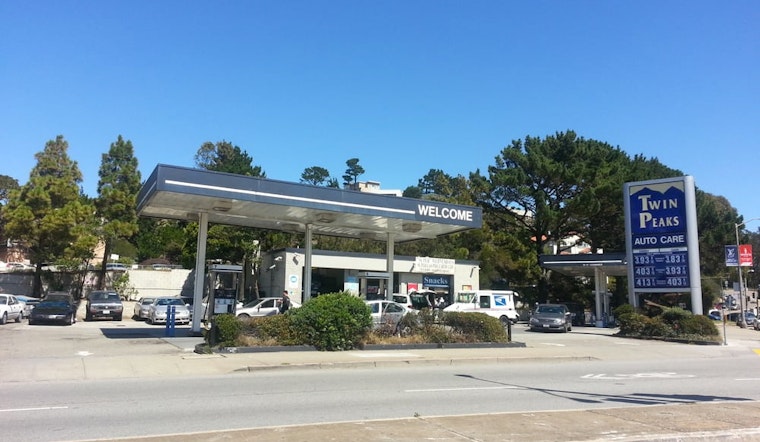 Published on September 30, 2020
Citing the city's climate-change goals and the lengthy terms of a lease renewal, some Twin Peaks area residents are objecting loudly to extending the life of a gas station on Portola Drive that's been there for almost 50 years.
The station, Twin Peaks Auto Care at 598 Portola Drive, originally opened as a Mobil station in 1972, and has been under its current ownership since 1985. As the Examiner reports, owner Michael Gharib is seeking a 25-year renewal on his lease, which is on public land, with an optional five-year extension — potentially letting this gas station remain on the property until 2050.
The lease now goes before the full Board of Supervisors next week after receiving an initial approval by the board's Budget and Finance Committee — but committee member Sup. Rafael Mandelman is already expressing some reservations about voting to approve the lease in the final vote.
Sup. Norman Yee, in whose district the station sits, has said that it's important to the neighborhood that this gas station remains, and that it's "somewhat of a fixture" and a "fiber of the community." Yee adds that the station is relied upon for auto repairs in the community, and Gharib wants to continue serving the community — even if that means switching the business to offer something other than petroleum fuel down the line.
As the Examiner previously reported, the station was called out in a budget analyst's audit three years ago as an example of how the city didn't have a particularly coherent policy for the use of city land for non-governmental purposes. And some neighbors around Twin Peaks are voicing opposition to the lease because the site could be redeveloped as affordable housing, which the city desperately needs.
Tom Radulovich, executive director of Livable City, wrote to the supervisors to urge them to vote down this lease extension, saying, "We need you to use every bit of public land wisely. This should be a thing of the past. There's plenty of gas stations in San Francisco."
A nearby homeowners' association, however, wants the service station to remain.
The vote by the full board will happen, barring any delay, next Tuesday. And Mandelman, for his part, has said he would potentially support the lease extension if it explicitly banned the sale of fossil fuels after 2040.