Despite San Francisco's newfound "yellow tier" status, the least restrictive level on the COVID-19 continuum that was expected allow for 50% capacity for indoor dining effective November 3 — that plan was put on pause on Friday due to rising hospitalizations — many of us are still not ready for indoor dining. And fortunately, we do not have to dine indoors. In a thread of tweets, Mayor London Breed announced (among a ton of other yellow tier-related matters) that the sidewalk-and-street parklet-style program Shared Spaces would be extended through June 30, 2021.
The program had been set to expire on December 31 this year, as Hoodline previously reported, but it now seems implausible that we'll be returning to normal life by then, and restaurants and bars are going to need all the revenue they can get this winter, and next spring.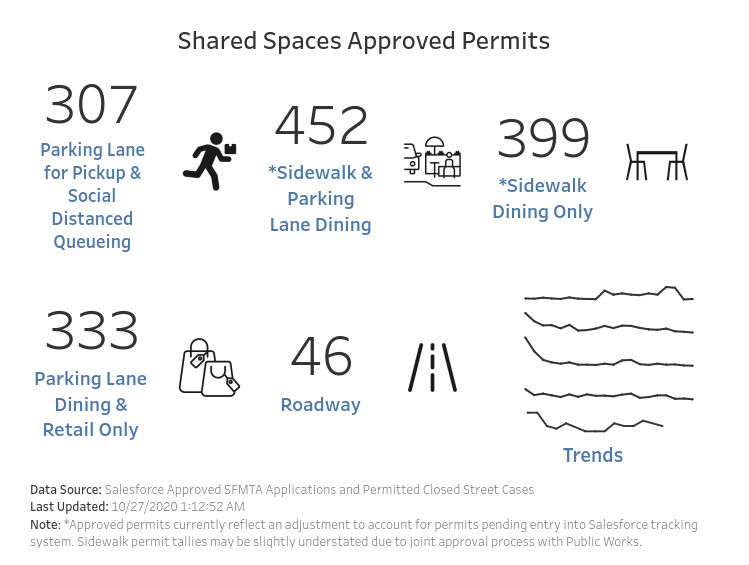 The original announcement came from the SFMTA, which spells out in detail which Shared Spaces permits renew automatically, and which require some degree of effort or follow-up from the respective business or property owner. There are seven types of Shared Spaces permits governing sidewalk, parking space, or street-closure permits.
The simplest of these, the sidewalk permit, renews automatically with no effort required from the business operator. Those "mini parklets" popping up in parking spaces outside so many restaurants and bars (some of which are quite creative and impressive!) do need to submit a renewal application by November 15 to be guaranteed their renewal by December 31.
The SFMTA has a nice interactive map of where each San Francisco Shared Space is located, and its numbers indicate that several hundred more of these operations are in the pipeline.
Also, we may see even more of these parklets and sidewalk service areas popping up in the next month, because city officials had suggested that they are likely to give the green light for San Francisco bars to open for outdoor service without the food requirement that may have been a hindrance for some bars. (That may not happen now until December or later, following today's "pause" announcement.) And while the partnerships that have sprung up in neighborhoods like the Castro, for instance, between food businesses and bars may continue for mutual benefit, drinkers will no longer be obligated to order onion rings or whatever in order to get their drink on.