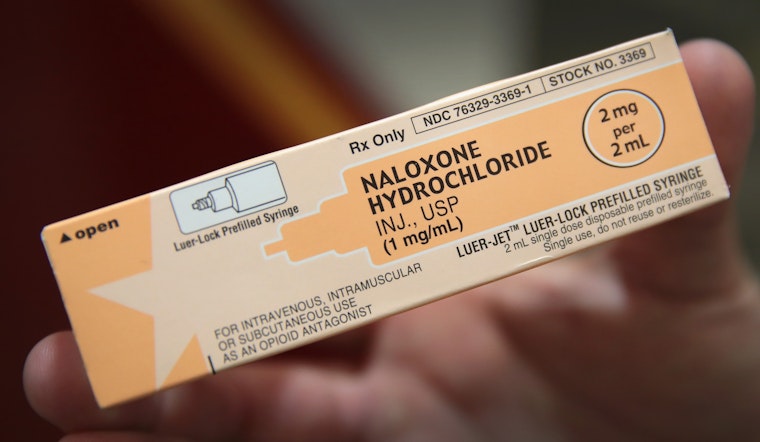 Published on November 20, 2020
Deaths from fentanyl overdoses have risen sharply in Santa Clara County this year, mirroring a troubling trend also seen elsewhere.
The county says it's confirmed 53 people have died from the powerful opioid so far in 2020, with "many more cases being investigated." That's up from 29 fentanyl-related deaths in all of 2019. At that rate, the number of deaths will double from last year.
The Santa Clara County deaths included teenagers as young as 16 and adults up to 60 years old, according to the county.
"The high number of fentanyl deaths this year is extremely troubling and worrisome, especially as we see it happening to both teenagers and adults, particularly young adults," said Santa Clara County Medical Examiner-Coroner Dr. Michelle Jorden in a press release.
This trend is far from unique to the county. In just the first nine months of this year, 563 people died of drug overdoses in San Francisco – more than died in all of 2019, according to numbers reported by the San Francisco Chronicle. The paper reports San Francisco saw 441 confirmed overdose deaths in 2019 and 259 the previous year.
While the newly reported Santa Clara numbers can't be compared directly to the San Francisco statistics, because the latter include overdoses from all drugs, fentanyl is the major killer behind the San Francisco increase. Of the 468 overdoses in that city by August, a whopping 319 of those dead had fentanyl in their systems, the Chronicle reports.
More than a quarter of those San Franciscans who overdosed — 28 percent — were homeless, the Chronicle found. And with homelessness visibly skyrocketing during the pandemic (even if official counts aren't yet available), more and more people are dying on the street – often from fentanyl.
Deaths of people without homes in San Francisco were up a terrifying 123 percent compared to 2019, the Mercury News reports, and homeless deaths in Santa Clara County also rose 33 percent. Other Bay Area counties showed a rise as well.
Some of the increase may be accounted for by more people on the streets, but the deaths don't appear to be tied directly to the pandemic. Just four deaths of homeless people in the period reported were confirmed cases of the virus, while drugs are the leading suspect behind San Francisco's huge spike in homeless deaths, an official from the city's department of public health told the Mercury News.
Meanwhile, some people with fentanyl in their systems don't even know they took it, warned the Santa Clara County medical examiner-coroner, because it's added to a wide variety of street drugs. And San Francisco's chief forensic toxicologist told the Chronicle that people have tried to buy the antianxiety med Xanax on the street only to wind up with a product tainted with fentanyl.
"Fentanyl can be found in fake pills, powders, and other drugs. Even one pill, a fragment of a pill or one snort can be fatal," Santa Clara County's Jorden said.
"Many opioid pills are made by counterfeiting organizations and most pills on the street are fake," the Santa Clara County announcement stated. "Fake pills are made to look like real prescription medications and come in different types, shapes and colors."
The highly addictive opioid is 80-100 times more powerful than morphine, according to the county's announcement. "Fentanyl is a very powerful opioid drug and can kill in a matter of minutes," Director of Drug and Alcohol Services Bruce Copley said.
Copley also cautioned that "the risk of death increases if a person takes these drugs alone." It's a simple statement that encapsulates a tragic reality of life and death in the time of coronavirus: People are coping, and dying, alone.
The drug Narcan can stop an overdose, the county release said, and friends and family of at-risk people can get training to administer Narcan and keep it on hand. The county announcement contains a list of places to receive Narcan training and fentanyl test strips.
How to get help:
The County of Santa Clara Behavioral Health Department maintains the following hotlines:
Substance use treatment services/Gateway: 1-800-488-9919
Mental Health Services: 1-800-704-0900
Youth and Young Adult Substance Use Treatment Services: 408-272-6518
(Monday to Friday, 8am-5pm)
The county site also contains information on substance use treatment services for adults and for youth.