This has been a year of steady calls to support Black-owned businesses, and the holidays can be a great opportunity to vote with our wallets. Below is an incomplete list of Black-owned businesses to check out in the San Jose area this season.
You can begin by pampering yourself and your loved ones with some giftable skin care products and a voucher for a visit to a salon (subject to safety regulations, naturally).
Ice Body Skincare is a mother-daughter team out of Union City that produces hand-made, natural and organic, paraben-free beauty products in small batches.
"I have always been particular about what I put on my skin, so I can avoid the chemicals that are in so many products," writes Vickie Brown, a mother, Air Force veteran and advocate for victims of human trafficking who founded the brand along with her daughter, Deja. "I have truly found my passion in creating creams, soaps and other wonderful products using natural and organic ingredients that do not break out the skin and can be used by people of all skin types."
Ice Body sells their range of creams, scrubs, cleansers, toners and more (including stocking stuffer sizes!) online and at events around the Bay Area. (They'll be at a socially distanced holiday gift bazaar at MC Arts & Culture in Marin City this Saturday, Dec. 19, alongside Belle Noire Accessories's African diaspora products.)
You can also snag a gift certificate from them for $10, $25, $50 or $100. Take a look at their catalog on the Ice Body Skincare website and latest news on Facebook, but Brown says the best way to order, especially for customers who need a quick turnaround, is to call 404-345-9795 or 510-770-6098.
To continue the indulgence, plan a visit to San Jose's Vanda Salon, founded and owned by haircare-industry veteran Vanda McCauley. The salon bills itself as a "multicultural hair salon catering to women, men and children." It also has a range of hair care products for sale, as well as skincare items through Mary Kay.
Bonus: If you need more reasons to patronize Vanda's, the salon contributes to a variety of local causes, including youth leadership, athletic and academic programs. "At Vanda Salon we challenge ourselves to keep remembering what makes us great – the people and communities where we live and work," the company's website tells us.
For a festive holiday meal – or if you just want to gift yourself a vacation from cooking – try some takeout from one of the area's many Black-owned eateries. (Due to COVID restrictions, eat-in dining is not allowed; restaurants are offering pickup and delivery instead.) SanJose.org brings us a list of tasty options, courtesy of local organizer Mary Celestin. Top picks include: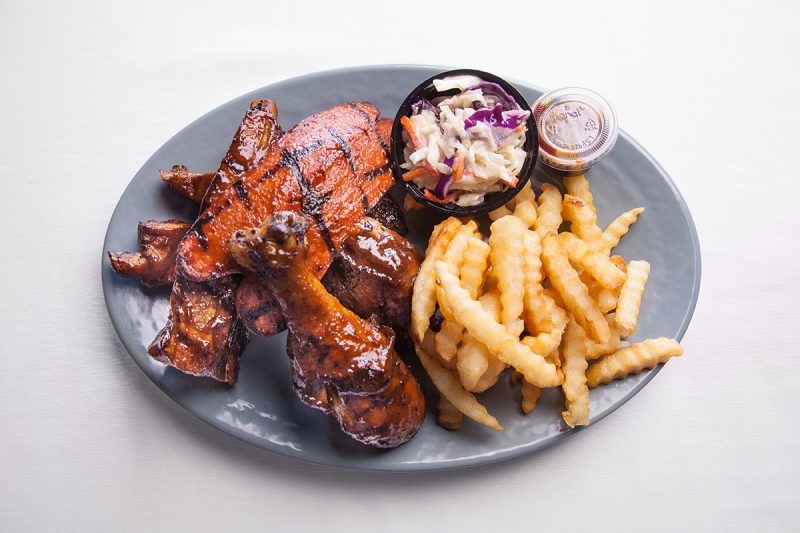 Caribbean food from Back A Yard Photo: Back A Yard Caribbean Grill
Back A Yard Caribbean Grill cooks up Caribbean fare, including jerk chicken, at five area locations and offers catering, including COVID-19-friendly individually boxed meals. You can also buy their signature sauces online (holiday gift, anyone?). Pre-order Christmas dinners by Saturday, Dec. 19 to pick up on Dec. 24.
Jon Jon's BBQ has been serving southern barbecue, food truck-style, to San Jose fans for years, using the family recipes of its founder, Georgia native John Erwin, Sr. "The best bbq in town," declares one Facebook commenter.
And if you're out picking up some last-minute curbside gift orders from local shops, you might just stop by San Jose's own Black women-owned coffee shop, Nirvana Soul, for a gourmet cup of joe to fuel your festive spirit.