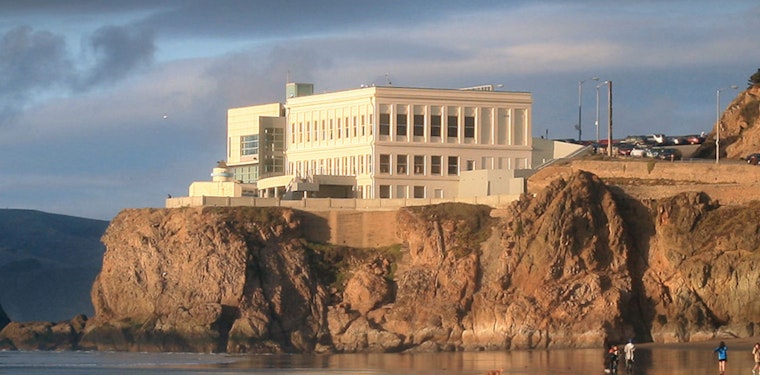 Published on December 14, 2020
San Francisco's iconic cliffside restaurant overlooking Ocean Beach and the Pacific, The Cliff House, is closing "permanently" according to longtime operators Dan and Mary Hountalas, after they failed to reach a new contract agreement with the National Park Service (NPS).
The restaurant has been in a sort of limbo since the Park Service declined to renew the Hountalases' operating contract for another 20 years in 2018, and they have been running the restaurant under short-term contracts ever since. The Cliff House closed with much of the city in mid-March and reopened for a short time doing takeout, only to decide by July that that was not tenable. They had intended to reopen as soon as indoor dining was permitted, saying, "the sheer size of our building means we will be able to provide ample distancing between tables to provide safety and comfort to our guests." When indoor dining was allowed in San Francisco beginning in late September, the restaurant remained closed.
The Hountalases announced the closure on the restaurant's website, detailing how the Park Service seemed to be thwarting their efforts to continue running the business that they have run since 1973. Despite their last contract expiring in June 2018, it took another year before the NPS issued a request for qualifications (RFQ) for a new operator (it's not clear how many applicants there were), and in January of this year, without a new operator selected, they extended the Hountalases' contract until December 31 of this year. They say they were offered another one-year extension by the NPS, but the closure announcement serves as their rejection and protest of that, saying that it's unfair for them to foot the bill for the building's upkeep with no chance of profitability on the horizon.
"It costs tens of thousands of dollars every month to maintain and guard the massive Cliff House building," they write. "There really is no excuse to be in this situation. There was no COVID-19 in 2018; one or more upper echelon leaders within the NPS obviously did not do their jobs, resulting in this sad situation."
They warn — and this could be part of their negotiation tactics — that if they walk away, not only will 180 jobs be permanently lost, but it could be a long time before San Francisco gets the Cliff House back.
"Realistically we are looking at two to three years of a closed facility," they write. "And if there is insufficient maintenance done to keep it up, re-opening costs will be tremendous. How will The Cliff House look/feel when it eventually re-opens?"
Relatives of the Hountalases, Bill and Tom Hontalas (different spelling), had run the neighboring Louis' Restaurant for decades up until its pandemic-related closure earlier this year. Their grandparents had opened Louis' in 1937 when the area around the Cliff House and the former Playland at the Beach, at a time when Greek immigrants operated multiple businesses in the area.
Dan and Mary Hountalas took over running the Cliff House in 1973, four years before it became the property of the federal government — and before they had to regularly reapply to run the place.
Louis' had its own run-in with the NPS in 2010, when its federal lease came up for an RFQ. The Hontalas brothers ultimately prevailed, but only after agreeing to conditions that included a remodel, adding healthier options to the menu, and adding things like fair-trade coffee.
What today's news likely means is that both the Cliff House and Louis' will come up for another RFQ process in the new year, with any number of local restaurateurs potentially throwing their hat in.
But if you'd like the support the Hountalases' effort to hold on to the restaurant and/or express your ire to the Park Service, they ask that you email [email protected].