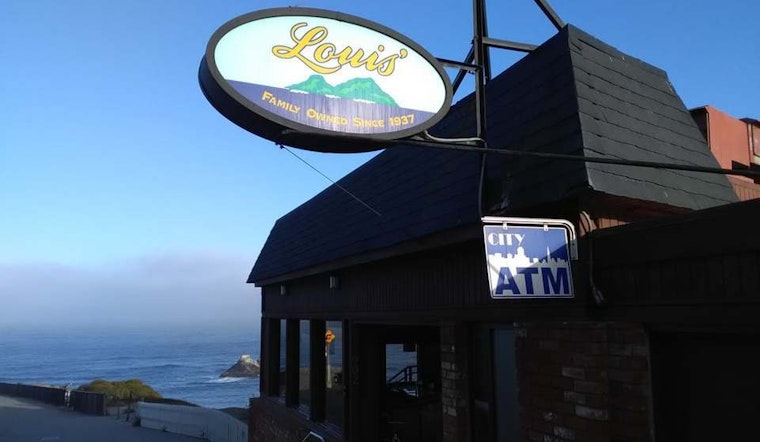 Published on July 14, 2020
After 83 years of business, the iconic Louis' Restaurant will permanently close due to the COVID-19 pandemic.
Located at 902 Point Lobos Avenue, overlooking the Pacific Ocean, the restaurant was known for its sweeping views and classic American diner fare.
The restaurant opened its doors every morning at 6:30 a.m. for business, but co-owner Tom Hontalas woke up at 3 a.m. every day to get it all started. He expedited every burger and bowl of chowder that was served to customers to ensure its quality and freshness. 
But yesterday, Hontalas did something he had been dreading — he told his staff it was time to move on to the next phase of their lives.
"It was emotional," he said. "I am 62 years old, so for me, it's going to be early retirement, but I feel badly for my staff because they are young. One of them has a kid on the way."
He and his brother Bill, with whom he owns the restaurant, closed its doors at the beginning of shelter-in-place in March after 83 years in business. Hontalas said it still hasn't sunk in that they will never reopen.
This week, the reopening of indoor restaurants was put on hold in California due to the rising number of COVID-19 infections, but Hontalas said he still doesn't know how a reopening plan would work at Louis' once allowed by the government. Hontalas said it would be nearly impossible for his staff to safely distance in the small space, with chefs wearing masks for 8 hour shifts in a hot kitchen.
"I just don't see how that could be healthy," he said.
The restaurant's lease is up in December, but Hontalas talked to his landlord, the National Park Service, about an early termination.
Hontalas' family renewed the lease in 2010, but he said it has been difficult trying to make a living and be profitable over the past decade. Food costs and labor costs have gone up, and he said profit margins have been slim.
And then the pandemic hit. 
"I cannot foresee in my mind when restaurants will go back to normal," Hontalas said.
The restaurant was first opened on Valentine's Day in 1937 by his grandparents, Louis and Helen Hontalas, starting with just a couple of tables and counter seats.
Louis Hontalas first came to the United States from Greece in 1906, and during the Great Depression, Louis and Helen worked at Michael's restaurant, the Cliff Cafe, located on the west side of the entrance to Sutro Baths, near the Cliff House.
When the couple decided to open their own place, they asked the nephew of Adolph Sutro, owner of the land on Point Lobos Avenue, if they could rent a small section of the property at the indoor walkway that connected the Sutro Baths entrance to the streetcar barn.
In 1966, a fire destroyed Sutro Baths, but the San Francisco Fire Department saved Louis' from burning down. Six years later, Louis died of an illness.
In 1973, the land around Louis' was acquired by the National Park Service. During that time, as young teenagers, Louis' grandchildren Bill and Tom took over the family business to continue its legacy, and they have been running it ever since, with many of the family members working alongside them over the years.
Hontalas said that while recently looking though old family photos, in one of them, his grandfather, while working at the Cliff Cafe, was wearing a mask. At first he was confused and thought, "was he working with smelly fish?" He then realized that it was due to the Spanish Flu. 
"I was completely taken off guard," he said. "It takes 100 years to forget about these pandemics."
Now, at 62 years old, Hontalas said his biggest fear is not knowing if he has enough of a nest egg to be comfortable, but he said he is going to do the best he can.
"When I go to bed at night," he said, "knowing I don't have to get up at 3 in the morning, I get some comfort in that."