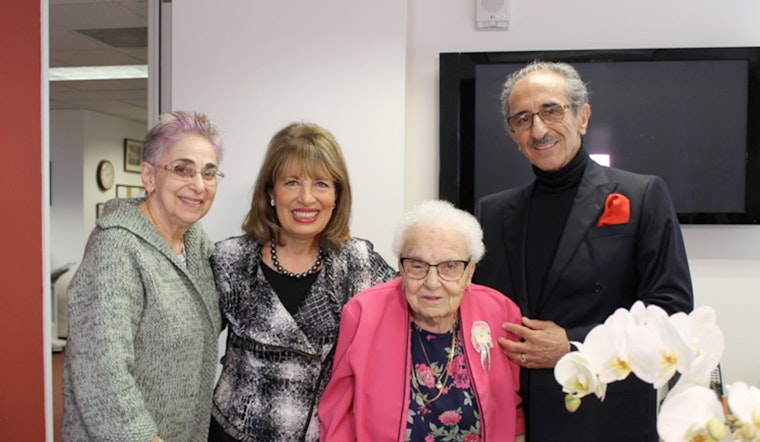 Published on February 15, 2021
Lucy Mirigian, an avid Giants fan who had lived in the same Balboa Park house she bought back in the 1950s, passed away Friday morning surrounded by friends and family. At 114, she was believed to be the oldest-living San Franciscan, and the oldest person in California.
As reported by the Chronicle, Mirigian loved piecing together puzzles, slinging back wine, and bemoaning the state of the Union. She was also considered to be in astoundingly good health for her age until just recently; her son-in-law, Jack Koujakian, remarked that in the days leading up to her passing, Mirigian's blood pressure was lower than his at 110 over 55.
"She wasn't really sick," her daughter Sonia Mirigian-Koujakian told the newspaper. "She died of being 114."
Being a centenarian, Mirigian was described as having lived a full, rich life — but the notoriety around her age was something of a recent development. Mirigian's story didn't make media rounds until the federal government decided in 2017 that she was already dead and was no longer entitled to receive her $377-a-month government pension from her job as an assistant at the U.S Mint in San Francisco, though she was still alive and well. (Apparently, government letters were sent that never made it her way.)
Mirigian had survived previous global health crises similar to the one we're currently experiencing: the 1918 Spanish flu pandemic and past polio and typhoid epidemics of the 30s and 40s.
"When they tell you to stay indoors, you have to stay indoors," Mirigian said to the Chronicle last year when asked how she felt about San Francisco's shelter-in-place order. "What else can you do? You have to do what they tell you. You have to use your common sense."
But per the newspaper, Mirigian never received a COVID-19 vaccination.
"We just didn't want to risk the side effects," her daughter Sonia Mirigian-Koujakian said, adding that her mother had remained a social individual well into her old age.
The Armenian immigrant — who left her home country at four years old "on the back of a donkey" and had been on 43 ocean cruises throughout her life — will be buried at the Ararat Armenian Cemetery of Fresno; a memorial service will be held on the funeral grounds when permitted; she is survived by her daughter, son-in-law, and son, Garo Mirigian.
As Broke-Ass Stuart notes: With the passing of the Balboa Park resident, Frank Brucia and his wife Angela Capobianco — both now over 100 years old — may now be the oldest San Franciscans in the city.