The storefront at 575 Castro Street, which for over a decade has been home to a Human Rights Campaign (HRC) merchandise store but which was once the home of the camera store out of which Harvey Milk did much of his early political work, may be destined to become a national historic site. HRC announced that they are vacating the space in April, and the landlord has hinted at something "much larger" on the way.
The Bay Area Reporter broke the news about the changes afoot, saying that nothing has been confirmed beyond the fact that HRC's lease is up and they are leaving the space. But they report that representatives from the GLBT Historical Society and the National Parks Conservation Association recently met with Supervisor Rafael Mandelman to discuss the possibility of the store becoming a National Park Service site. It is already registered as a San Francisco city landmark.
The BAR first reported on the possibility of the onetime Milk store becoming a national landmark back in 2014, when LGBTQ activists and preservationists began lobbying the Obama administration about multiple sites across the country.
James Nunemacher, the founder and CEO of Vanguard Properties, serves as manager for the property under the LLC that owns it, and he tells the BAR that he's not at liberty to discuss what is being proposed for the site, only that it is "much larger" than what has been there, and "we are excited about it."
"We made it a deal not to say anything at all," Nunemacher says.
Similarly, a rep for the National Parks Conservation Association, Elliot Richardson, tells the BAR, "[A national landmark] is something we are considering but [we] are not prepared to make a comment at this time."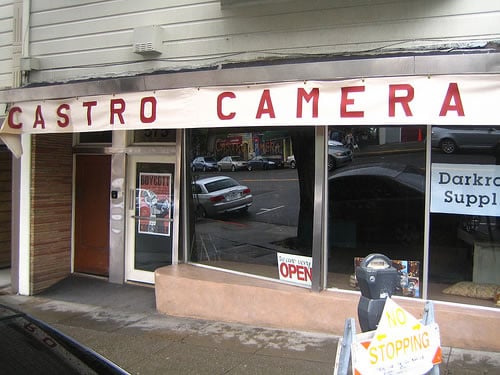 Photo via MyCastro.com
HRC moved into the space in 2005, not long after then Mayor Gavin Newsom married the first same-sex couples at San Francisco City Hall, and HRC became part of the fight for marriage equality that felt centered in the Castro neighborhood.
"We are incredibly appreciative to the San Francisco community for 16 rewarding years in our Castro district store," says HRC President Alphonso David in a statement. "It has been a privilege to be able to fight for equality on the same ground as LGBTQ civil rights pioneers. The Human Rights Campaign has been honored to hold space within the birthplace of the queer movement, where our politics and our power have long been nurtured."
Milk opened Castro Camera in the space in 1972, and he lived in an apartment upstairs from the store with his partner, Scott Smith. Milk would become known as "The Mayor of Castro Street," and the store figures heavily in the biopic Milk, showing how Milk and other activists, including protege Cleve Jones, used the store as a centralized location for organizing Milk's campaigns for city supervisor, and the campaign against the discriminatory Briggs Initiative in 1978.