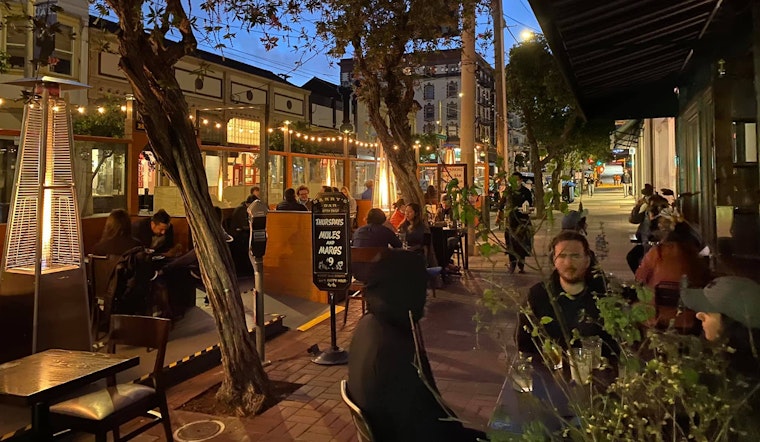 Published on March 01, 2021
Any San Francisco outdoor dining establishment will tell you that their newly installed "shared spaces" parklets were an enormous sunk cost that left their businesses in peril of not being able to survive. Many of these parklets cost tens of thousands of dollars to build when they started going up last June, only to have the city order them to shut down when case counts skyrocketed in November. The abandoned parklets then became magnets for abuse and vandalism until they could reopen when outdoor dining resumed last month.
But there's one Pacific Heights parklet that's been beloved by the neighborhood, though not by its neighbor. At Harry's Bar on Fillmore Street at California Street, a $30,000 parklet structure went up in August in hopes of keeping their 16 staff members gainfully employed. Yet now KRON-4 reports that a neighboring building is demanding the parklet be removed, which Harry's Bar says could doom their business entirely.
"We're kind of walking a little bit of a tightrope right now financially," Harry's Bar manager Charles Johnson told KRON-4. "We might be faced with a situation where we have to shut it down."
The parklet was fully approved and sanctioned by the city when it opened over the summer, and does cover parking spots in front of their neighbor's building. But now the city is requesting that a third of the parklet be removed. The conflict arises from their neighboring building, which used to house the apparel shop James Perse. The James Perse shop gave the parklet its blessing, but things changed when that boutique closed permanently.
"Due to the pandemic, the neighboring business (James Perse) was forced to close," Harry's Bar says on a Change.org petition fighting for the bar's survival. "Since our Parklet extends into the parking spot in front of this business, James Perse had given us permission to build our Parklet. Since this business is now vacant, the owner of the neighboring building (Sue Corey of Chico, CA) has demanded that our Parklet be removed. Without this Parklet, Harry's Bar will be forced to close."
This is a one-off problem that other parklets are not having, a set of circumstances unique to Harry's Bar. The former next-door tenant gave their OK, but how they're gone, and the building's owner now wants the parklet gone.
Very limited indoor dining is expected to return any day now. But outdoor dining is expected to remain for months, as restaurants cannot survive on that 25% capacity. And the longer we still have outdoor dining in parklets, we're going to see more one-off, unique, and oddball cases where for some reason, the parklets may not fit in anymore.