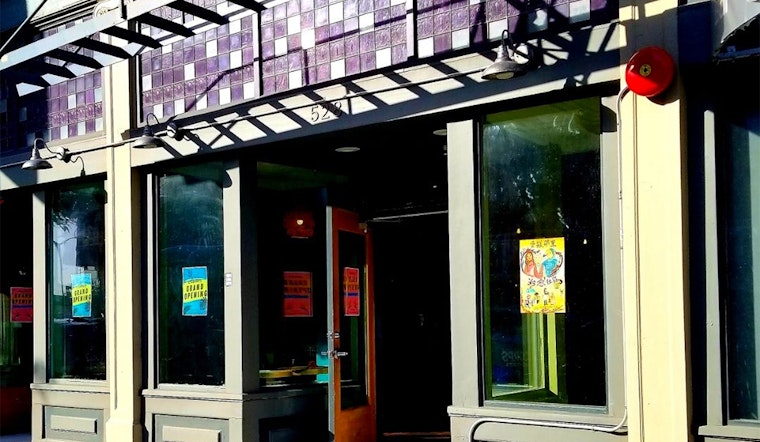 Published on March 22, 2021
As more businesses get to reopen around the Bay, we have news of some new ones opening for the first time, as well as a vaccination promotion from Krispy Kreme, and a Cal/OSHA fine for Alta Bates Summit Medical Center.
Castro: A large crowd took part in a rally and march on Sunday in solidarity with the Asian communities of the Bay and beyond, following weeks of tragic violence including the mass shooting in Atlanta, and the death of an elderly man in a strong-arm burglary in Oakland. [KRON4]
Alamo Square/Fillmore: SF's Third Baptist Church has opened up its own vaccination clinic for congregants, hoping that older Black residents especially will respond better to receiving their vaccines within their faith community. The one-dose Johnson & Johnson shot is being offered for free to those eligible. [CBS SF]
Mission: Buffalo Exchange (1210 Valencia St.) experienced a burglary over the weekend in which one of its large front windows was smashed. [Mission Local]
Sunset: Pineapple King Bakery (1915 Irving St.) was broken into not once but twice on Sunday morning, apparently by the same group of burglars, and the owners are seeking the public's help to give the SFPD tips to solve the crime. [ABC 7]
Daly City: Krispy Kreme just announced Monday that it is giving away a free glazed doughnut to every customer who presents their COVID vaccination card, from now until the end of the year. All you need is to have had at least one vaccine shot and show your card, and you can redeem the offer once a day for the entire year. [SFist]
Old Oakland: Tipster Albertino M. brings news of more things debuting in Old Oakland, including the opening of Understory, a new worker-led restaurant and bar in a long vacant space at 528 8th Street. The restaurant's collective has much to say about its social justice mission on its website, and the opening menu includes things like kefta lamb sliders, chicken with lemon and olives, and plenty of vegan fare including cauliflower tacos, and fava bean sliders. The grand opening is this Sunday, March 28, and hours will be Thursday to Saturday, with lunch offered only Friday and Saturday, and rotating pop-ups in the space on Sundays from the Oakland Bloom nonprofit incubator.
Old Oakland: Also in Old Oakland, the former Siam Bay space at 1009 Clay Street has a new tenant: Awazi Kitchen, a restaurant serving Abyssinian cuisine. It's open for lunch and dinner, and in addition to lamb, beef, and chicken dishes like wot, there are multiple vegan options as well.
North Oakland: Alta Bates Summit Medical Center has been fined $155,000 by Cal/OSHA over its COVID safety violations. The fine was announced by a nurses' union, who said that Cal/OSHA's investigation began after the death of an Alta Bates nurse last July. [CBS SF]