The San Jose Police Department says it has arrested 13 alleged gang members in connection with a wave of violent robberies particularly targeting gardeners and landscapers.
The 13 people arrested included two minors, one of them age 14, according to the department. Police say they believe the suspects were operating as a "violent criminal street gang" that committed a number of crimes including attempted murder, armed robberies, kidnappings, assaults and possession of firearms.
Among the various victims were a number of local gardeners and landscapers whose equipment was stolen from their vehicles. When victims tried to stop the thefts, the perpetrators used force against them or brandished weapons, police said.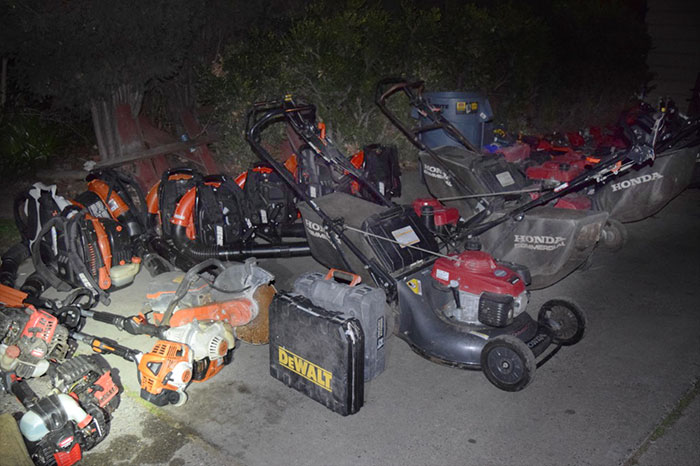 A number of the crimes involved robbing gardeners of their landscaping equipment. Photo: SJPD
San Jose's gang investigations, robbery and violent crime enforcement units collaborated with the Santa Clara County District Attorney's Office to identify the suspects investigators believe are responsible for what they called "escalating violence" throughout Santa Clara County.
Between Feb. 17 and 24, investigators executed multiple search warrants in San Jose and arrested the 13 suspects on warrants and other offenses, according to a police department statement. The statement indicated that they found firearms, gang paraphernalia, drugs, and a large amount of stolen property during the searches.
The Mercury News reports that court records show gang enhancements filed against just four of the adult male suspects. The gang charges are related to three attacks involving a gun, including an incident in which two suspects assaulted a victim and someone later shot at him when he was in a vehicle, according to the paper.
The 11 adults arrested were booked into the Santa Clara County Jail, while the minors, aged 17 and 14, were booked into the Santa Clara County Juvenile Hall, police said.
Investigators are asking anyone with information to contact Detective Weber or Detective Estantino of the San Jose Police Department at 408-277-3835, or to submit an anonymous tip to the Crime Stoppers Tip Line, 408-947-STOP (7867), or online at svcrimestoppers.org.