The Oakland Police Department (OPD) held a rally and march on Saturday for their "Stand Up For A Safe Oakland" campaign, which focused on a decision by the Oakland City Council to cut the department's budget by $18 million, and the recent surge in violence that reached its peak over the July 4th weekend.
As of Saturday afternoon, 71 people had died in 2021 due to violence in Oakland — and a 72nd homicide occurred later that day. The victims' names were read at the event and a casket symbolizing the devastation that has rocked the Oakland community was on display.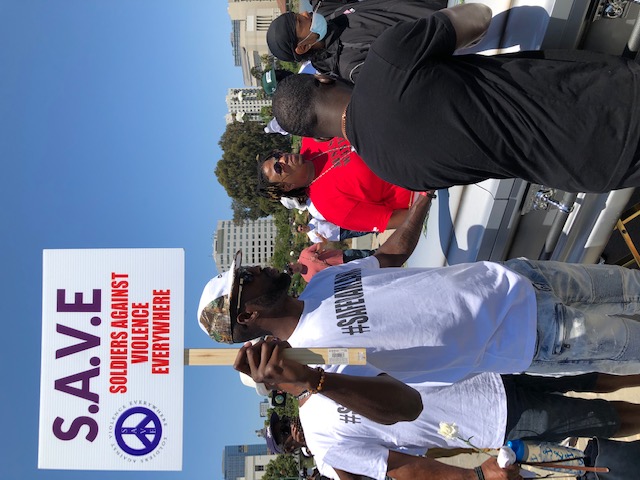 Photo: MJ Carter/Hoodline
OPD Chief LeRonne Armstrong and community leaders spoke to supporters in plain clothes, wearing t-shirts bearing the hashtag "#SAFEOAKLAND" in an effort to build a bridge between OPD and the community.
The main goal of the event was to rally the community in support of ending gun violence, raising awareness of the victims, and announcing a series of next steps that includes a series of town halls.
The campaign kicked off at Lake Merritt Amphitheater by giving out the printed t-shirts, as well as white carnations.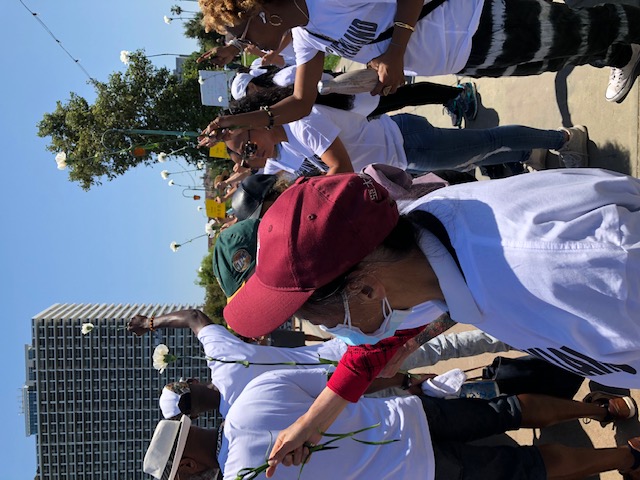 Photo: MJ Carter/Hoodline
The area surrounding the podium was filled with community members and leaders set to speak.
"This is an honor to be here. When I had the idea, when I thought about bringing the community together it was about uniting Oakland," said Chief Armstrong.
"It was not about dividing Oakland. It was about uniting Oakland," he said.
When asked why she felt it was important to come out to show support for Oakland and stop the violence, one attendee, Oakland resident Helen Wong, told Hoodline, "I feel that the crime rate has really, really gone up, especially this year. I live here in this area. I feel unsafe. I stopped walking around the lake in the morning. That was one of my forms of exercise in the past."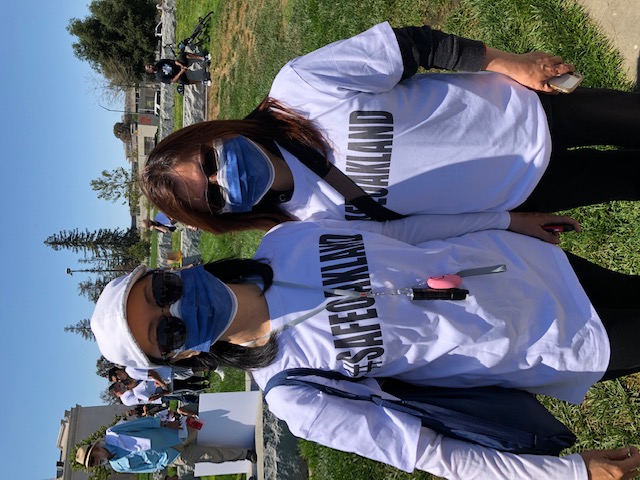 Photo: MJ Carter/Hoodline
"Too many of our people in our community have died from gun violence," said Timothy Banjo, a student at Oakland Technical High School.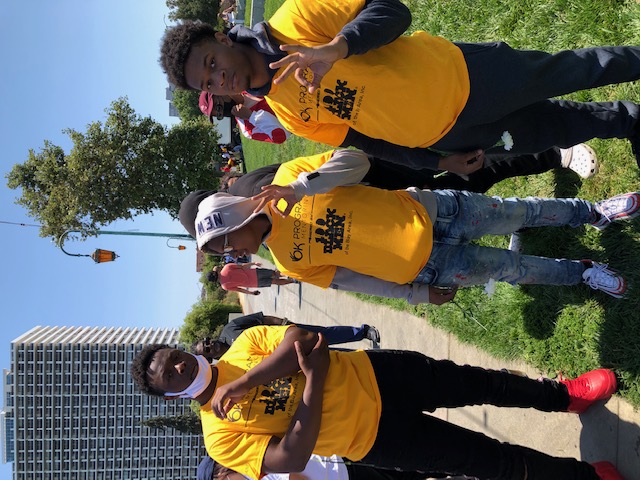 Photo: MJ Carter/Hoodline
Counter-protesters were also in attendance, with some holding up a banner that said "Police Are Domestic Terrorists."
Once it was time to march, the group of several hundred people organized and headed toward the lakeshore site of the shooting on Juneteenth weekend, on the 2200 Block of Lakeshore Ave.
"We decided to end here because this spot on June 19th was the same location where shots rang out and eight people were shot here, one of [whom] was killed," said Chief Armstrong.

Photo: MJ Carter/Hoodline
Chief Armstrong went on to say, "It was important to me that we honored the fact that violence is right in front of us. You don't have to walk far in Oakland to find some place where violence has occurred."
Hoodline spoke with Regina Jackson, chair of the Oakland Police Commission (OPC), and Wanda Johnson, Oscar Grant's mother, who also attended the march.
"Today was an incredible and impassioned plea for unity in Oakland. And I am here to support that because we all want a safe Oakland. We all deserve a safe Oakland" said Jackson.
"It's so important for me to be at this event because when you look at the coin it has a head and a tail. And so we need accountability in policing and we also need accountability in our communities to decrease the violence and black on black crime and other crime that is occurring, " said Johnson.
In an interview with KPIX over the weekend, Bishop Bob Jackson of Acts Full Gospel Church said, "We need a right-now fix for what's going on, not a year-and-a-half, two years from now. Let's deal with the short term, and lets bring some kind of peace to our city first. Let's get this under control."
He added that "There's confusion in the leadership [of the city]. The mayor is saying one thing, city Council is saying something else, the police chief is saying something different. We, the people of the community, we don't know what's going on with the city of Oakland. Except, a lot of shootings, a lot of killing, and no one seems to have an answer."
In recent weeks, Chief Armstrong has been adamant in his opposition to a decision by the Oakland City Council to divert $18 million of OPD funding to the city's Department of Violence Prevention. Advocates of the move say that cities like Oakland need to find ways to not involve armed law enforcement in situations where public safety is not at risk.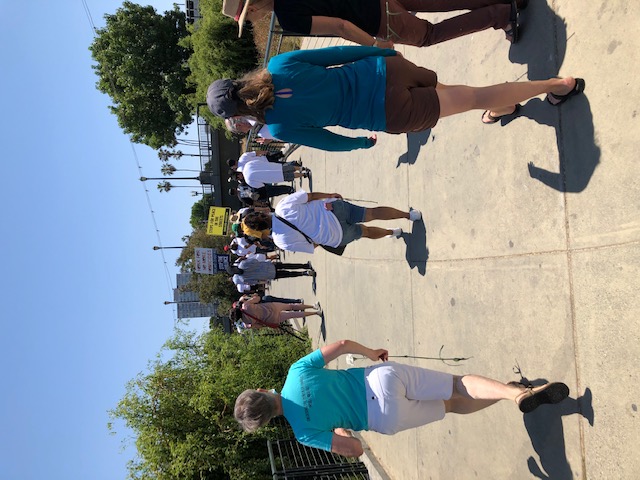 Photo: MJ Carter/Hoodline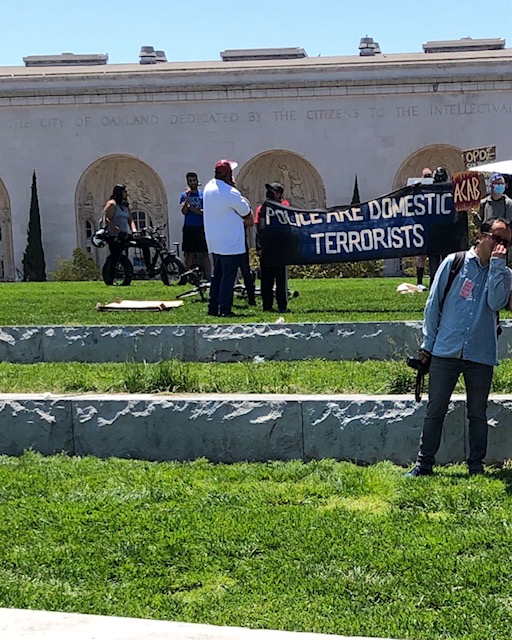 Photo: MJ Carter/Hoodline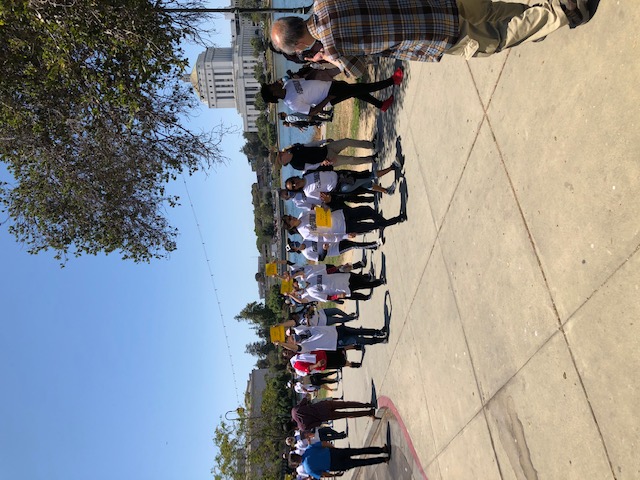 Photo: MJ Carter/Hoodline