The South Bay Area is home to no shortage of world cuisine and specialty drinks, with boba tea arguably among its strong points. The boba phenomenon shows no signs of slowing down, the reported boba shortage notwithstanding, and the South Bay continues to be a popular landing place for new tea trends and shops. Here are two of the area's newest boba spots that fans of these beloved drinks will want to check out this summer.
San Francisco's Urban Ritual, which had already opened an outpost in San Mateo, has now brought its line of healthier boba tea and other specialty drinks to San Jose.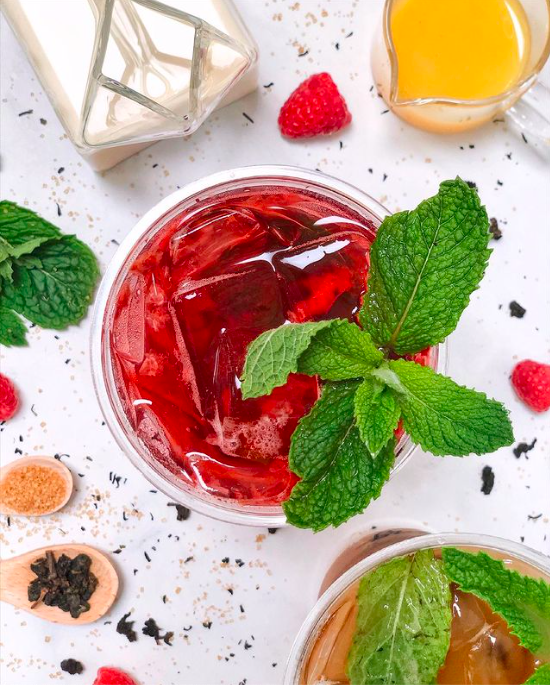 Raspberry Calamansi Mojito Photo: Urban Ritual / Instagram
The shop, which says it aims to offer "a truly healthier alternative," prides itself on using only use loose-leaf tea, all-natural ingredients, and syrups made from scratch in-house.
But, never fear, "healthier" in this case at least does not mean less tasty — or lacking in the sweet stuff, for that matter. In fact, the Mercury News calls Urban Ritual's Creme Brulee Milk Tea its signature drink. "It took 32 iterations over many long nights to perfect our recipe — shout-out to our friends for being guinea pigs," boba master David Zhou told the paper about the drink, which (like real creme brulee, which literally means "burned cream" in French) is topped with heat-caramelized sugar. Zhou added that the creation was "one of the first drinks in boba history to incorporate a crunchy texture."
If sugar is not your thing, though, they've got you covered, too. The shop's build-your-own drinks ($4.75 + $.50 for toppings like boba or jelly) offer customers the chance to specify how sweet they like it, on a scale from "0%/none" to "100%/extra" — a refreshing change from many uber-sweet-tea shops.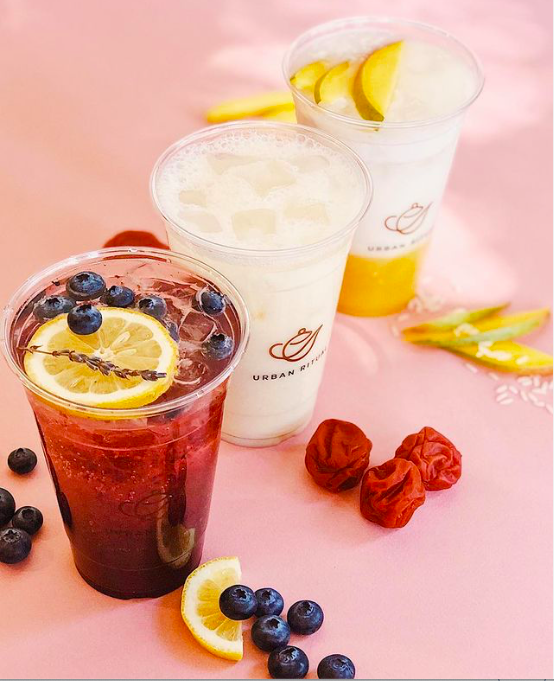 Specialty drinks from Urban Ritual Photo: Urban Ritual / Instagram
Or you can just pick from the specialty drink menu ($5.25), which includes flavors such as strawberry basil lemonade or matcha toffee, as well as seasonal choices like mango sticky rice (mango with rice milk and coconut milk). Currently, the seasonal menu includes a couple of non-alcoholic mojito drinks for summertime: a Raspberry Calamansi Mojito and Hong Kong Mint Mojito.
Urban Ritual San Jose is located at 100 N Almaden Ave, Suite 170; 408-564-0925; www.urbanritualcafe.com.
Meanwhile, Taiwan chain Tiger Sugar opened its first Bay Area location during the pandemic, where it's now serving up its signature brown sugar boba ($5.66). This drink involves fresh cream and proprietary brown sugar syrup plus tapioca to create a striped effect. Just shake up your brown sugar boba before you drink it, the general manager advised the Peninsula Foodist blog on Palo Alto Online.
"What really makes Tiger Sugar unique is not just the taste … but also the presentation," the manager told the blog, which first reported on the popular chain's opening in the Bay Area.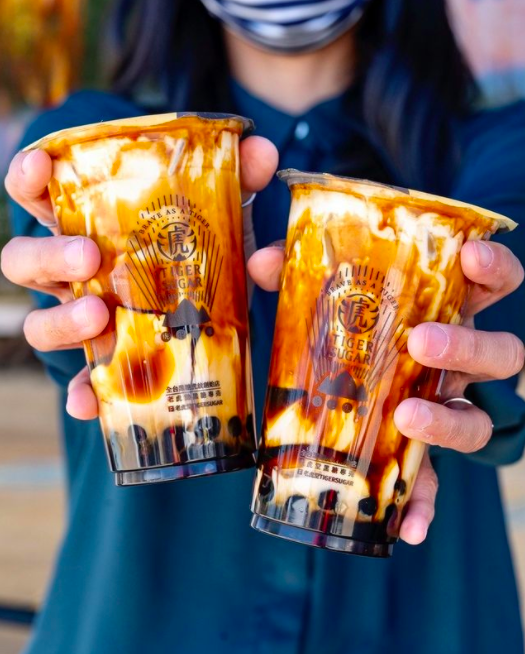 Tiger Sugar boba's tiger-like stripes Photo: Tiger Sugar / Instagram
The shop offers loads of permutations of sweet boba tea, coffee, and sugar drinks, plus some novelty snacks like an ice-cream bar version of its signature drink, complete with boba ($2.50), and Tiger Sugar popcorn with black sugar ($2.75).
Tiger Sugar is located at 19620 Stevens Creek Blvd., Cupertino; www.toasttab.com/tigersugarcupertino/v3/.