Denizens of the Bay Area are spoiled for choice when it comes to watching sports live. Fans willing to shell out the cash and navigate crowded parking and mega-stadiums can watch our awesome pro teams vie for major titles. But the Bay is also home to a number of minor-league and independent sports teams that offer the experience of a day out the ballpark on a more laid-back scale.
These teams are made up of elite athletes playing at a range of lower levels, from rookie to near-majors-level, but what the games may lack in world-class competitiveness they more than make up in atmosphere and access.
At minor-league and independent-league sports games, fans sit close to the players, so you really feel you're in on the action. A certain number of the players also go on to make it in the big leagues, so you always have a chance at seeing a new star in their early days. Plus, major-leaguers sometimes play with minor-league teams during rehabilitation from injuries and the like, so you may see some current stars, too.
But the real secret of minor-league and independent sports games is that they're all about the experience. You get the fun of game day, complete with food and beverage sales, cheering crowds, booming speakers, and the chance (in the case of baseball, anyway) to snag a fly ball. The franchises also tend to sweeten the deal with loads of special occasions and extra entertainment, like fireworks nights, live music acts, and all kinds of sponsored giveaways.
So if you're looking for a fun outing with a sports angle, Hoodline's Bay Area Day Trips series has you covered with a rundown of some of the area's smaller-league teams with a winning ambiance.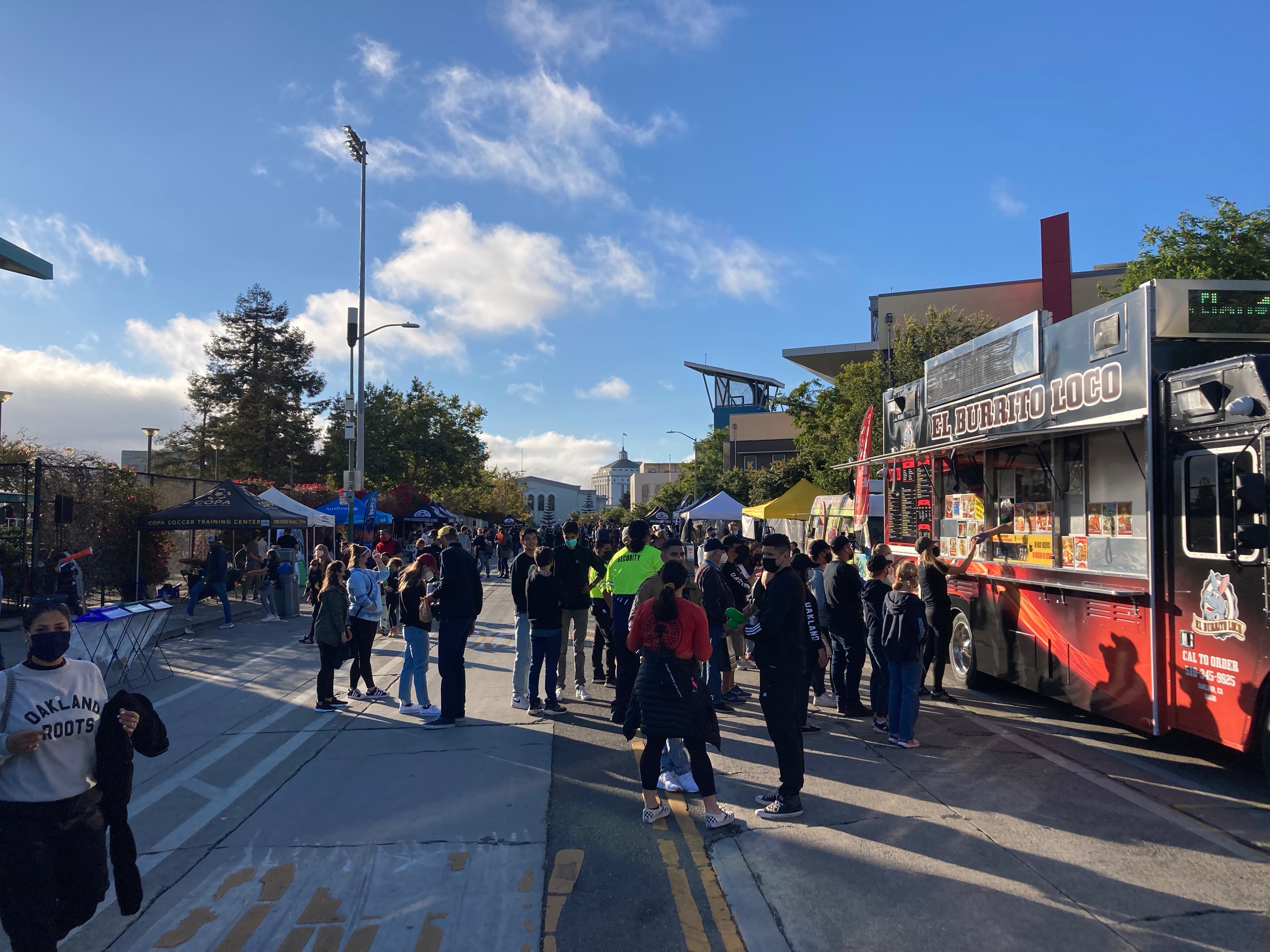 Fans order from food trucks ahead of the Oakland Roots' homecoming game at Laney College in Oakland. Photo: Laila Weir/Hoodline
Oakland Roots Soccer Club
They've just been around a couple of years, but the Oakland Roots are already building a loyal fan base, thanks in part to awesome merchandise and a major community aspect to the club. The team was admitted this year to the USL Championship, a Division II (basically minor league) professional men's soccer league. The games deliver plenty of fun and local pride with a block-party vibe.
More information: www.oaklandrootssc.com
Sacramento River Cats Baseball
A Triple-A affiliate of the San Francisco Giants, the River Cats are the highest level of official Minor League Baseball. Tickets are highly affordable, and the River Cats run all kinds of fun special days and promotions, including fireworks nights, Thirsty Thursdays (featuring, you guessed it, craft beer) and Family Value Tuesdays with $1 hot dogs and ice cream. Look out for games featuring giveaways, too (tip: arrive early to make sure you get your schwag).
More information: www.milb.com/sacramento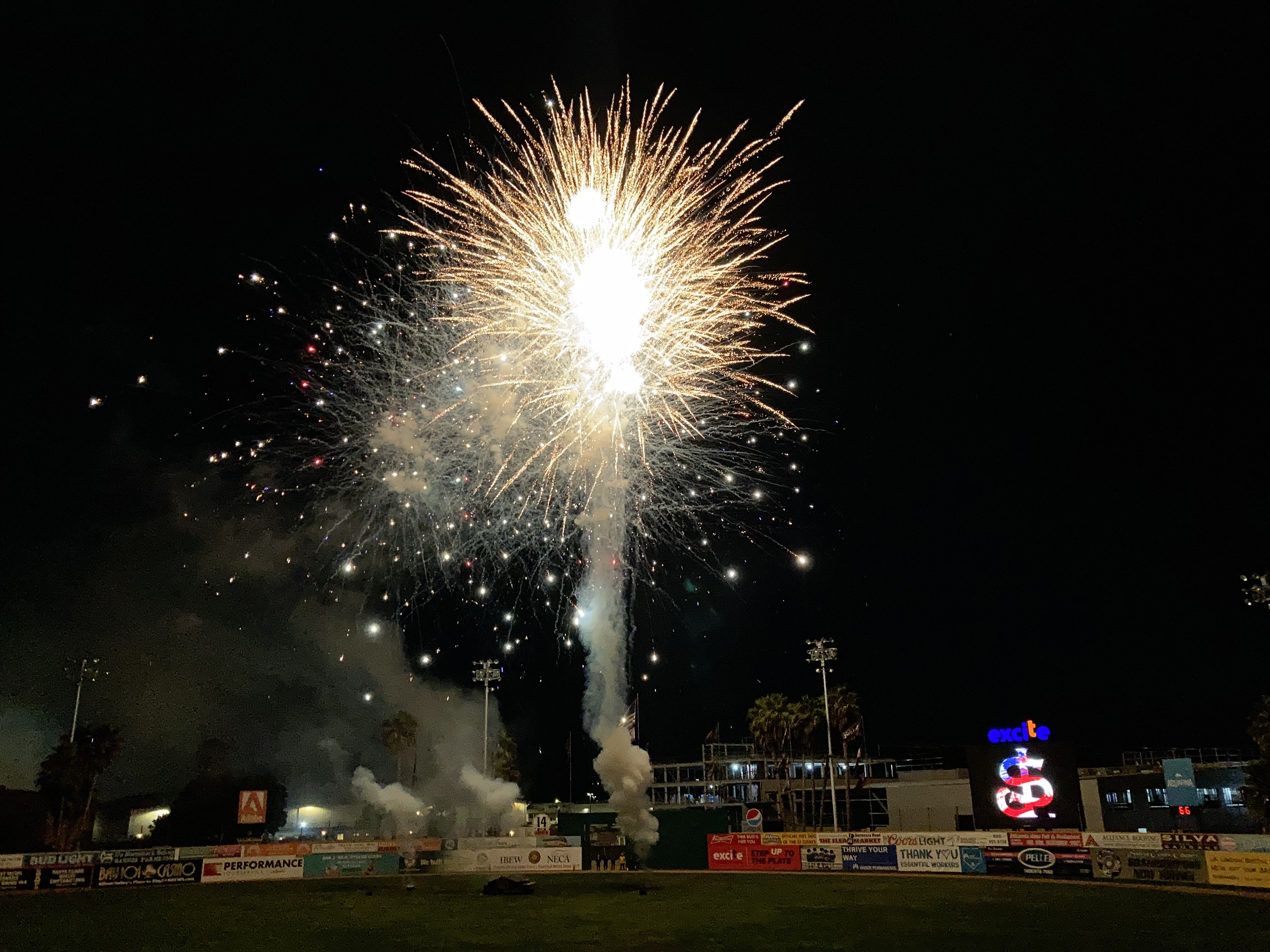 Fireworks explode over the San Jose Giants' stadium. Photo: Laila Weir/Hoodline
San Jose Giants Baseball
On the other end of the spectrum, the San Jose Giants are the Giant's Low-A affiliate, which is the lowest level of Minor League play. Still, some former players for the team make it to the majors every year, and various stars make rehab appearances in San Jose as well, like Madison Bumgarner, who played with the team while recuperating in 2017. The ballpark is famous for its churros and garlic fries, among extensive other food and drink options, and runs popular fireworks nights, giveaways, and other promotions.
More information: www.milb.com/san-jose
Stockton Ports Baseball
For those willing to travel a little farther, the Stockton Ports are the Oakland A's Low-A affiliate, with their own range of fun specials, including $1 beer night for those with a willing designated driver.
More information: www.milb.com/stockton
Indpendent Baseball in San Rafael, Santa Cruz, Martinez and Monterey
The Pecos League is an independent baseball league that operates in various Southwestern cities that don't have Major or Minor League Baseball teams. Last year, three new Bay Area teams joined the league, and there's also a team in Monterey. The league, which is not affiliated with Major League Baseball, advertises high-power offenses fueled in part by smaller ballparks. "Our players come from all over the U.S. and all over the world and are a combination of rising stars, falling stars, shooting stars and athletes with stars in their eyes," states the league.
The Pecos League only plays during summer vacation, so its season is wrapping up, but you can see the grande finale this weekend: the league's Bay Series. Get tickets and more details via the links below for the four teams most easily reached for day outings from the Bay.
San Rafael Pacifics: www.pacificsbaseball.com
Santa Cruz Seaweed: www.seaweedbaseball.com
Martinez Sturgeon: www.martinezsturgeon.com
Monterey Amberjacks: www.montereyamberjacks.com
Bonus: Basketball Day Trips in Fall, Winter
When basketball season rolls around, be sure to check out the local NBA G League teams: the Santa Cruz Warriors and the Stockton Kings.