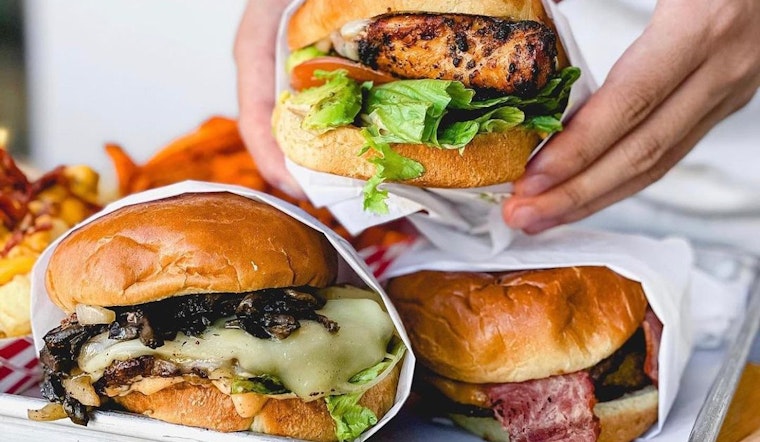 Published on August 27, 2021
Since the Taliban fully reinstated its power in Afghanistan on August 15th, evacuation plans have been ongoing to help Afghans flee the war-torn country. In an endeavor to offer financial assistance in rehousing these refugees, iniBurger, a small local gourmet burger chain with two East Bay locations (4233 Rosewood Dr. #11, Pleasanton; 44029 Osgood Rd. Fremont), has decided to donate a percentage of its earnings from August to September toward relief efforts.
View this post on Instagram
Though the Bay Area-based gourmet burger concept already donates a percentage of sales monthly to local charitable organizations, it's dedicated the August and September proceeds to the International Rescue Committee (IRC) of Northern California in light of the ongoing humanitarian crises in Afghanistan. The Afghan-born founders will be specifically contributing to the organization's Afghan Soft Landing Fund, which is allocated to cover emergency temporary housing costs, rental, and utility assistance for refugee families.
The owners Abdul and Leeza Popal — each born in Afghanistan — have made it their mission to weave philanthropy within their restauranteering; the pair has also committed to offering a wide array of 100% halal-approved meats, including vegan options, and ensure their ingredients are environmentally (as well as ethically) sourced. Since opening last July, iniBurger's mantra has always been to echo for principles: "custom, clean, community, and halal."
Partnering with the IRC is an actualization of that exact truism.
"We are horrified to see what is currently happening in Afghanistan, especially because our home country has been experiencing disaster for decades," says Leeza Popal to Hoodline. "As a company that was founded on a mission to support our communities, we are honored to support the International Rescue Committee, especially during this crucial time, and to contribute to the great work they are doing for Afghans both overseas and in the States."
"We hope that we can lead by example and inspire others in the Bay Area community to step up and support in any way they can," Popal continues.
Participating in this relief effort for Afghan refugees couldn't be more simple. By just ordering your from iniBurger anytime this month or in September, you'll be actively supporting helping friend housing for Afghan refugees. (Though you can choose to directly donate to the relief fund itself, as well.)
For more information on iniBurgers, as well as their menu offerings, visit iniburger.com; additional details on the Afghan Soft Landing Fund — which will offer displaced families with basic necessities such as tents, clean water, and sanitation, as well as help of-age individuals find employment — click here