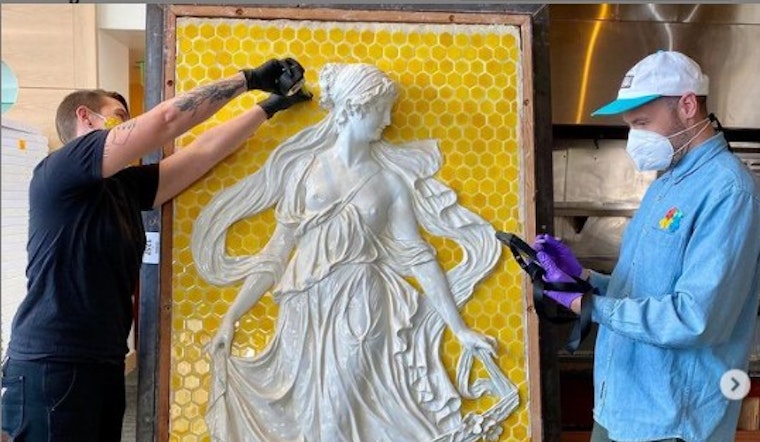 Published on August 10, 2021
The rich historical relics that adorned the Cliff House have changed hands a few times since the famed restaurant's December 2020 closure. First, a gang of thieves stole a number of these items in late January, though most were recovered when a suspect was arrested the following month. The whole collection was auctioned off in mid-March, but with a community group Save the Cliff House Collection holding a fundraiser to preserve as many of those items as possible for the public's continued enjoyment.
They raised about $180,000, and with it bought 58 of their favorite items. "We were able to get every big-ticket item that was on our list," Western Neighborhoods Project executive director Nicole Meldahl told the Richmond Review.
Historians, arts groups and everyday Bay Area folk raised $180,000 to save more than 60 artifacts.

The collection includes memorabilia from the Sutro Baths, an ocean-water swimming pool that once stood at Lands End.https://t.co/w8ABZH5WDk

— KQED News (@KQEDnews) August 9, 2021
Now they have something else that wasn't on their list. KQED reports that the National Park Service that owns the Cliff House property is giving them a temporary museum. The museum will be located in the Cliff House's gift shop, and per KQED, will be opening in "September or October and lasting through April 2022."
Meldahl told KQED, "We just signed the special-use permit [last week] and the pop-up museum is a done deal," and had previously told the Richmond Review, "They are allowing us to install a pop-up exhibition in the Cliff House Gift Shop at no cost. I'm thrilled. The Park Service is preparing the space, repairing, and painting it."
View this post on Instagram
According to the Save the Cliff House Collection website, they'll display the wooden status of Sheriff C.U. Soon (above), wooden horses, porcelain muses, Sutro Baths bathing suits, waiter's caps and maître d' bibs autographed by famous visitors, and naturally, vintage menus for the many restaurants that have occupied the spot in its 158-year, on-and-off existence.
View this post on Instagram
Most of these items are already on display at the Western Neighborhoods Project (1617 Balboa Street, open Thursdays-Saturdays, 11 a.m. - 4 p.m.) But it will be far more powerful to enjoy them in their original home. And while the pop-up museum at the Cliff House will be temporary, the National Park Service has said they're actively looking for a new restaurant tenant to take over the restaurant space. If that happens, well, we can take a wild guess where the historical items will find their permanent home.