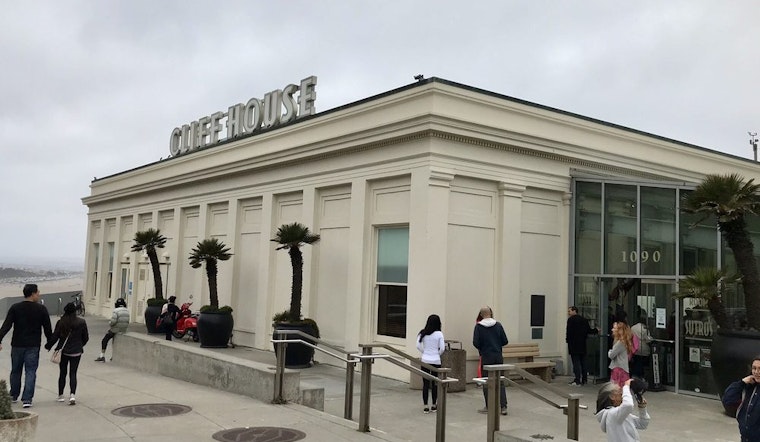 Published on February 05, 2021
San Francisco's historic, coastal dining destination the Cliff House has been in the news a lot this week for a place that's been reportedly permanently closed for more than a month. On Wednesday we learned that a new restaurant will likely open there again, as the National Park Service that owns the building has done an about-face and is now immediately interested in finding a new restaurant tenant. That same day, the Cliff House announced on Facebook they had scheduled an auction of all the decorative historical items (and some back-of-the house restaurant hardware), in a March 4-5 online auction to be handled by the firm Rabin Worldwide.
That auction may be a little lighter, though, as the Chronicle now reports on a January 26 burglary of the Cliff House where thieves allegedly took "Historic art, tools and an early 1900s bathing suit from the old Sutro Baths valued at $2,000."
They broke into Cliff House before dawn & stole items, including this "Sutro Baths" bathing suit - worth $2K - that people wore at the former saltwater swimming pool in the early 1900s, per @USPP_SFFO. Recognize them? pic.twitter.com/3SjetkSKcm

— Henry K. Lee (@henrykleeKTVU) February 4, 2021
KTVU's Henry Lee obtained some surveillance footage photos of the suspects, as well as the aforementioned vintage bathing suit swiped, an artifact from the early 1900s Sutro Baths facility at the base of the cliff.
And yes, as several Twitter commenters noticed, one suspect has what appears to be a police department logo on his right sleeve.
"Thankfully the thieves did not take a lot of stuff," Rabin Worldwide principal Orlee Rabin told the Chronicle. "They did take a variety of interesting items, but they actually left some behind. They took them out of the building and then left them on the street, and a bystander was about to go for a run at Ocean Beach and saw them and realized where they were from and managed to get them back to the Cliff House."
SFGate has a photoset of the items stolen from the Cliff House, which also include some historical art and framed vintage photos. These did not belong to the National Park Service that owns the building, but to the Hountalas family that owned the Cliff House restaurant itself.
Anyone with information on the incident or the suspect pictures can leave an anonymous tip with the National Park Service Park Police at 415-561-5150 or or [email protected].