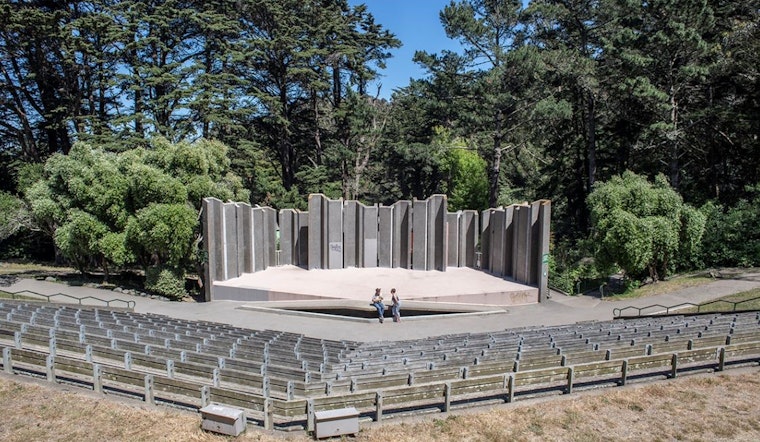 Published on September 20, 2021
The McLaren Park outdoor theater faculty Jerry Garcia Amphitheater will celebrate its 50th birthday this coming October 16. But it wasn't always Jerry Garcia Amphitheater, it was not bestowed that name until 2005, shortly before that year's "Jerry Day" celebration in August. And the theater had traditionally been badly out of compliance with Americans with Disabilities Act (ADA) regulations, even after a $1 million upgrade in 2000 attempted to address that.

Fast forward to Saturday, when those and other concerns had been ironed out after a just-completed $1.5 million renovation. According to SF Rec and Park, "The scope of this work includes extending flat paved space adjacent to the accessible parking lot to allow for food trucks and other event services; delineating a route for temporary event fencing; replacing site furnishings; accessibility upgrades; and cosmetic upgrades as well as increasing storage capacity in the greenroom."
Mayor London Breed was on hand for Saturday's ribbon-cutting, and she sure was careful about keeping her mask on unless speaking publicly, what with all her recent controversy about going unmasked. "I am so excited to be at the reopening of the Jerry Garcia Amphitheater," Breed said Saturday. "This venue has played such an important role in our city's artistic culture and development, bringing live performances not only to this neighborhood but to all in San Francisco to enjoy. It is great to see the Amphitheater filled again with people having a good time right here in the heart of McLaren Park."
Indeed, shortly after the ribbon-cutting, the venue played host to a performance of Pericles, Prince of Tyre! by the San Francisco Shakespeare Festival. That performance continues next weekend, Sept. 24-26, with 2 p.m. shows each day.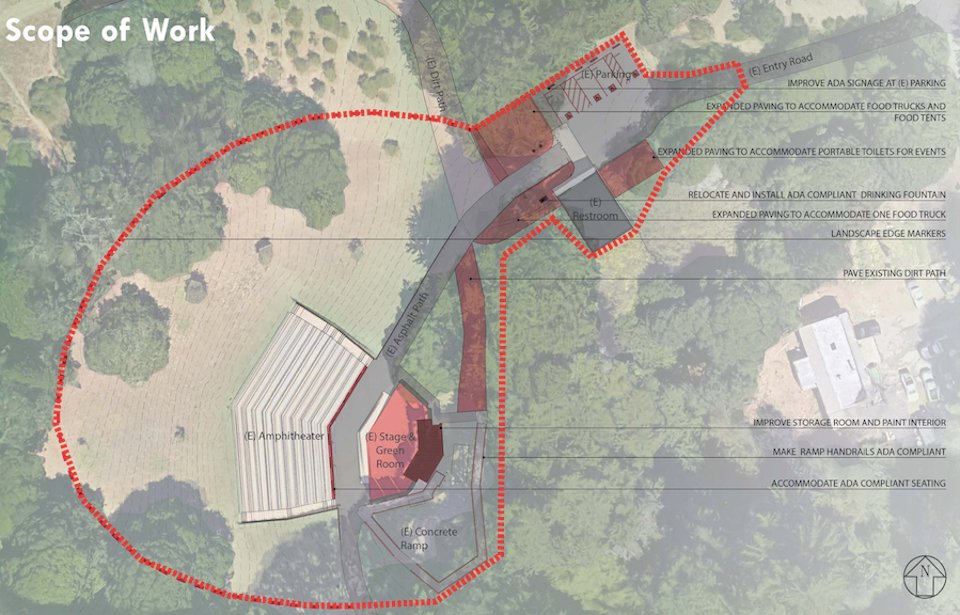 As we noted in January, when the renovation started, this is not so much a revamp of the amphitheater as it is the surrounding infrastructure. Dirt paths have been paved for stroller and wheelchair access, the drinking fountains now have dog bowls, and there is more space for food trucks and portable washrooms.
The park is consistently described as "underutilized," though the SF Mime Troupe and Noise Pop do annual events there. The park's bigger problem is that it is remote, and not easily reached via public transportation. Until that is addressed, the place will have trouble ever reaching it's 3,200-person capacity, unless it's Jerry Day, which only comes once a year.