The new Spanish/Mexican-influenced restaurant Copas on Market (2223 Market St.) is now open in the space formerly occupied by Nomica and Izakaya Sushi Ran.
As Hoodline previously reported, Copas (Spanish for cups) is being operated by Jagjeet (Jag) and Jessica Kapoor, and chef Julio Aguilera (La Urbana).
While Jagjeet and Jessica Kapoor have ties to the restaurant group behind two-Michelin-starred Saison, Jessica Kapoor tells Hoodline the restaurant is managed by a sister restaurant group, Golden State Restaurants.
Jessica Kapoor explains that the restaurant is named Copas, after the suite in a Spanish deck of cards. While Hoodline previously reported the new restaurant's name would be Comodo, Kapoor explained that was a temporary name.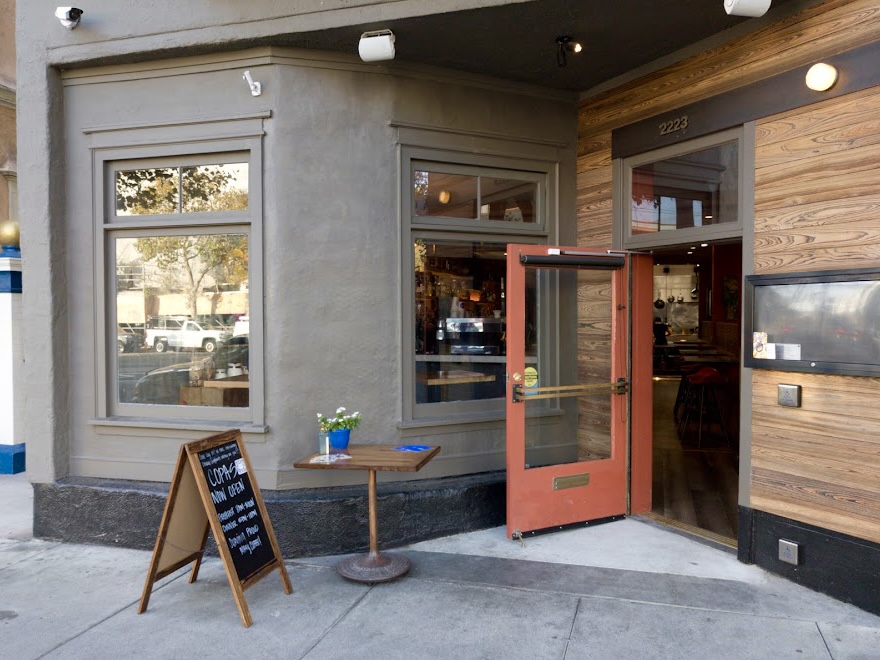 Copas is now open at 2223 Market St. | Photo: Copas/Google
"Copas is inspired by California's seasonal ingredients paired with flavors that celebrate the history of Mexican and Spanish cultures," said Jessica Kapoor. "We believe that creativity is at the heart of what we do and we invite you to experience our passion for food and beverage alongside a rotating program that celebrates artists."
Kapoor tells Hoodline that the team is excited to open in the Castro. "I love how active the Castro is," said Kapoor. "Everyone's been walking by and peeking in and they've been so friendly."
According to Kapoor, Copas will initially be open for breakfast and dinner with a limited menu. Kapoor says Copas will eventually offer a full weekend brunch menu as well.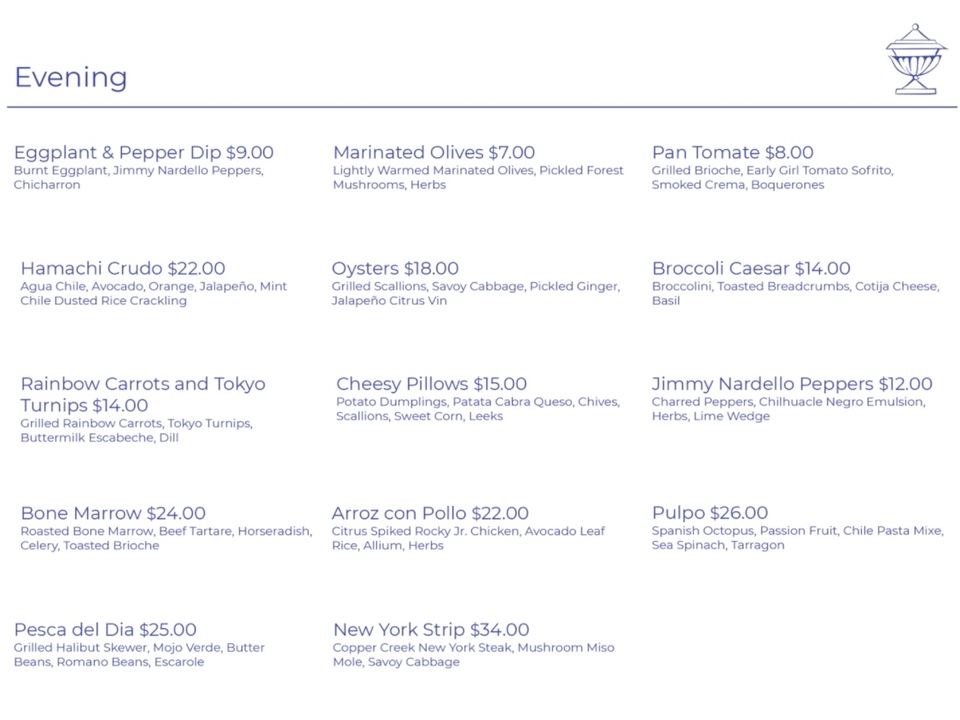 The opening dinner menu at Copas. | Image: Steven Bracco/Hoodline
Breakfast menu items include; Copas smashed avocado ($11), farmers market toast ($13), runny egg sandwich ($10), rollie ($8), overnight soaked oats ($13), churro donuts ($7), and cream puffs ($5). Coffee and espresso drinks are also available.
Dinner menu items include; pan tomate ($8), hamachi crudo ($22), oysters ($18), bone marrow ($24), arroz con Pollo ($22), pulpo ($26), pesca del dia ($25), and New York strip steak ($34).
"Our menu is intended to be shared family-style, you can order tapas-style," said Kapoor.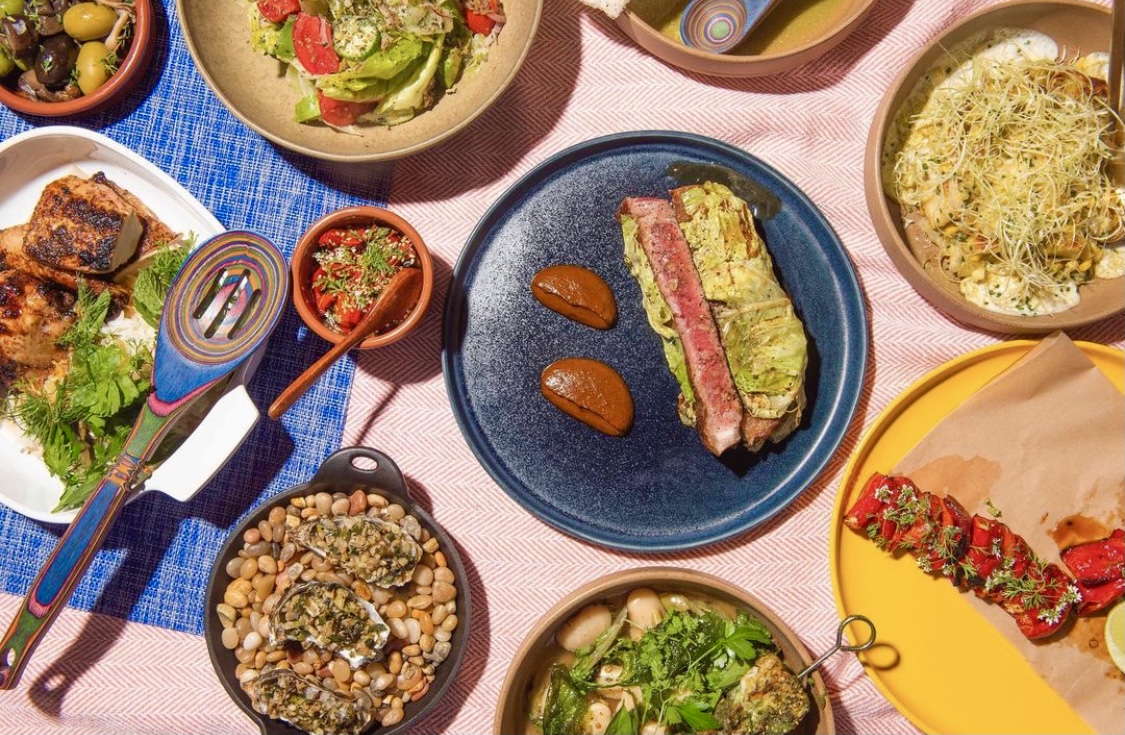 Photo: Liz Barclay/Copas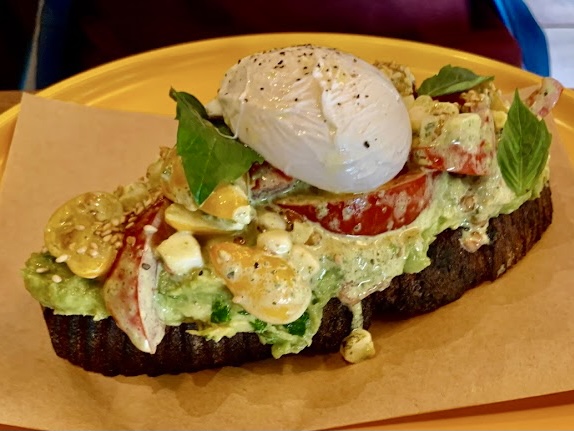 Farmers Market Toast at Copas. | Photo: Stephane Israel/Google
A full cocktail menu from the bar is also available. Copas cocktails are made with sparkling wine or soda and ice with seasonal herbs, fruits, and vegetables. Cocktail menu options include; Copa Escoba ($13), Copa Triunfo ($13), and Ombre Renegado ($14).
Kapoor says Copas' wine list is curated by restaurant staff and a sister team member from Angler SF.
"It's been a very collaborative effort," said Kapoor. "We really want this to be a communal feel where everyone who works here has their creativity shine."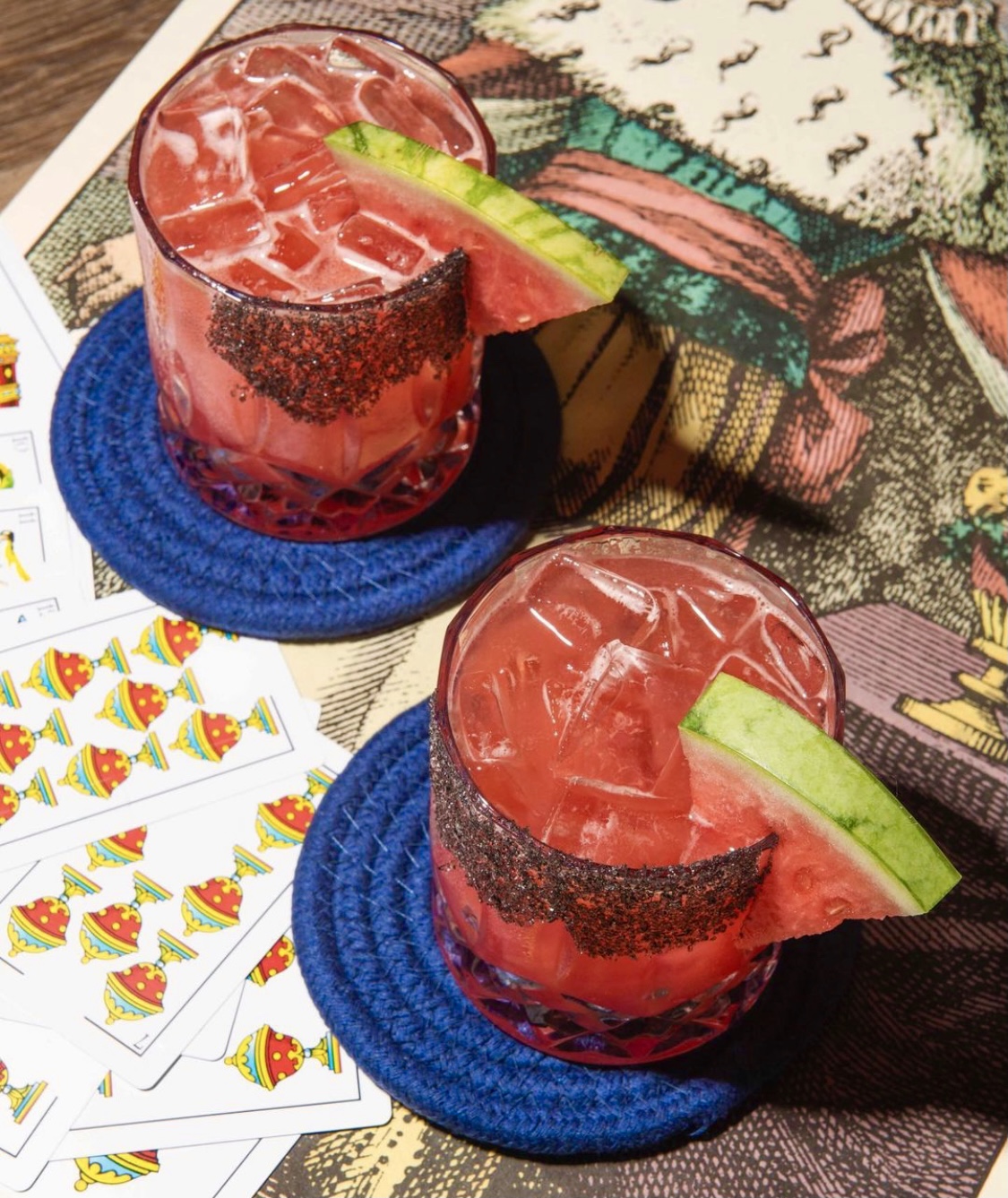 Ronda cocktail at Copas. | Photo: Liz Barclay/Copas
Kapoor tells Hoodline that no major remodeling was done to the space prior to opening. Patrons of the restaurant will notice a selection of art on the wall. Kapoor says the art will rotate quarterly. Currently painting by Mexico City resident Marco Osvaldo Razo Veyro are on display.
Kapoor says that Copas plans to host monthly gallery events that allow customers to appreciate the art while enjoying food and drinks.
Hoodline readers will recall in 2019, a controversy was started on Twitter for Izakaya Sushi Ran's Zen garden rock, which was derided by the Coalition on Homelessness (CoH) as anti-homeless architecture.
The rock had been in place since the space opened as Nomica three years prior. But it drew the CoH's attention after being painted in rainbow Pride colors by the restaurant's staff, to celebrate the 50th anniversary of the Stonewall riots.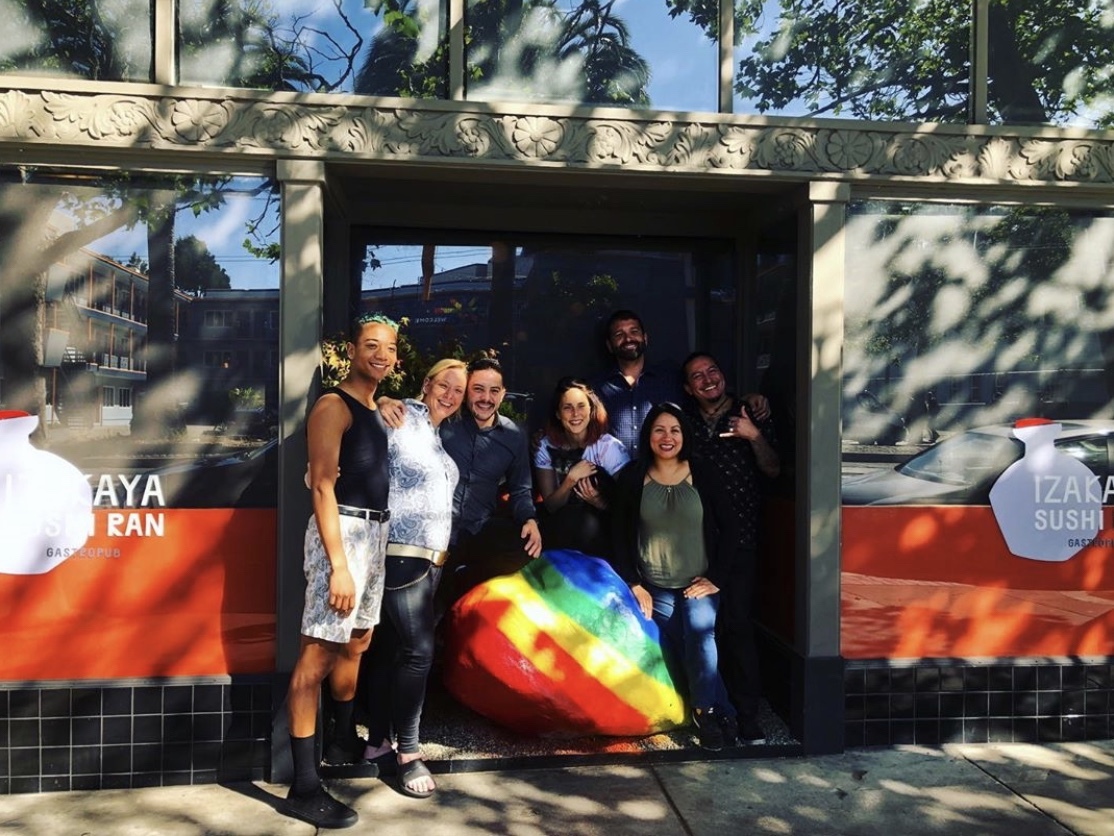 Izakaya Sushi Ran staff with the rainbow rock in 2019. | Photo: Izakaya Sushi Ran/Instagram
Kapoor tells Hoodline the rock is staying and it will be painted blue. "When people come by they can leave a little note of positivity."
The space at 2223 Market has seen a great deal of turnover in the nine years since 2223 Restaurant closed in 2012. Since then, it's housed four closed restaurants: Jake's on Market, Pesce, Nomica, and Izakaya Sushi Ran.
Kapoor tells Hoodline that they recognize the popularity and success of 2223 Restaurant. "We want to go back to that," said Kapoor. "It had that neighborhood vibe you could come in a couple of times a week if you want or you could come in once a month."
"We want to be that go-to spot for people who want great food, service, and beverages," added Kapoor.
---
Copas on Market is open for breakfast Wednesday through Sunday from 8 a.m. to 12 p.m. and for dinner Wednesday, Thursday, Sunday from 5 p.m to 10 p.m., Friday and Saturday from 5 p.m. to 11 p.m.