Hoodline has learned that two people who are part of the restaurant group behind two-Michelin-starred Saison are set to open a new Mexican restaurant at 2223 Market St., formerly Nomica and before that neighborhood favorite 2223 Restaurant.
A liquor license application filed on March 24 indicates the restaurant's name as Comodo (Spanish for comfortable).
Public records indicate Comodo is being opened by Jagjeet (Jag) and Jessica Kapoor and Julio Aguilera. Hoodline reached out to the three business partners but they declined a request for comment.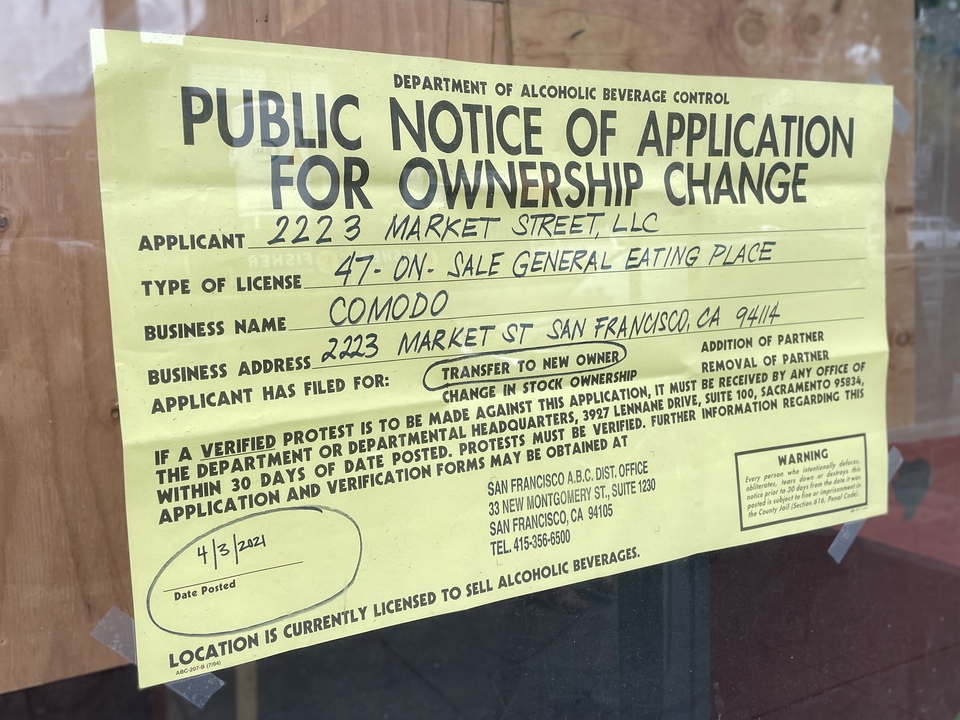 Liquor license application for Comodo. | Photo: Steven Bracco/Hoodline
Jag Kapoor currently serves as the COO of Saison Hospitality Group which manages Saison (178 Townsend), Angler SF (132 The Embarcedero) and Angler Los Angeles. Kapoor also owns Pedro's Restaurant and Cantina in Santa Clara and Los Gatos and his Terra Hospitality, Inc. developed Topgolf San Jose.
Jessica Kapoor serves as Saison Hospitality Group's Chief of Staff and VP of operations for Pedro's Restaurant.
Aguilera is no stranger to opening San Francisco restaurants, he was the executive chef at La Urbana (661 Divisadero) when it opened in 2013. According to Aguilera's Linkedin page, he is currently the executive chef of Miami's Spanish tapas restaurant Morrofino Barcelona. However, it appears the restaurant never opened and its website has expired.
As Hoodline reported in August, the liquor license at 2223 Market was transferred to Ralston Ventures LLC after the short-lived Izakaya Sushi Ran closed in 2019 after just seven months. At the time Ralston Ventures Ken Marciano told Hoodline he and his colleagues were in discussions with three different restaurant groups interested in the space.
The space at 2223 Market has seen a great deal of turnover in the nine years since 2223 Restaurant closed in 2012. Since then, it's housed four closed restaurants: Jake's on Market, Pesce, Nomica, and Izakaya Sushi Ran.
In recent months the space has been undergoing a remodel and construction workers have been seen inside. Public records indicate a permit was issued for the addition of an American with Disabilities Act (ADA) bathroom.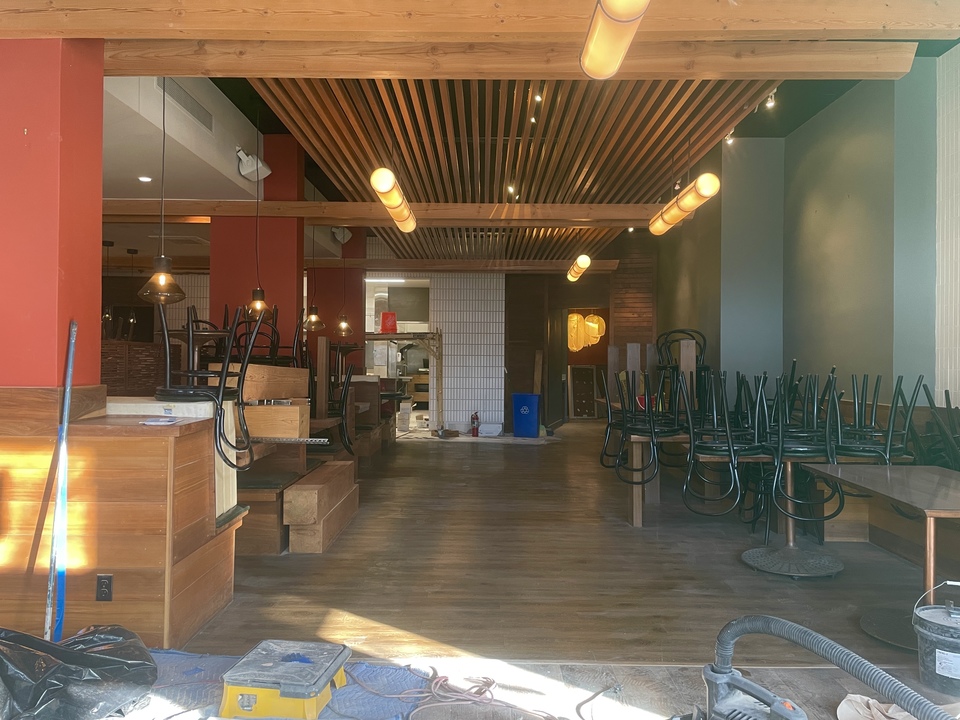 Construction is underway inside Comodo. | Photo: Steven Bracco/Hoodline
An opening date for the new restaurant has not been announced at this time.
Comodo's opening comes two months after Mexican restaurant and margarita bar Santeria opened a few storefronts down in the former Finn Town Tavern space.
The opening of a new restaurant in the space would fill one of six vacancies on the 2200 block of Market.
Last year Wells Fargo Home Mortgage (2258 Market), Latin restaurant The Castro Republic (2295 Market), and vitamin and supplement store Active Nutrition (2275 Market) all closed.
They join the ranks of three 2019 closures — Cafe Flore (2298 Market) and Comic Book Beardies (2275 Market) — and one longtime vacancy: Harvest Ranch Market (2285 Market).
Three other vacancies on the block were recently filled by hair salons: Arzo Hair (2215 Market), Bangin Hair Salon (2253 Market), and Castro Barber Lounge (2265 Market).