Over the weekend, the Castro's newest Mexican restaurant and margarita bar Santeria (2251 Market St.) softly opened.
Last November, Hoodline broke the news about Santeria opening in the former Finn Town Tavern space, which closed in 2019 after nearly three years in the Castro.
Santeria is owned by Eduardo Sandoval, owner of six-year-old Tacorgasmico (2337 Market) a block away. Sandoval has partnered with restaurant consultant Samantha Kharma to develop the restaurant's cocktail program. Sandoval did not respond to Hoodline's request for comment.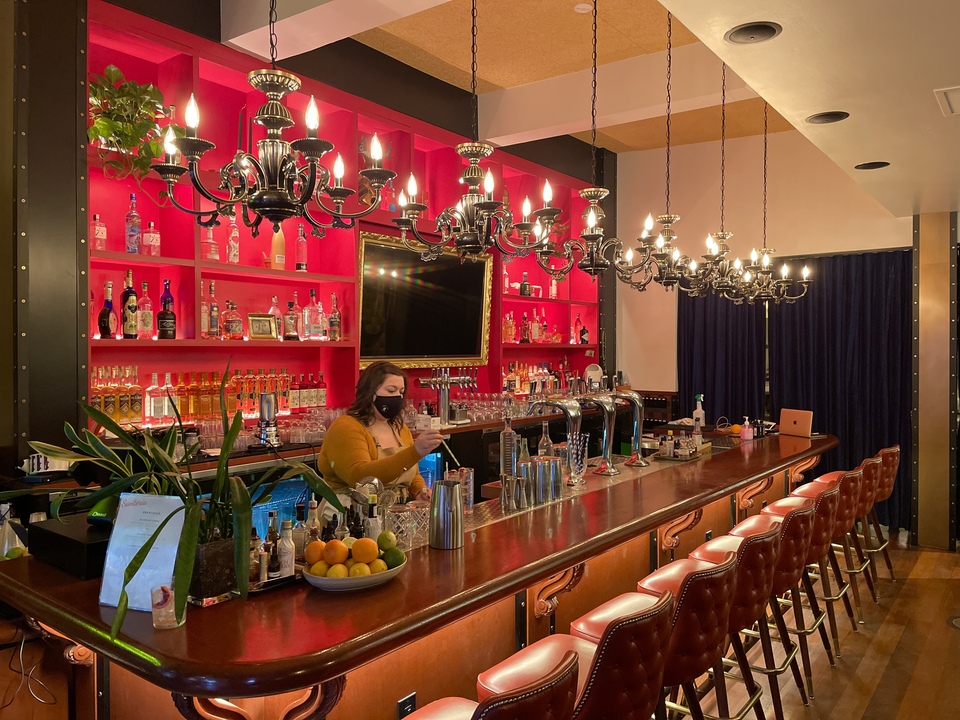 Consultant Samantha Kharma behind the bar at Santeria. | Photo: Steven Bracco/Hoodline
For the time being, Santeria is offering four of its signature house cocktails along with a food menu from pop-up Tex-Mex restaurant Tejas Forever. Kharma tells Hoodline they are currently working on a full food menu for Santeria and expect to roll it out in the coming weeks.
"l wanted to create another space as an ode to my magical upbringing in Mexico, and familiar roots buried in Santería," Sandoval told Hoodline last year.
Santeria's cocktails include: Relentless Sinner (spiced hibiscus, tequila, cynar, campari, agave, lemon, bitters, $13), Mexican Gringo (tamarino-chile tequila, mango cordial, lime, $12), Santeria (tequila blanco, mezcal, falernum, jalapeno, lime, $12), and El Cuco (el jimador tequila, absinthe, maraschino liquer, activated charcoal, supasawa, $13).
"We will be serving both frozen and classic margaritas with a different twist mixing in real tropical fruits, and secret ingredients conceived by our very own talented mixologists," Sandoval previously told Hoodline.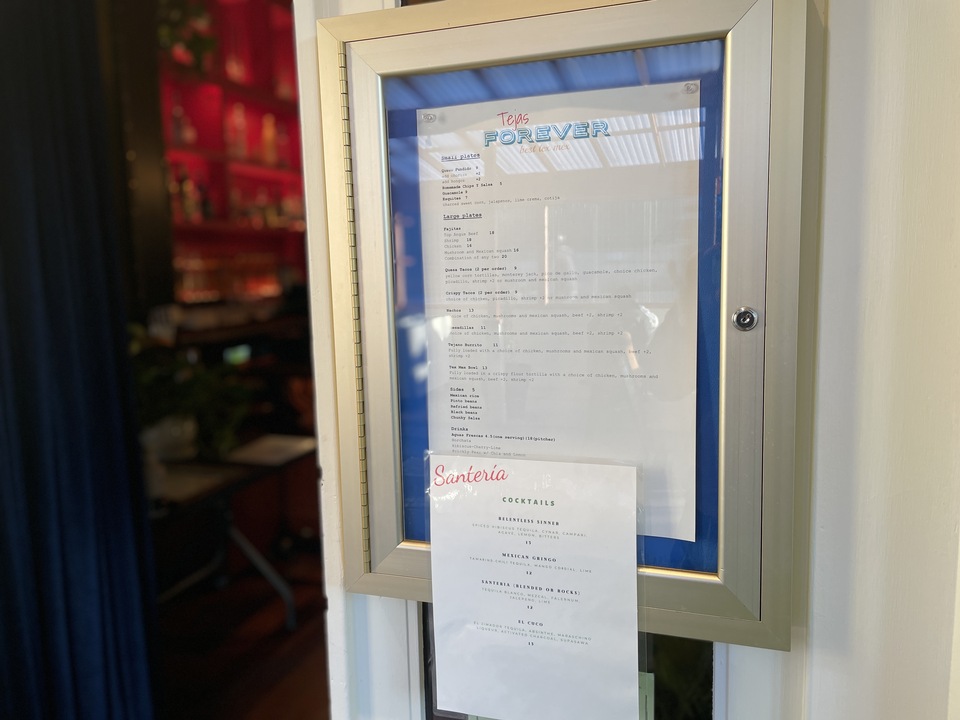 Santeria's cocktail menu and Tejas Forever's food menu. | Photo: Steven Bracco/Hoodline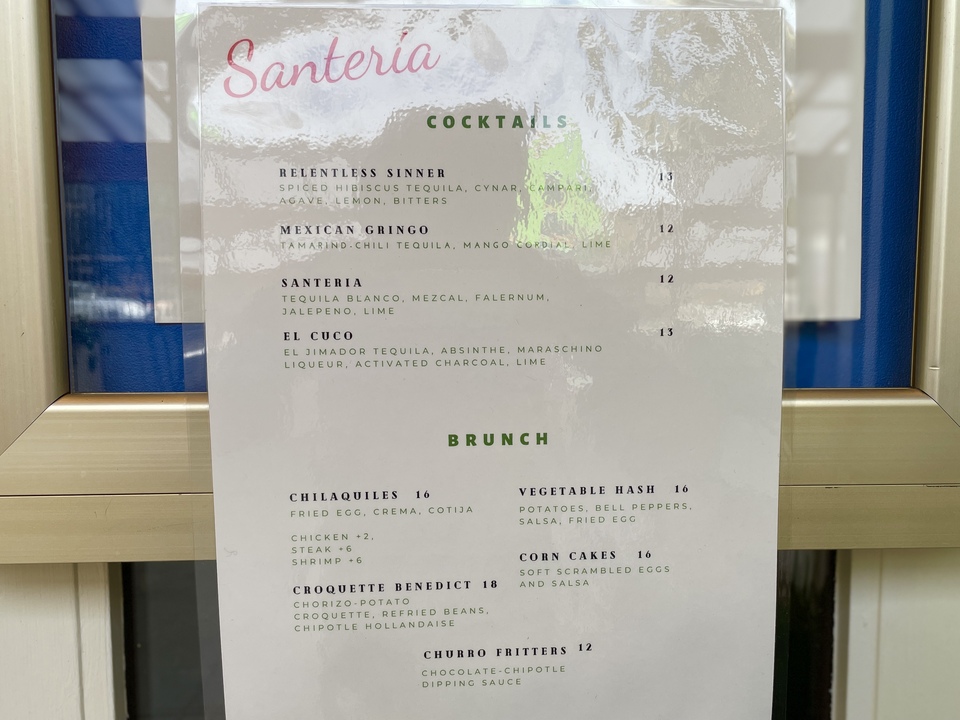 Santeria's brunch menu. | Photo: Steven Bracco/Hoodline
Tejas Forever menu options include fajitas, tacos, nachos, quesadillas, and burritos. Once Santeria has fully opened, Kharma says Tejas Forever's menu will continue to be available through mobile apps as a ghost kitchen.
In the meantime, customers can sample Santeria's brunch menu on weekends only. Brunch options include: chilaquiles ($16), vegetable hash ($16), croquette benedict ($18), corn cakes ($16), and churro fritters ($12).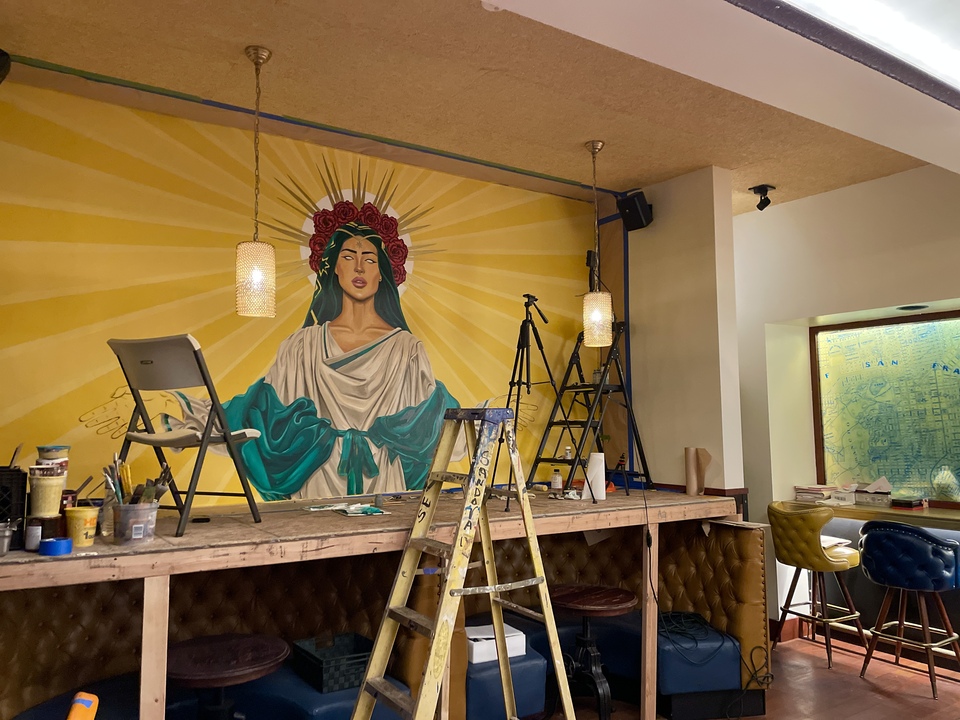 Mural being painted on the wall inside Santeria. | Photo: Steven Bracco/Hoodline
Since taking over the space in November, owner Eduardo Sandoval has lightly remodeled the interior and is currently installing two murals inside the restaurant.
With restaurants only allowed to serve customers outdoors, Santeria currently has seating on the sidewalk and on a recently built Shared Spaces platform.
The arrival of Santeria will be a welcome sight on the 2200 block of Market Street, which currently has eight vacant storefronts. Three have closed during shelter-in-place: Latin American restaurant Castro Republic (2295 Market), Wells Fargo Home Mortgage (2258 Market), and vitamin and supplement shop Active Nutrition (2275 Market).