As Hoodline reported back in November, the vacant spot at 2337 Market St., once home to Blue Restaurant, is changing cuisine to become "Tacorgasmico," and the grand opening for the new spot is scheduled for this week.
When owner Eduardo Sandoval moved to San Francisco several years ago, he couldn't find any restaurants serving the central Mexican dishes he enjoyed growing up in León, Guanajuato. Tomorrow at 11am Soon, those dishes, including panuchos, tlayudas, and Devil's Milk, will be available at  Tacorgasmico. (Update: an unexpected glitch in permitting will hold the restaurant back until at least Friday.)
Days before the grand opening, Hoodline caught up with Sandoval to find out about his journey from Mexico, and his vision for serving "simple Mexican pleasures" in the Castro.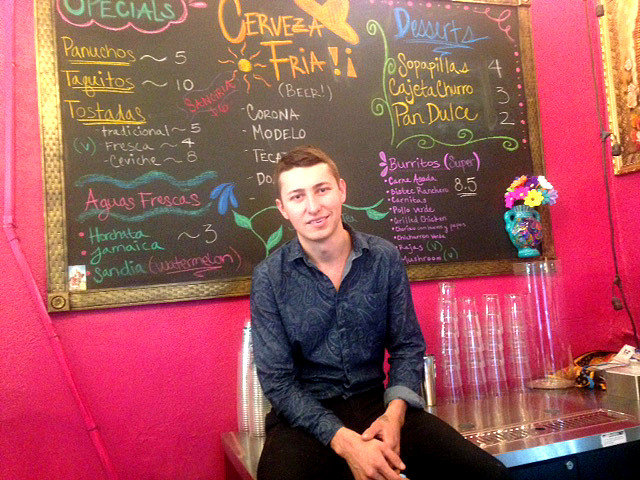 Photo: Sari Staver / Hoodline
Beginning in childhood, Sandoval recalls always being a food critic. "Not that I was always critical," says the soft spoken restaurateur, "but I had very specific reactions to what I liked and didn't like."
Sandoval left Mexico in 2002, when he moved with his family to Texas. After high school graduation, he followed his family to San Francisco, where his father opened a small chain of taquerías.
"I was immediately fascinated by the restaurant industry," says Sandoval. For almost two years, he worked at other local taquerías, doing everything from washing floors, cleaning grills, waiting on tables, and cooking, to eventually being named the manager of one location.
As manager, Sandoval said the restaurant's profits increase. "That gave me the confidence to decide it was time to go it on my own," he explains. "I knew what dishes I wanted to serve, and once I discovered the Castro, I knew where the restaurant had to be located. Of any neighborhood, anywhere in the world, what could be more iconic than the Castro?"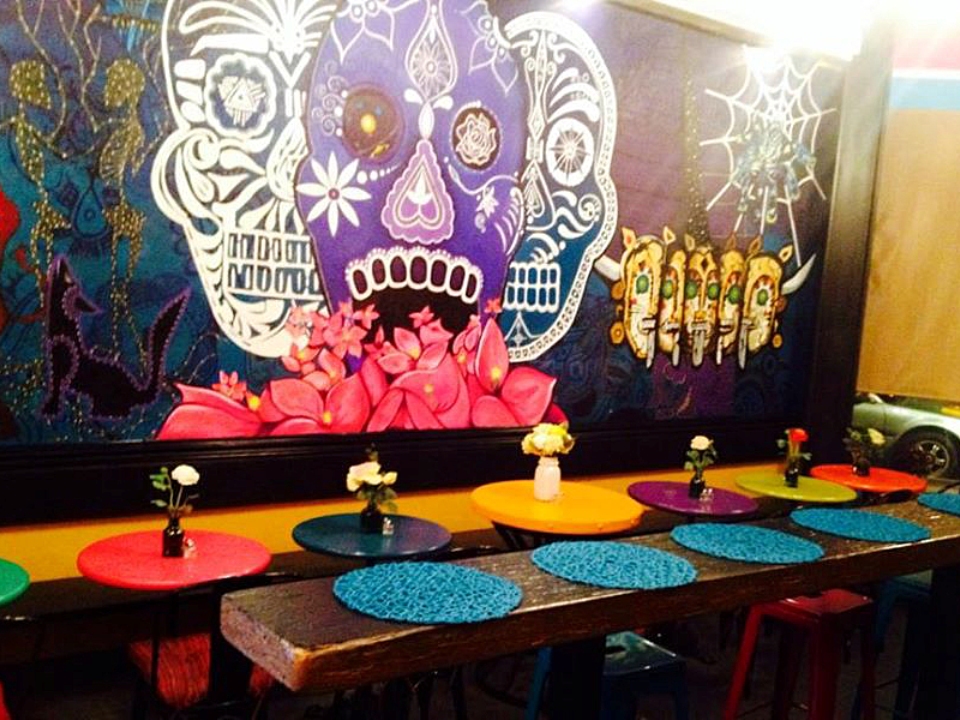 Photo: Tacorgasmico / Facebook
Sandoval lives in Glen Park with his partner, Julia Barrios, who will be general manager of Tacorgasmico. When driving through the neighborhood for potential locations, Sandoval noticed the boarded-up storefront that had housed a series of restaurants. "I immediately knew that it was right," he tells Hoodline. "I didn't even need to go inside. It was pricey—even more expensive than a space on Valencia Street." 

Part of Sandoval's vision for a restaurant involved installing authentic murals, similar to modern street art in Mexico. He and Barrios sketched designs and hired artists at Precita Eyes to help execute some of the paintings, and painted some themselves over the period of several months.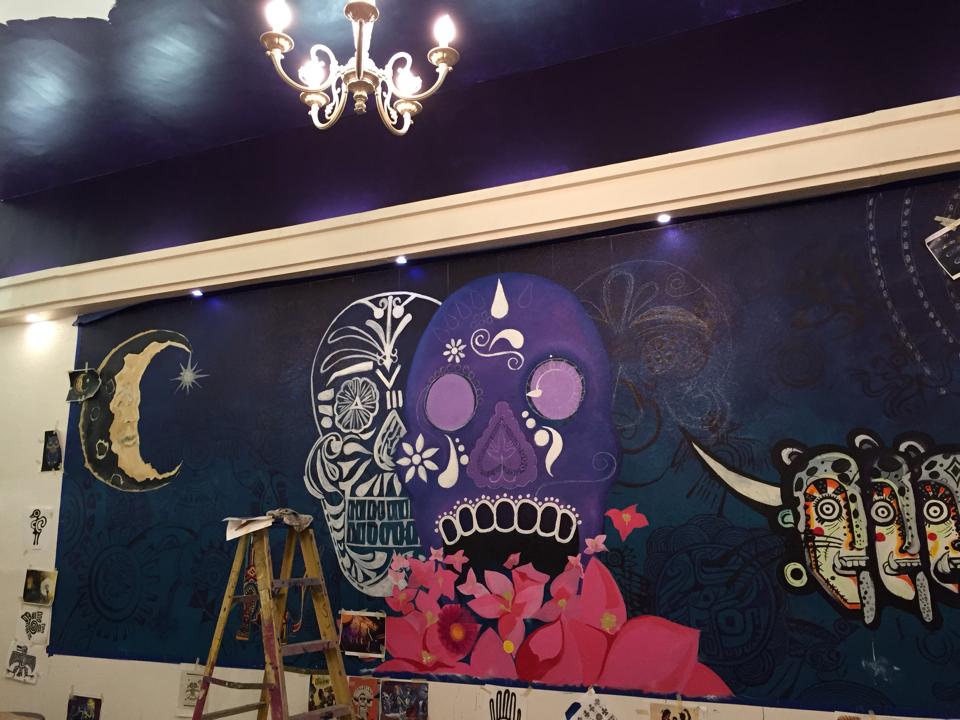 Mural in progress. (Tacorgasmico/Facebook)
While that was going on, Sandoval renovated the kitchen, replaced the floors and lighting, and lined up his vendors and staff. "Having family in the business made it a lot easier," he acknowledges. The nine employees he has hired were all referrals. "I didn't have to run a single ad," he notes.
Menu development focused on preparing authentic dishes, including spices grown in Mexico. "Many people don't know that burritos aren't made in Mexico—they are a California invention," he explains.
In addition to specialties from Sandoval's home in Guanajuato, Tacorgasmico will also have dishes from the Yucatán, Oxaca, and Jalisco. Among those not seen frequently in San Francisco are cochinita pibil (slow-roasted pork marinated in a blend of Mayan spices, served with pickled red onions, rice, and black beans) and pollo pibil de Yucatán (slow-cooked chicken marinated in a citrus achiote blend, cooked in banana leaves).
The beverage menu will have Mexican beers on tap, as well as a local, gluten-free watermelon beer, "which goes particularly well with the food," Sandoval says. A limited wine list from Mexico and South America will also be available. Two specialty drinks are Devil's Milk (rum-laced horchata with spices) and Coronados (Corona beer with fresh squeezed lemonade and spices). Sangria and aguas frescas will also be made on site. (See the full Tacorgasmico menu here.)
In addition to take out, Tacorgasmico is working with EAT24 for citywide deliveries. "Tacorgasmico's dishes are especially take-out friendly, and will be packed in insulated containers," he says.
As to the name Tacorgasmico, Sandoval says, "It has a nice ring to it when you hear it a few times. I thought it would be particularly popular in the Castro. I guess we'll have to see."
Tacorgasmico's hours will be seven days a week from 11am -11pm.