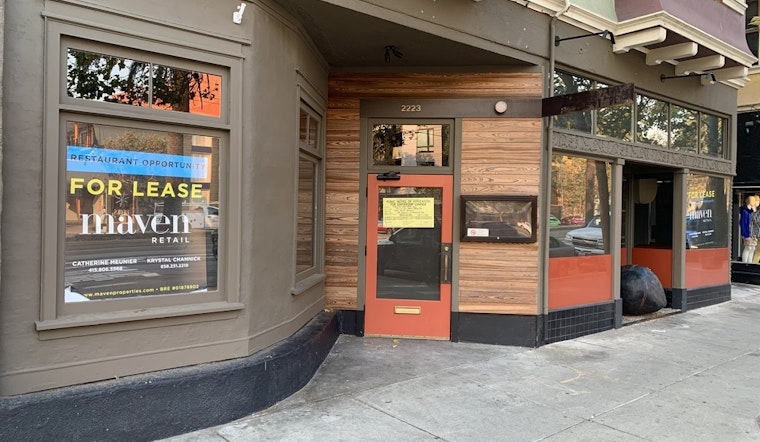 Published on August 19, 2020
Market Street businesses are continuing to see shakeups as the city enters its fifth month of shelter-in-place. In this latest update on Castro businesses, a major restaurant space gets a new owner, a yoga studio shutters and a consignment store consolidates its women's collection to the Castro. 
Changes
2223 Market St. (formerly Izakaya Sushi Ran)
A new restaurant may soon be on the way to 2223 Market St. The space was most recently home to the short-lived Izakaya Sushi Ran, which closed in July 2019 after just seven months of operation. 
Public records indicate a liquor license transfer for the property was initiated on August 5, with a notification posted in the window this week. The new licensee is an LLC called Ralston Ventures.
One aspect of the new license may excite passerby: it's doing business under the name 2223 Restaurant. A restaurant of the same name, which occupied the space from 1996 to 2012, was a neighborhood favorite. 
But Ralston Ventures' Ken Marciano, a co-owner of the building, says that 2223 will not be returning. Instead, he's transferring the license to himself in anticipation of a new tenant potentially taking over.
He and his colleagues are currently in discussions with three different restaurant groups interested in the space, and are hopeful they'll have a deal signed within the next few weeks.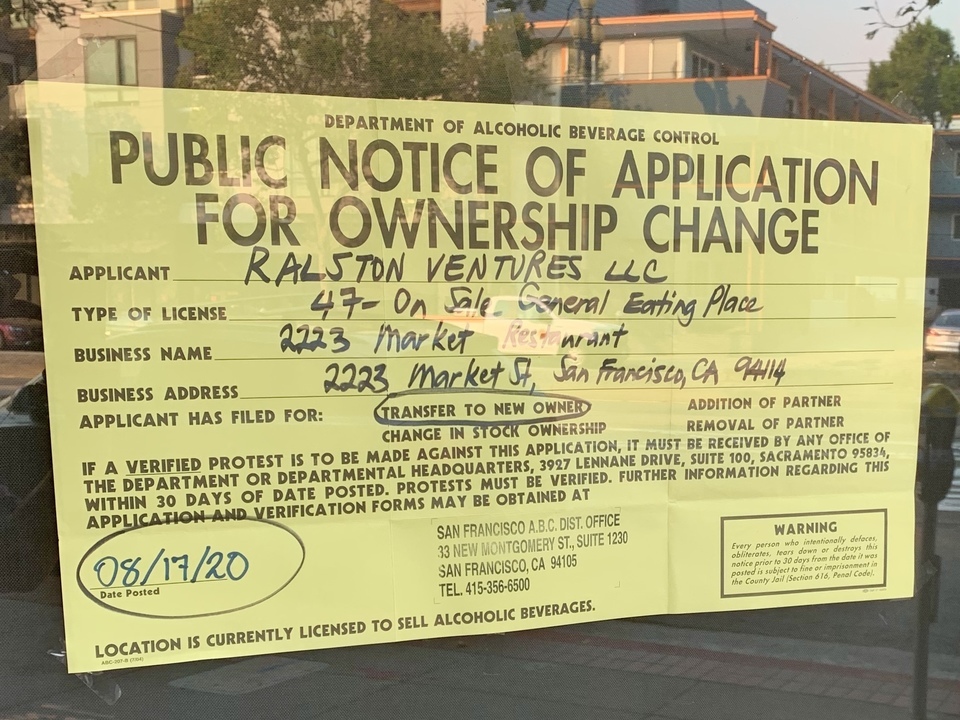 The opening of a new restaurant in the space would fill one of eight vacancies on the 2200 block of Market.
So far this year, Wells Fargo Home Mortgage (2258 Market), Latin restaurant The Castro Republic (2295 Market) and vitamin and supplement store Active Nutrition (2275 Market) have closed.
They join the ranks of three 2019 closures — Cafe Flore (2298 Market), Comic Book Beardies (2275 Market) and Finn Town Tavern (2251 Market) — and two longer-term vacancies: the former Fashion Exchange (2215 Market) and Harvest Ranch Market (2285 Market).
Two other vacancies on the block were recently filled by hair salons: Bangin Hair Salon (2253 Market) and Castro Barber Lounge (2265 Market). However, both remain unable to open due to current shelter-in-place restrictions.
Closures
Yoga Loft at MX3 Fitness (2336 Market St.)
After two years, Castro personal training gym MX3 Fitness has closed its upstairs Yoga Loft.
"While we hoped to make it through the coronavirus shutdown, the financial burden of being closed since March was just too great," wrote co-owners Glenn Shope and Dave Karraker on Facebook.
"We want to thank our amazing yoga director, Marc Morozumi, and all of our fantastic instructors who worked so very, very hard to become the Castro's neighborhood yoga studio."
Karraker and Shope recently formed the San Francisco Small Independent Fitness Studio Coalition, an organization that aims to push Mayor London Breed and health officer Tomás Aragón to reopen small fitness studios.
The group argues that with physical therapists allowed as an essential service, their businesses should be as well, provided masks, social distancing and other protocols are maintained. 
For those interested in supporting the cause, the group is protesting outside of City Hall next Tuesday, August 25 at 10 a.m. It will be joined by advocates for reopening tattoo studios, salons, massage studios and entertainment venues. Attendees must wear masks and remain six feet apart. 
Sui Generis Women's (2147 Union St.)
After six years, designer consignment shop Sui Generis is closing its women's shop in Cow Hollow (2147 Union St.) on Saturday. In a letter to customers, co-owners Miguel Lopez and Gabriel Yanez say that the decline in retail business during the pandemic is to blame. 
In the wake of the closure, the shop's selection of women's fashion will now be under the same roof as its Castro men's store (2231 Market St.)
Sui Generis has had a women's fashion presence in the Castro before. In 2011, five years after it debuted its men's store, it opened a women-centric location at 2265 Market St.
But the shop struggled to find customers, and ultimately moved to Cow Hollow in 2014. The pair then operated the space as another men's store, POP by Sui Generis, which closed in 2016.
To say goodbye to the Cow Hollow location, Sui Generis is hosting a sale through Saturday, with 60% off retail prices. 
---
We're always looking for reader tips. See something interesting while you're out and about? Text Hoodline and we'll try to find out what's going on: (415) 200-3233.