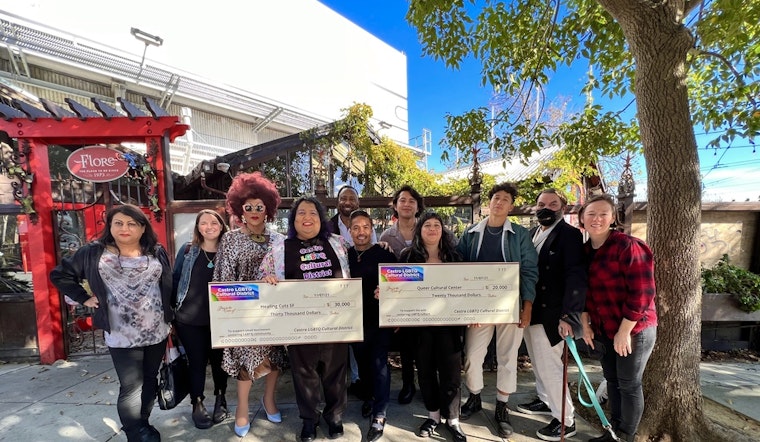 Published on November 08, 2021
Here's a brief roundup of recent changes to Castro area businesses. In this edition: a neighborhood art event has returned, two candidates for State Assembly open Castro campaign offices, a neighborhood organization awarded grant funding, special events continue at the Castro Theatre, and holiday events are being scheduled.
Restarting
Castro Art Walk
The Castro Art Walk returns next month after a 20-month pandemic-induced hiatus. Event organizer Suzie Jennings (Spunk Salon) made the announcement at last week's monthly Castro Merchants meeting. Jennings also serves on the Castro Merchants board.
Castro Art Walk will take place on Thursday, December 9 from 5 p.m. to 8 p.m. at businesses throughout the neighborhood. Castro Art Walk is a partnership between Castro Merchants and Castro Art Project.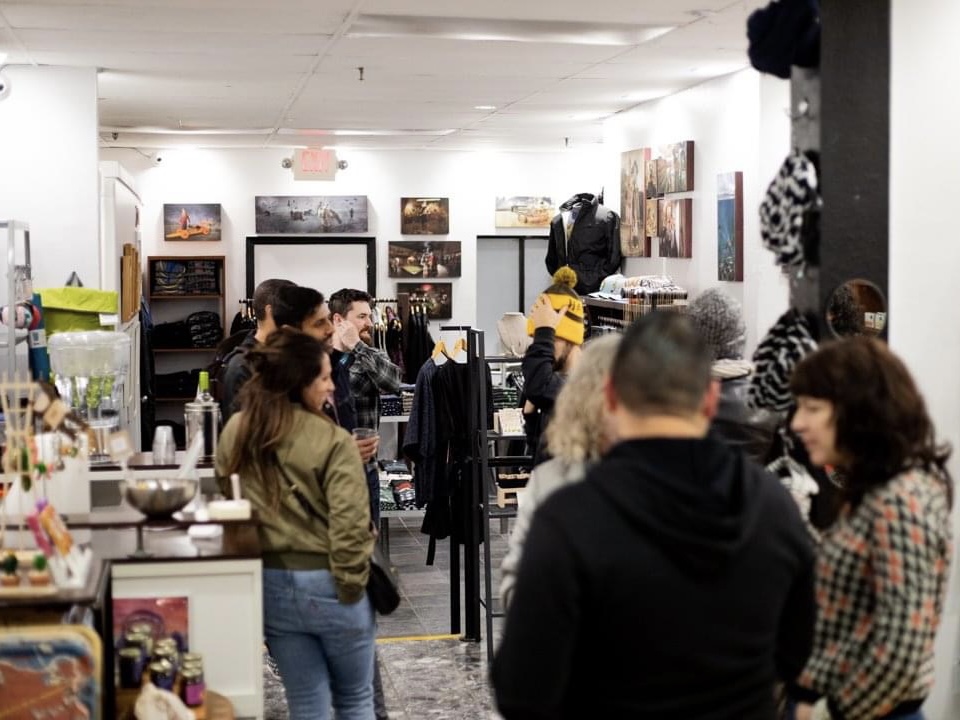 Castro Art Walk at Local Take (2020). | Photo: Castro Art Walk/Facebook
Moving forward, the event has switched from operating monthly to quarterly. "We have switched to quarterly for the time being to measure community engagement," said Jennings.
Jennings tells Hoodline she took over from longtime organizer Angie Stitcher, former owner of Spark Arts (4229 18th St.).
At this time, Jennings says she has almost 20 merchants and is hoping to expand the number of participants. "More details to come but really excited to get this relaunched," said Jennings. "I also think it's important to do before the holidays for merchants and artists."
Campaign Offices
Two candidates who are running to fill the State Assembly seat vacated by David Chiu, when he was appointed City Attorney, are opening campaign offices in the Castro.
District 6 Supervisor Matt Haney will be opening his campaign headquarters at the former Pottery Barn space at 2390 Market St.
Hoodline readers know well that the building has sat largely vacant since Pottery Barn closed this location in 2018.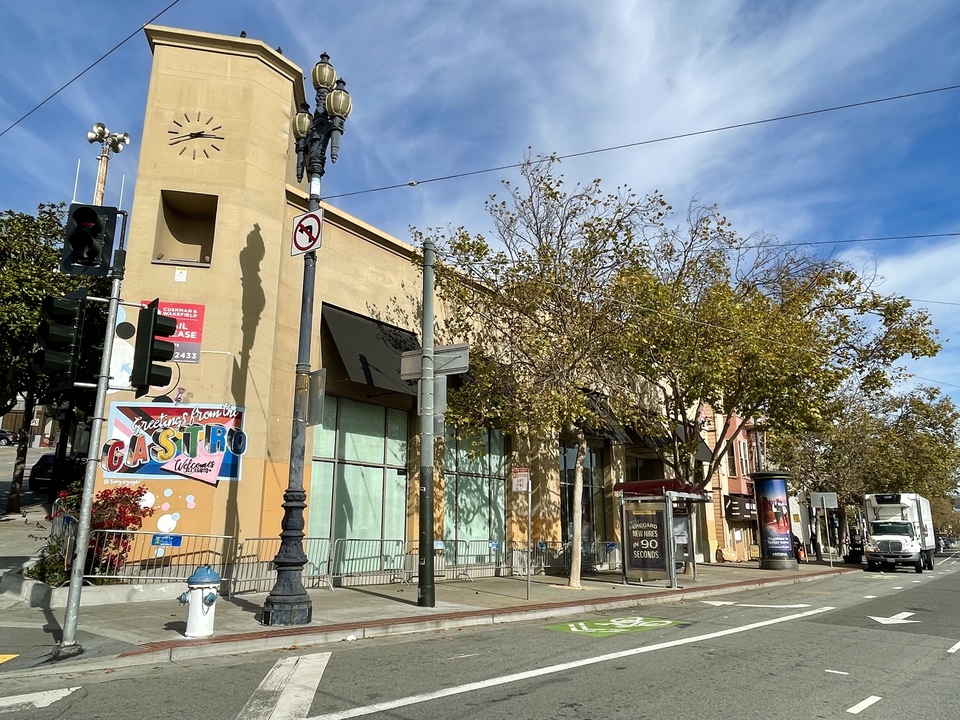 Matt Haney's campaign office at 2390 Market St. | Photo: Steven Bracco/Hoodline
Haney is hosting a grand opening on Wednesday, December 10 from 5 p.m. to 7 p.m. The event will include a blessing from community groups, performances, and guest speakers.
The space has been used a handful of times as a campaign office, including during Mark Leno's run for mayor in 2019.
An active listing for the space shows the approximately 14,000-square-foot space listed for lease at an undisclosed price.
David Campos, who currently serves as District Attorney Chesa Boudin's chief of staff, will be opening his campaign office in the former Under One Roof space at 541 Castro St.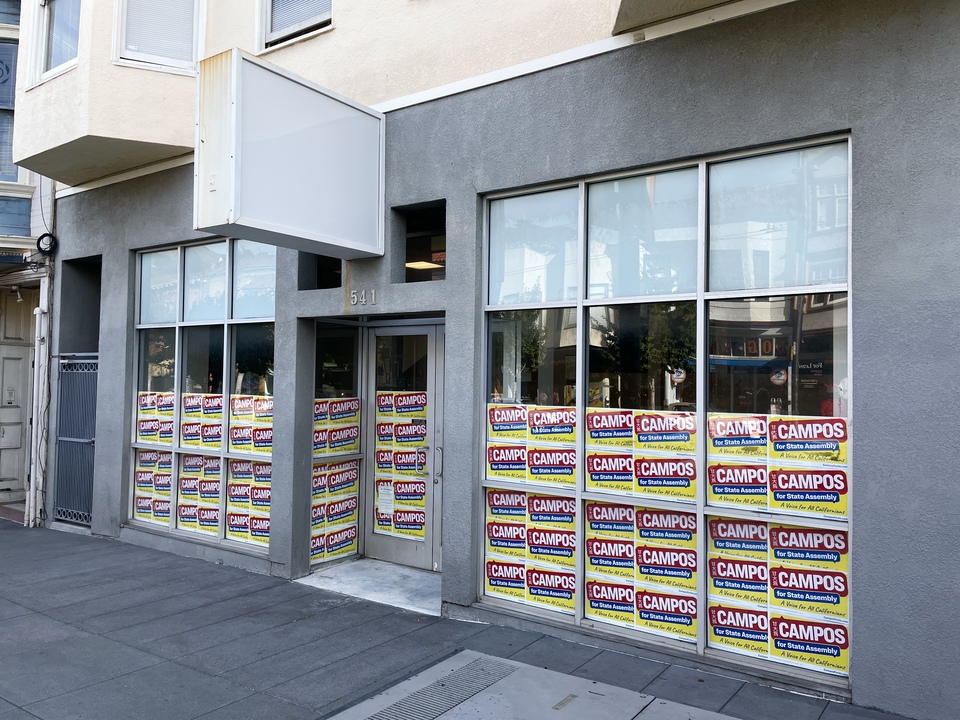 David Campos' office at 541 Castro St. | Photo: Steven Bracco/Hoodline
The space is owned by Castro landlord Les Natali and has been vacant since 2013, with its space sporadically used for pop-ups.
Campos will be hosting a kickoff party on November 13 from 11 a.m to 1 p.m. "There will be snacks, coffee, and speeches from some of our city's most prominent leaders," wrote Campos on Facebook. "Most of all this will be an opportunity for all of us to connect."
Grant Awards
On Sunday at the Noe Art Mart, the Castro LGBTQ Cultural District (CQCD) announced the distribution of its first arts and small business grants.
In partnership with the Queer Cultural Center, the CQCD provided $20,000 for micro-grants for LGBTQ artists. The grant was used to develop lithographic prints of images by LGBTQ artists. [Full disclosure: Steven Bracco, Hoodline's Castro reporter, is a board member of the CQCD.]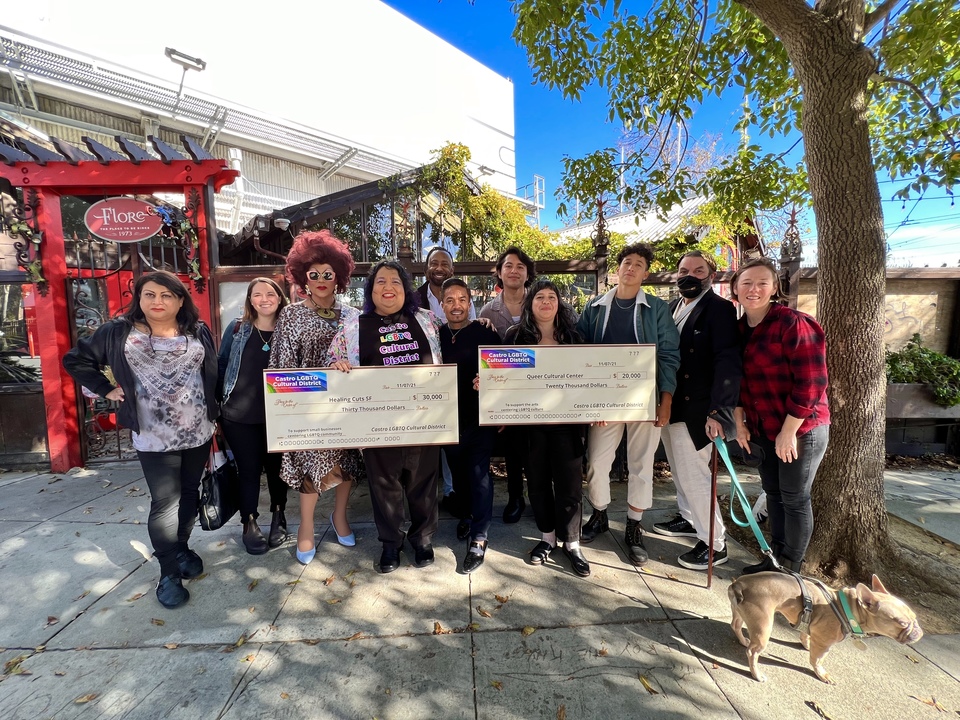 Photo courtesy of CQCD
A pop-up exhibit "A Fierce Bloom" took place on Sunday at the event. The project was organized by Marcel Pardo Ariza and featured artists John Bankston, Lenore Chinn, Serge Gay, Jr., Adriana Kin, Simón Malvaez, and The Q-Sides: Vero Majano, Amy Martinez (aka DJ Brown Amy), and Kari Orvik.
"I love this collaboration because it's brought together an intergenerational group of local LGBTQ artists," said CQCD district manager Tina Aguirre.
The CQCD then awarded barbershop Healing Cuts (2350 Market St.) with a $30,000 one-time grant to its owner Ismael de Luna.
Hoodline readers may recall that de Luna moved Healing Cuts at 2350 Market St. after being unable to come to an agreement with his landlord over missed rent payments caused by shelter-in-place restrictions.
Funds will be used to help de Luna create a new parklet, purchase equipment, and $5,000 of the funds will be used to provide 125 free haircuts to low-income clients from Shanti Project.
"Ismael's Healing Cuts San Francisco Barbershop is a great example of the resilience needed to develop a small business in the Castro," said Aguirre.
Holiday Events
The annual Holiday Tree Lighting will take place on Monday, November 29 at 6 p.m. outside the Bank of America (500 Castro St.).
The annual event marks the kickoff of the holiday shopping season and is sponsored by the Castro Merchants.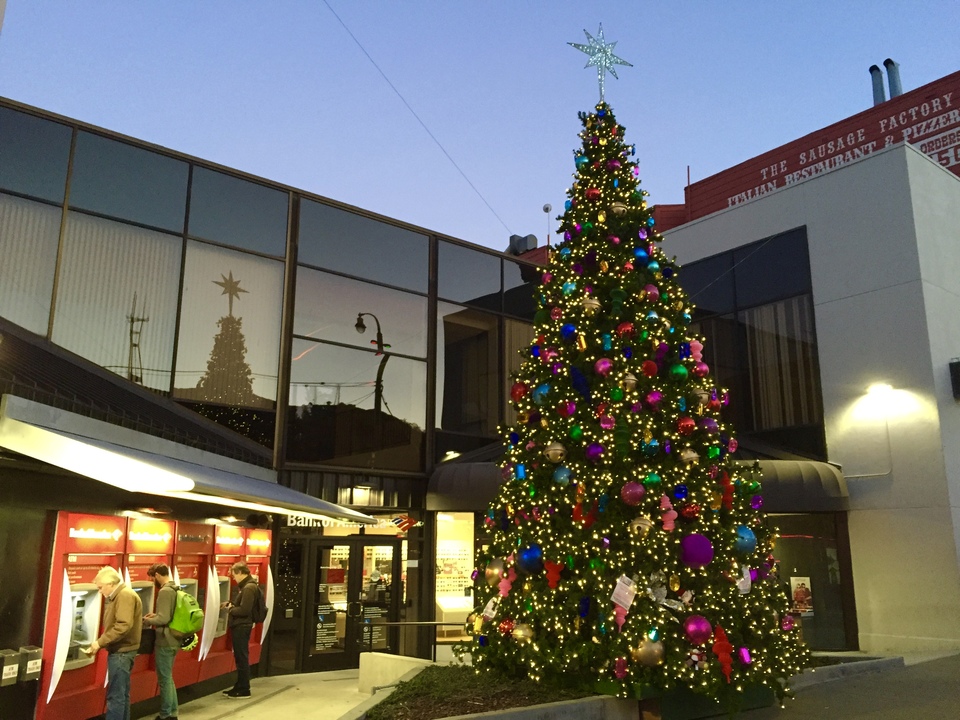 Holiday Tree at Bank of America (2015). | Photo: Steven Bracco/Hoodline
"Even during the height of 2020's shelter-in-place, we made sure the tree was there," said Castro Merchants community liaison Nik Blanchet. "It's also a major traffic pull, which is critical for maintaining the Shop Local movement during 2021's winter holidays."
Castro Merchants are currently seeking donations to help support the installation and maintenance of the tree.
The tree lighting will be followed by the Menorah Lighting ceremony on Tuesday, November 30 at 6 p.m. at Jane Warner Plaza.
The Menorah Lighting is organized by the Castro/Upper Market Community Benefit District, Castro Merchants, and Sha'ar Zahav.
Reopening
Castro Theatre (429 Castro St.)
The Castro Theatre has remained closed throughout the pandemic and has yet to announce when it will reopen with a regular schedule.
The theater, which celebrates its 100th anniversary next year, has only opened briefly for special events.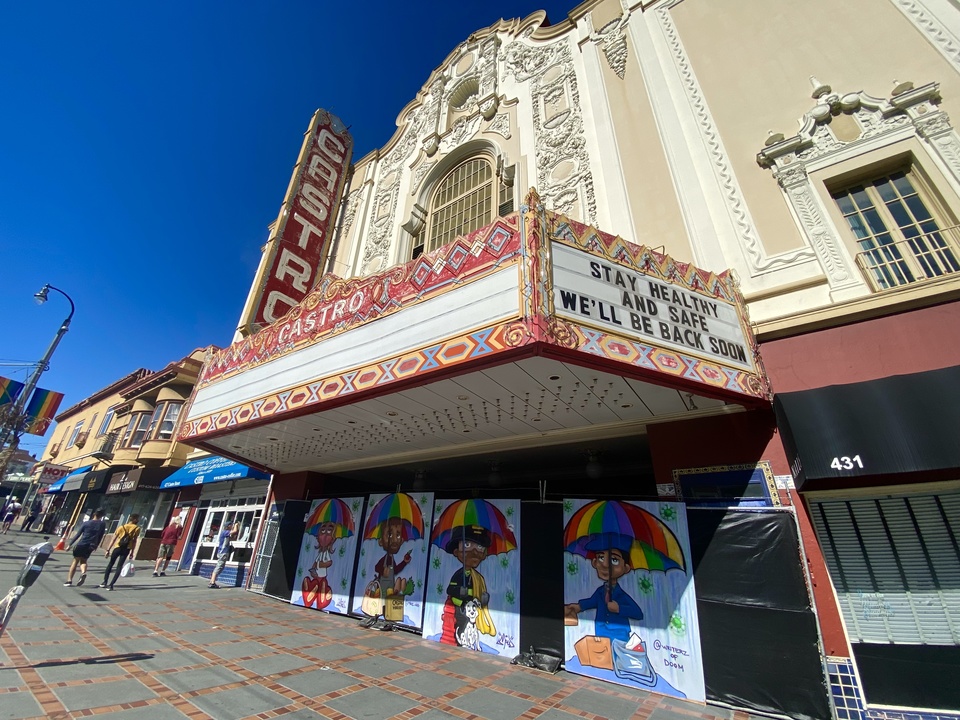 Last month on Facebook the Castro Theatre announced, "we are on our way back." "The Castro Theatre will be open for some very special events in November and December."
These events include SFFILM, Frameline Fall Showcase, Folk Yeah presents Kikagaku Moyo, The PTO Comedy Tour, and more. "We are still working on returning with a regular schedule," said the Castro Theatre.
Hoodline reached out to Castro Theatre owner Elaine Nasser Padian for clarification, but did not receive a response.