After one year in the Castro, barbershop Healing Cuts at 3903 18th St. (at Sanchez St.) has closed and will be moving locations. The barbershop's last day in the space was December 1.
Healing Cuts owner Ismael De Luna tells Hoodline that he decided to close and move the barbershop after being unable to come to an agreement with his landlord over missed rent payments caused by shelter-in-place restrictions. De Luna tells Hoodline he plans to move Healing Cuts to 2350 Market St., formerly Streetlight Records.
Hoodline readers may recall that De Luna, a native of Mexico, opened Healing Cuts in November 2019. The storefront was previously occupied by Sky Nails. De Luna primarily focuses on clients with disabilities. "We are all-inclusive, and especially welcome the transgender community," said De Luna.
After being closed for six months due to shelter-in-place restrictions, De Luna briefly reopened on September 15. Then on Monday, December 8 all personal services, including hair salons and barbershops, were forced to close again after Mayor London Breed announced San Francisco would preemptively adopt the state's regional stay-at-home order.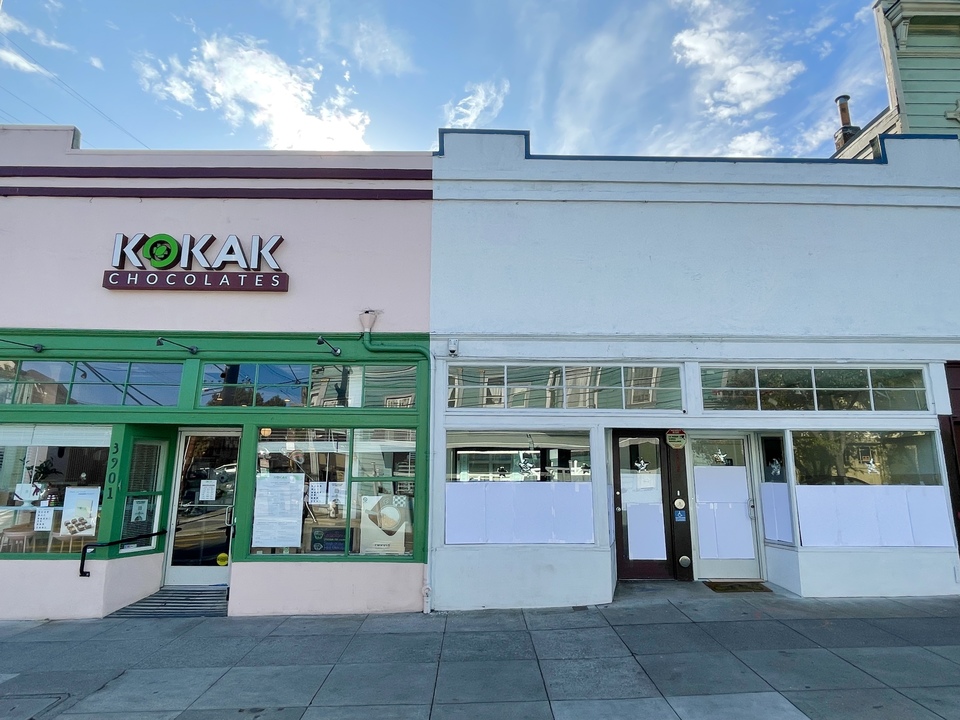 Healing Cuts (right) has closed at 3903 18th St. | Photo: Steven Bracco/Hoodline
De Luna tells Hoodline that his landlord was not flexible or cooperative negotiating a payment plan. "She's breaking the lease and wants me out of my shop," said De Luna. "She said that I'm getting evicted." De Luna explained that due to the shutdown and the lack of revenue, he had not paid six months' rent.
According to De Luna, he informed his landlord back in September that he'd be reopening and began paying rent. It was at that point De Luna says that trouble started.
Less than a month after reopening, De Luna says his landlord requested an additional $1,000 month on top of the rent as repayment for the six months of missed rent payments. De Luna says he attempted to request a smaller repayment amount due to the lack of customers and inability to be open at 100% capacity.
Hoodline attempted to reach out to the building's landlord for comment but was unable to reach anyone by press time.
"I don't agree to the extra amount as it's too much right now," said De Luna. "Taking into consideration all that's happened, I actually asked my landlord for a reduction in rent."
De Luna's landlord balked at that request and stated she would not accept anything else. "If I wasn't going to pay the additional $1,000 on October 15 she said she'd refuse my rent payment and get me evicted," explained De Luna. "She suggested I give up my business."
"I reached out to her one more time and requested she accept my rent payment plus $300 to being repayment," said De Luna. "I told her that I was applying for loans to pay her back and she completely ignored me."
On November 17, the San Francisco Board of Supervisors extended the commercial eviction moratorium until March 31, 2021. The moratorium will give commercial tenants between 12-24 months to repay any missed rent unless Governor Gavin Newsom extends the current statewide moratorium. The four-tiered system is based on the number of full-time employees giving the smallest businesses, the most amount of time to repay.
However, De Luna says he decided it was best to walk away from the storefront. "I realized it wasn't going to work," said De Luna. "As soon as my lease was over, she was going kick me out."
De Luna tells Hoodline his landlord agreed to break the lease and allow him to not pay the six months of missed rent.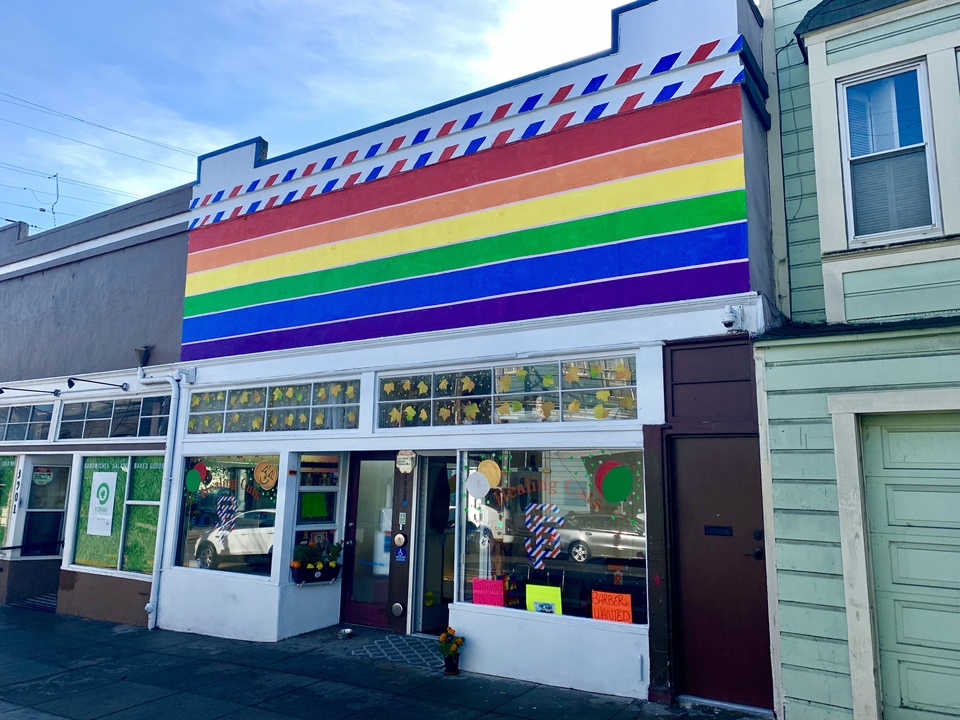 De Luna has painted over the rainbow mural above the barbershop, seen here in November 2019. | Photo: Steven Bracco/Hoodline
One sticking point that angered De Luna was his landlord's request to remove the rainbow mural that was painted above the barbershop. "This is the Castro and I'm part of the LGBTQ family. I felt offended by her request," said De Luna. Ultimately he says that he agreed and painted over the mural.
"I'm trying to get out of the disability circle and become a normal person in a society where we, the disabled, can still offer something to society," said De Luna. "We're creating a second chance in life and she can't even respect that."
"It is sad to have landlords in San Francisco like her who couldn't care less," said De Luna.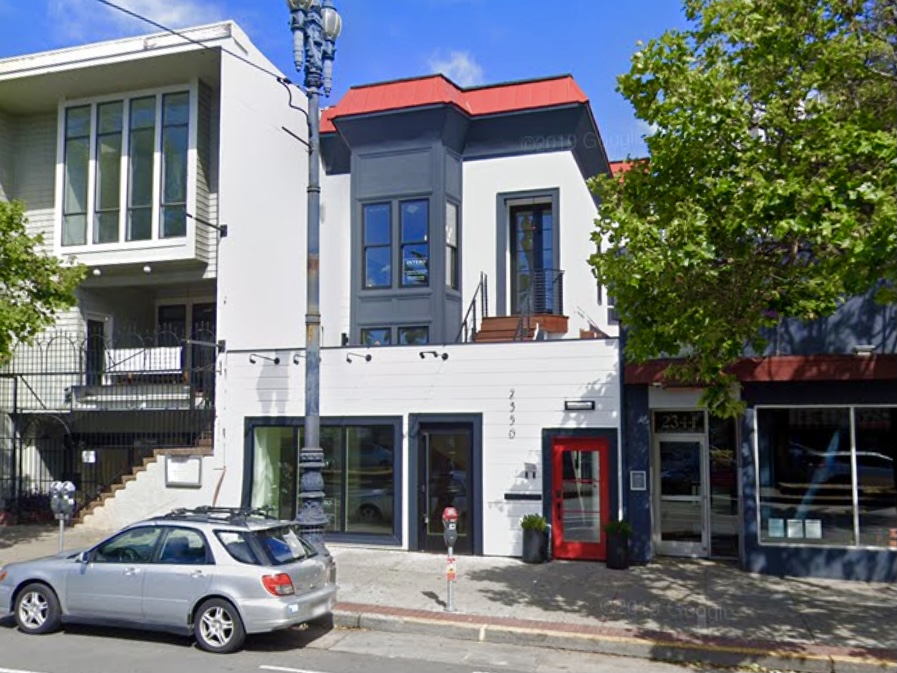 Healing Cuts is moving to 2350 Market St. | Image: Google
De Luna tells Hoodline that he's trying to look on the bright side. "I'm very excited about the new space," says De Luna. Located adjacent to Castro bar Beaux and a handful of restaurants, De Luna says the increase in foot traffic should be helpful once barbershops are allowed to reopen. He has moved all his equipment over to the new shop and says he'll be ready to open as soon as the city and state allow him to.
"Healing Cuts is all about healing from this point forward," De Luna said.