If you're looking to get out of the Christmas spirit and immerse yourself into more of an island vibe, then a new Tiki bar called Dr. Funk in downtown San Jose's San Pedro Square will be the perfect spot to drop anchor. The bar opens Thursday and will start serving classic tiki-style drinks like Mai Tais, Fog Cutters, and of course, the namesake cocktail Dr. Funk. According to the Mercury News, the drink menu features beer, wine, and roughly 60 rums varieties along with "11 tiki classics and nine original cocktails created by Ken Wongdejanan of the near Five Points cocktail bar."
Dr. Funk replaces the '50s-style diner Peggy Sue's and the transformation was the brainchild of San Jose designer Notch Gonzalez. He also designed Smuggler's Cove in San Francisco and another Tiki bar in Grand Rapids, Michigan. "I wasn't going to let anybody else build this bar in my town," Gonzalez told the Mercury News.
Seating options inside include seven huts, a lengthy bar, and several tables along with a patio with ample seating, reports Ultimatemaitai.com, after attending the soft opening of Dr. Funk. The podcast Tiki Currents describes Dr. Funk as "a carefully curated Tiki bar that transports you to a fictitious amalgamation of Caribbean, Asian, African, and Polynesian influences. There is a subtle but very cool medical theme with active bubbling beakers and other early medical decor throughout the bar."
The name of the bar and the famous cocktail originates from a German doctor named Bernhard Funk who was also a talented mixologist. He moved to Samoa where he created an elixir in the early 1900s that was said to cure things like heat exhaustion. That elixir is apparently a Dr. Funk cocktail. "The namesake cocktail is quite good, leaning into Absinthe which is the signature ingredient. More unexpected was the creamy Dead Man's Isle featuring ube, coconut creme, and several rums. It had a very unique taste and was a big hit among all who tried it," says Ultimatemaitai.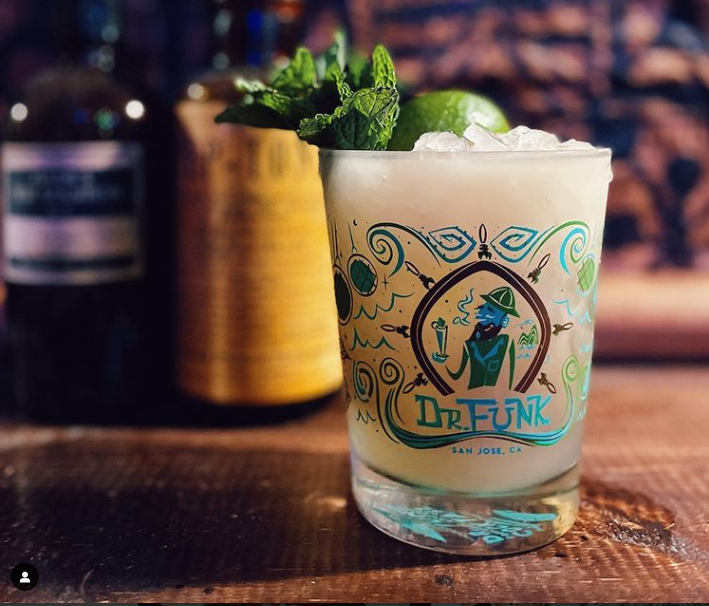 Dr. Funk is located at 29 North San Pedro Street in downtown San Jose and is open Sunday to Wednesday from 4 p.m. to 12 a.m. and Thursday to Saturday from 4 p.m. to 2 a.m. The bar is hoping to add food to its menu early in the new year.